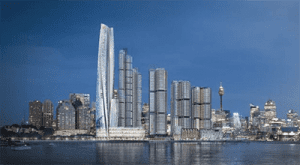 The final hurdle in the $2 billion Barangaroo casino development has been overcome, making the project a reality.
A final attempt to get the James Packer development shut down by local community groups from a suburb adjacent to Barangaroo was rejected last Friday.
The Millers Point Fund Inc. formed to represent local community groups but it appears its appeal, which suggested the development planning processes were invalid, was dismissed.
The NSW Land and Environment Court's decision means construction on the casino, hotel and apartment tower at the Barangaroo destination will commence soon.
While local community groups have long been fighting the 275-metre casino project, it will now haunt them in the form of a huge development on Sydney's skyline.
Judge John Robson said the community group had "not made out any of the grounds of challenge" in the appeal.
He added the decision didn't involve a deliberation of "merits of the development." Instead, the case was determined by assessing whether the NSW Planning Assessment Commission (PAC) had adequately approved the development.
John Dunn from Friends of Millers Point, which objected to the name Barangaroo for the new destination, spoke outside court for the community group.
"We went in feeling very confident," he said.
"We thought it was an important issue we strongly believed in, not just for our local community, but more widely.
"It is a building that will dominate Sydney in a way that will surprise people when it goes up, we think."
Chris Hinkey of the Millers Point community working party was also disappointed by the outcome.
He added the group will continue to fight against the Barangaroo project and perhaps pursue another appeal depending on legal advice from their barrister.
The appeal was made following a legal challenge which commenced in July 2016. It was dismissed by the NSW Land and Environment Court in December last year.
But opposition to the project started when the Crown Resorts development was proposed in 2012.
The tipping point for the local community groups was when PAC approved the casino construction for land reserved for parklands. The Millers Point Fund argued against relocating the park so the hotel could take the foreshore site.
The group went to court in November with their lawyers from the Environmental Defenders Office (EDO) who argued PAC's decision was determined on the basis of casino licensing laws in NSW, instead of planning laws.
But Judge Robson denied this was the case and stated PAC "neither failed to exercise its powers, duties and functions nor took into account irrelevant considerations when exercising its power".
He also said PAC had "not misconstrued or misapplied its power" which was suggested by the EDO lawyers.