7 card stud
7 card stud
Seven Card Stud is the original (and for some, arguably the best) game of poker. If you've never played a poker game, high chances are you've seen Seven Card Stud in action on a TV show or movie; blokes around the table, smoking cigars and drinking beer, indulging in friendly banter, you know the one. It was the most popular poker variant found in land-based casinos until Texas Hold'em came and knocked it off its pedestal, but is still a much loved game today, both online and in real life.

Best online casinos for 7 Card Stud
Rules of 7 Card Stud
The purpose of 7 Card Stud is to play the best hand from the cards you are dealt with the intention of winning the pot. The game can be played with two to eight players and a standard 52 deck of cards is used, excluding the jokers. Players are dealt seven cards, but they decide their best hand from only five of those cards and the player with the best five card hand is the winner. The right amount of skill, strategy and luck is required to master this game.
To enter the game you must place a bet determined by the minimum and maximum betting limitations of the game, which will vary from venue to venue. Generally you'll find better leniency in an online casino than in a bricks and mortar poker venue, with virtual games catering to lower bet punters.
7 Card Stud betting options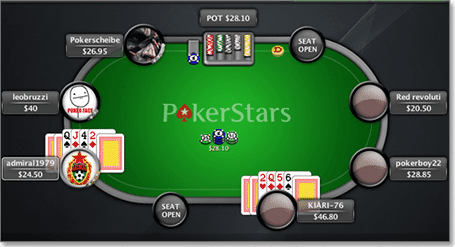 There are three different betting options when playing 7 Card Stud. Throughout the game players have the choice to:
Fold
Forfeit their hand, excluding themselves from the rest of the game
Call
Match the amount of the 'bring in' bet and continue in the game. Call bets can only go as high as the maximum betting limit enforced for the table.
Raise
Add an additional amount to the minimum bet and continue in the game
Gameplay in 7 Card Stud
The steps of gameplay in Seven Card Stud are set out as follows, with each round determined by a different name; Third Street, Fourth Street, Fifth Street, Sixth Street and Seventh Street (or River):
Betting starts with each player placing an agreed upon ante (the minimum bet required to play). The collective antes establish the winning pot.
Third Street Round
This is the first deal and consists of each player being dealt three cards; two face-down (hole cards) and one face-up.
The player with the lowest face-up card then determines what is known as the 'bring in' bet. This requires them to place a bet equal to the ante or higher, and betting continues clockwise around the table with each player matching the bring in, in order to continue in the game.
Fourth Street Round
Each player is dealt an additional face-up card. The player with the face-up hand of the highest value starts the next round of bets, choosing to fold or call.
Fifth Street Round
A fifth face-up card is now dealt to each remaining player. From this point on the maximum bet must be placed to continue in the game. Again, the player whose face-up cards have the highest value starts this betting round.
Sixth Street Round
Another face-up card is dealt to each remaining player, and the player with the highest value up card begins the next betting round.
Seventh Street Round (or known as River)
Each remaining player receives a seventh and final face-down card, the value of which is known only to them. The final betting round now begins with the player showing the highest value face-up hand.
The winner is now determined. If only one player remains in the game, they have automatically won the pot and don't need to reveal their final hand.
If more than one player remains, a Showdown round starts. Each remaining must now show their hand. The player with the highest value five card hand is the winner. Any ties result in the pot being split evenly.
The value of Seven Card Stud poker hands in ascending order is as follows:
High Card – the highest valued card within a hand (eg. Ace)
One Pair – any two cards of the same value (eg. two 10 cards)
Two Pairs – two sets of pairs (eg. two Queen cards and two Three cards)
Three of a Kind – three cards of the same value (eg. three Jack cards)
Straight – five sequential cards (eg. a Six, Seven, Eight, Nine and Ten card)
Flush – five cards of the same suit (eg. five Diamond cards)
Full House – a pair along with three of a kind (eg. two Four cards and three Queens)
Four of a Kind – four cards of the same value (eg. four Kings)
Straight Flush – five cards of sequential value in the same suit (eg. a Six, Seven, Eight, Nine and Ten, all Club cards)
7 Card Stud Strategy
Poker strategy can be very intricate. You'll need to spend some time becoming familiar with Seven Card Stud before you feel comfortable using certain strategies, but these are some great starting points for beginners:
If you're dealt a poor hand from the get-go, the smartest move is to fold. Yes, you will lose your ante wager but you'll save money in the long run by not chasing losses when you have no realistic chance of winning. If you decide to stay in the game and your hand doesn't improve within the first couple of rounds, now is the time to fold.
A good way to gauge whether to fold early on or not is whether your first three cards follow the same suit or sequence. If they do, enter Fourth Street and continue if your fourth card fits in with your three card hand. If not, and there are no other high value cards in your hand, fold before the fifth round.
If dealt an Ace or King (or better yet, pairs of either) in early rounds, stay in the game and play aggressively
If only one or two players remain in the game, only continue to bet if you hold a high pair or better
Can I Play 7 Card Stud online?
Absolutely! The Internet is the perfect platform to try out different poker variations, with 7 Card Stud commonly found at our recommended poker sites and online casinos. Minimum bets and table limits are generally a lot more lenient online than in a land based poker venue plus playing virtual poker means you can take advantage of awesome welcome bonuses and player rewards. Playing online can often be done for free in practice mode, so you can learn to get the hang of the rules of 7 Card Stud before handing over any of your own money.
For online casino card games, we recommend BetOnline Casino as our top-rated casino site for players from United States, which has some excellent welcome bonuses available for new players along with a great range of poker games to choose from.