Caribbean Stud
Caribbean Stud
Caribbean Stud is a popular poker variant offered at many online casinos. If you're familiar with 5-card poker, Caribbean Stud is a very similar game. Caribbean Stud poker is quite a new variation developed in the 80s but quickly gained popularity.

Best online casinos to play Caribbean Stud
The main difference between Caribbean Stud poker and 5-card poker is in Caribbean Stud you are only playing against the dealer and there is no bluffing. In Caribbean you do not disclose any information about your hand to the dealer or anyone else. Here is everything you need to know about how to play, where to play and strategies that can help you win the game.
---
How to play Caribbean Stud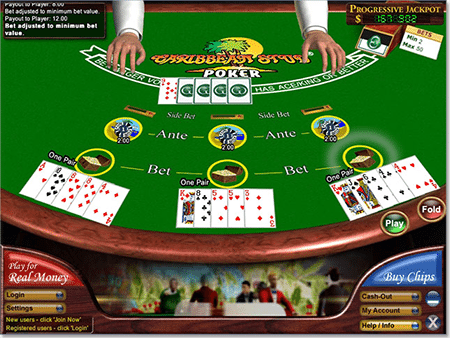 The aim of the game in Caribbean Stud is to have your hand beat the dealer's hand. If other players are playing at the same time you don't need to beat their hand in order to win, you only have to have a hand better than the dealer's. Caribbean Stud follows the same poker hand ratings as usual poker.
Step by step guide to play Caribbean Stud
Each player must place the compulsory minimum ante bet.
Each player is dealt their five cards face down, and the dealer is dealt their five cards with four of them facing downwards and once facing upwards.
Then you must look at your cards. From there you may choose to fold and lose the ante bet you placed or you may call to stay in the game. If you choose to call you must pay double the cost of your ante bet. For instance if your ante bet was $10 your call bet is then $20.
Once every player has either folded or called the rest of the dealer's hand is revealed.
If the dealer's hand does not qualify then players receive the bets they placed back but are given no additional payout. For a dealer's hand to qualify it must at least have an Ace-King.
To win you must have a better hand than the dealer. If not your bets are lost. The amount you are paid out depends on the quality of your hand.
Hand Rankings & Their Payout In Caribbean Stud
Ranked in order of best to lowest:
Straight Flush – pays 50 to 1
Four of a Kind – pays 20 to 1
Full House – pays 7 to 1
Flush – pays 5 to 1
Straight – pays 4 to 1
Three of a Kind – pays 3 to 1
Two Pairs – pays 2 to 1
One Pair or Less – pays 1 to 1
---
Where to play Caribbean Stud
Many land-based gambling establishments run Caribbean Stud poker as it's a quick way to play. Since you're just playing against the dealer you don't need to sign up to a tournament, which is how poker is often played. If you prefer playing online there are a number of reputable virtual casinos where you can play Caribbean Stud poker for free or for real money. Remember when playing over the Internet you need to play at trustworthy websites that use a minimum of 128-bit secure socket layer digital encryption technology to safeguard all transactions to and from your account.
We recommend playing at G'day Online Casino, which offers several different variations of this game. They also give all new customers a 100% unlimited first deposit bonus.
---
Can I play live dealer Caribbean Stud?
Live dealer games are offered at major Web casinos. They allow you to have a more authentic casino experience as you have a real person as your croupier and your game is played out via a live video stream. Live dealer games are a relatively new creation and so far they are only offered for the most popular casino games like blackjack, Keno, lottery and baccarat. Unfortunately at the moment you can't play live dealer games of Caribbean Stud poker but we're sure that this will become available not too far in the future.
---
Strategy for Caribbean Stud Poker
In Caribbean Stud you make all of your playing decisions before the dealer reveals their hand, so sometimes you fold and throw your bets away even though the dealer's hand does not qualify.
You always raise when you have a pair or higher in Caribbean Stud and generally would fold with anything less than a King. However there are some occasions when you would raise with an Ace or King depending on what the dealer has.
You will also find several rule variations online an offline and it pays to be aware of how these affect the house edge. It's also smart to bank roll when you're playing this game, it can chew through your funds quickly.
If you have not played Caribbean Stud before it is smart to play in practice mode for a few hands, to see the intricacies of the game.