Casino War rules
Casino War rules
Some table games require a lot of strategy and concentration – but not Casino War. This simple table game is a newbies dream and even a rewarding title for those more experienced at table titles.

Where to play Casino War online
---
Best online casino sites for Casino War
Casino War is one of the simplest games you can find at a casino – if you can indeed find it amongst the sea of blackjack and baccarat tables, which is why we recommend playing online.
However, the title is only available at our Microgaming-only casinos as this software developer seems to be the only one to have created an Internet title. Additionally, it is only available to PC players as it is accessed via the following online casino's downloadable platform.
We recommend playing Casino War at:
Royal Vegas – $1200 in matched deposits for new players
Casino-Mate – $1400 in matched deposits for new players
Simply follow our links (or any of the other casinos in the geo-targeted table at the top of this page) to download the software to your desktop in order to access the Casino War title. For the purpose of explaining how Casino War works, we have based our rules and house edge around the Microgaming online variant. Be sure to look up the rules associated for any other variant, whether it is online or offline.
---
How to play Casino War online
It involves six decks of 52 cards, with each card ranked similarly to a game of poker – Aces are valued the highest.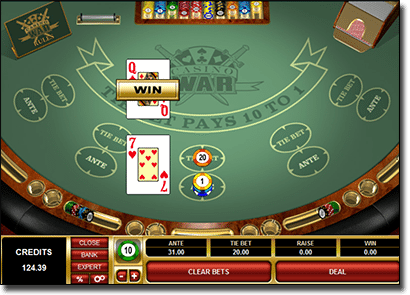 The basic premise to the game involves the dealer and the player both being dealt a card and then whoever has the highest card out of the two wins. For example, if the player receives a six and the dealer receives a four, the player wins.
This type of win in the game sees an even money payout of 1:1. For example, if we place a wager of $20 on this type of bet then we will receive $40 for a win. This is what makes the game so simple.
However, there is also one extra outcome that can change the payout and this is when a tie bet occurs. For example, both the dealer and the player are dealt a seven. The player then has two options – they can either surrender and in doing so forfeit half their initial wager and receive the other half back, or they can 'go to war' doubling their initial wager.
In the event that they choose to go to war, the player and the dealer are both dealt another card and the same process occurs with the highest card winning, and if the player wins here the payout is 1:2 rather than 1:1.
This is all there is to the game, though there can be a side bet available.
Side bets in Casino War
Also known as the suckers bet due to the high risk, high reward nature, the side bet involved in Casino War sees players wagering that their first card will indeed be the same as the dealers – a tie.
This sees a payout of 10:1 but unfortunately the house edge is as big as 18.5%, which is incredibly high. If you like high risk, high reward type bets then you can give it a go but remember there is a reason it is called a suckers bet.
---
Casino War strategy and house edge
Provided the game is played with six standard decks, as is the Microgaming variant available at two of our favourite web casinos, the house edge is set at 2.88%. The main strategy for Casino War sees players determining whether or not going to war is more profitable than opting to surrender.
When a tie occurs and players choose to go to war the house edge remains at 2.88%. However, if the player chooses to surrender then the house edge is 3.70%. So while you are risking two units for a unit win – as per the 2:1 payout for going to war – it is more profitable than giving up half your bet each time. Therefore we recommend as a simple strategy for Casino War to always go to war.
Additionally, as mentioned above we recommend avoiding the high house edge tie bet of 18.65%.
---
Casino War land-based variants and house advantage
You may also find variants at many land-based casinos that will in turn see a difference in rules and the house advantage, so be sure to remember this if you ever play online and then head to a land-based venue to play the title.
Number of decks
Casino War is generally played with six standard deck of cards, as per the online Microgaming variant. However, there can be variants where it is played with as little as one deck, and up to as many as eight decks. The house edge is affected as decks are added as follows:
One deck: 2.42%
Two decks: 2.70%
Three decks: 2.79%
Four decks: 2.84%
Five decks: 2.86%
Six decks: 2.88%
Seven decks: 2.89%
Eight decks: 2.90%
The house edge for both surrender and tie bets are also affected.
Card burning
Generally, card burning is involved in a game of Casino War – where the dealer will discard a certain amount of cards before going to war and dealing the second cards. However, the amount can differ depending on the location with some venues, including the Crown Casino in Melbourne, burning none.
Three cards are burned in the online Microgaming version, however it is important to note there is no real change to the house edge regardless the amount of cards burned.
Casino War Bonuses
Some titles offer bonuses for landing two ties in a row and this rule actually lowers the house edge. For example, if this rule was in place with a title featuring six decks then the house edge would be 2.33%, rather than 2.88%, which is quite favourable to the player.