Australian online gambling laws in 2023
Australian online gambling laws in 2023
The future of online casinos in Australia are dependent on a variety of complex factors. With legislators and amendment bills calling for significant changes to the current national laws applying to Internet wagering, the real money online gaming landscape could dramatically be reformed in a way it hasn't been since the first Interactive Gaming Act was implemented 20 years ago. With so many names, reviews, and proposed changes, keep up-to-date with our handy guide to the latest developments in Australian gambling laws pertaining to online casinos.
---
What are the current laws for online casinos in Australia?
The Interactive Gambling Act 2001 (IGA) was the first piece of Australian legislation introduced by the Howard government which specifically aimed to address online gambling. Distinct from other Australian laws governing online bookmaker sites, the IGA made it illegal for operators based in the country to advertise and offer real money interactive gambling services to Australian residents. By their definition, it includes casinos, online poker, scratch cards, online pokies and more. The act emphasised accessing and using said interactive gambling services weren't an offence, and Australian-based companies could still offer their gambling services to punters located outside of Australia.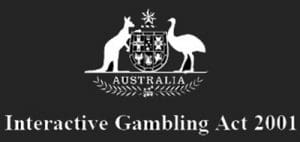 Following amendments to the Act passed through the Senate on March 20, 2017, current Australian gambling law does not allow offshore online casinos to offer their services to Australian residents, even if the casino venue in question is fully licensed and regulated by advanced gaming jurisdictions like the Malta Gaming Authority and United Kingdom Gambling Commission. The IGA does not specifically prohibit Australians to gamble on the Web at casinos operating in foreign countries offering real money wagering services interactive pokies and table games) to Australians.
The only thing Aussie residents always need to look out for to be sure they're safe is that the offshore online casino is licensed and regulated by known, trusted gambling jurisdictions and licensees. Click forward to our linked guides for further information – and all the casino sites we recommend are audited and safeguarded by trustworthy global watchdogs, which we have tested and verified ourselves as real money players.
The rapidly changing digital landscape has caused several anti-gambling politicians and others within the government to propose amendments to the IGA so it can apply more appropriately to how online gambling currently is operating. Only in late 2016 did the Australian public finally be informed of potential new legislation changes to the existing act.
On 10 November 2016, the Australian Government officially introduced the Interactive Gambling Amendment Bill 2016, also known as the IGA Amendment Bill, into the House of Representatives.
The bill is a result of the 2015 O'Farrell Review into Illegal Offshore Wagering. It proposes changes to the Interactive Gambling Act 2001, outlined in the O'Farrell report.
The IGA 2001 itself was introduced during a time when online gambling was still in its infancy and many Australians didn't have access to the Internet, so it natural to assume the Australian government would eventually make a move to update it. As outlined by the government, the bill is the first part of the government's response to the aforementioned O'Farrell review, and they want to break it down in three key stages:
Crack down on illegal offshore gambling providers
Clarify the law by prohibiting 'click to call' in-play wagering services to respect the original intent of the Interactive Gambling Act
Establish a strong National Consumer Protection Framework (NCPF)
The original O'Farrell review states $64 million and $400 million are gambled at 'illegal' offshore providers, "resulting in lost revenue, weaker consumer protection and heightened sports integrity concerns" – essentially, they want to crack down on offshore operators. The 'click-to-call' in-play betting services are also considered by the government to be a breach of the Interactive Gambling Act.
The new regulatory framework (NCPF) will apply across every state and territory in Australia. Currently, each state and jurisdiction regulates Internet wagering differently. With this new consumer protection framework, the Australian Government claims it will "empower empower individual gamblers to ensure that problem gambling is minimised", by introducing a national self-exclusion register for online wagering, a voluntary pre-commitment scheme for online wagering; and a ban on lines of credit which are often loaned to players from some online casinos.
---
What are the legal forms of gambling in Australia?
Australians have got many different legal forms of online gambling available to them, with these varying in the legislation that surrounds them. For instance, lotteries, sports betting and land-based gambling at casinos are all legal and very popular right across the country.
Online casino gambling laws and online poker are a little bit more murky and you have to dig a little bit deeper to play these games. As an example, there are no online casinos in Australia, which means we have to play at offshore online casinos, based in places like Curacao.
Essentially, when the Australian Government clamped down on online gambling, they stopped us from playing at the much safer casino sites based in places like the United Kingdom and Malta.
Forms of legal gambling in Australia:
Sports betting
Retail casinos
Lotteries
Lotto betting
Bingo
2UP
Pokies
Forms of legal gambling Australians must play at overseas casino sites

---

What does this mean for Australians playing at online casinos?
Essentially, the IGA Amendment Bill seeks to make online casinos based, licensed and regulated in overseas territories unable to provide wagering services to Australian citizens. Why? Because they lack a wagering license within Australia, and thus are, in the government's classification, illegal offshore gambling providers. Coupled with the loss of revenue and constant calls of amendments, it was only a matter of time before said proposals were made.
The current law is ambiguous as to whether or not offshore Australian online casinos can provide wagering services to Australian players, and this is why we still can, for the time being, legally play at online casinos licensed across the globe. While the future is still relatively uncertain, you can rest at ease for the time being and enjoy your favourite online pokies and table games at the top casino sites – it's all still 100% legal until, or if the Amendment Bill is passed.
Keep this page bookmarked for all the latest updates to Australian gambling laws pertaining to online casino sites – and keep informed.