Online baccarat in Japan
Online baccarat in Japan
Baccarat (also known as Punto Banco) is a hugely popular casino game with Japanese players. It remains a player favourite due to the fact that rules are easy to pick up, with a simple gameplay format that requires no special strategy. Ultimately a game of chance, this sophisticated casino classic has the potential to pay incredibly well if luck is on your side.
Playing online is a smart choice, with more affordable baccarat games than you'll find in a land based casino. Read on to find out what Punto Banco games are available online and the best sites for Japanese players.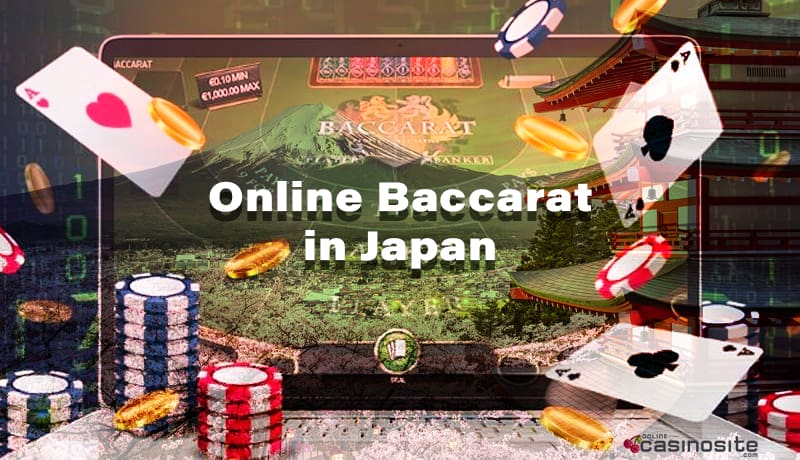 ---
Where to play online baccarat in Japan
As there are no casinos operating in Japan, playing on the Internet provides the perfect chance for players to enjoy real money baccarat without having to travel to an international destination. The following reputable casinos all accept Japanese players, with deposits available in Yen, and offer a selection of punto banco variants:
Welcome bonuses are available for new players, so registering for an account will see you rewarded with extra money and free spins to get you started.
---
Best baccarat games for online play
While you'll find a huge variety of pokies, blackjack, roulette and video poker at the above mentioned sites, there is less of a selection when it comes to baccarat, although there's plenty of variety to keep you entertained and hopefully raking in the winnings. Some of the best baccarat games you'll find at these casinos include:
Baccarat Gold by Microgaming – Baccarat Gold brings the ambience of a high-end casino right to you, allowing you to squeeze cards to enhance the gaming experience. A max bet of $500 adds to its appeal, plus an added benefit is Baccarat Gold is available for mobile play for Apple and Android at the Royal Vegas mobile casino.
Baccarat Pro & Punto Banco Pro by NetEnt – NetEnt's Pro Series of table games are ultra-sophisticated, and Baccarat Pro and Punto Banco Pro are no different. These premium games offer classy graphics and flawless gameplay, with stakes ranging from 10 cents to $1000 per game making them ideal for all bankrolls.
High Limit Baccarat by Microgaming – this game isn't as good looking as its Microgaming counterparts, but it offers a nice high limit bet of $500 for those high rollers looking to score a big win.
Playboy Live Dealer Baccarat – play against real life beautiful women dressed up in Playboy Bunny attire, with games streamed via a live video stream direct to your computer. Try Playboy Live Baccarat, Microgaming standard Live Baccarat and Live Multi-Player Baccarat at All Slots Casino or Royal Vegas (note you'll need to download RVC's premium software to access live dealer games).
Evolution Live Baccarat – Guts Casino offers live Baccarat and live VIP Baccarat, replicating the ambience of playing in a high end casino, right from the comfort of your own home. The VIP game offers a max bet of $1000, catering to high rollers and high risk wagers. Real money bets are required to play live dealer games at Guts.
---
How to play online baccarat
To play real money baccarat on the Web, you'll need to sign up for an account with a reputable casino like Royal Vegas, All Slots or Guts. Make a deposit to your casino account using a secure payment method like Visa, MasterCard, Skrill, Neteller or bank wire, then load up the baccarat game of your choice.
There are no complex strategies you need to acquire to play baccarat. The aim of the game is simply to place a bet on whether the player (punto) or the banker (banco) will have the winning hand, or that both hands will result in a tie. Just choose your wager amount, place your chip on the player, banker or tie section of the betting table and hit the deal button to watch the results unfold.
---
Rules of the game
The online baccarat games mentioned above all follow standard Punto Banco rules. These rules are the easiest to pick up and even if you've never played before, you'll have the hang of the game right away.
Baccarat is typically played with six to eight decks of standard playing cards, excluding jokers. Cards carry the following values:
Ace = one point
Number cards = face value
10, J, K, Q = zero points
The highest a hand of cards can score is nine points. If the hand value reaches double digits, the left hand digit is dropped.
---
Drawing rules for baccarat
Once bets have been placed, both the player and banker are dealt two cards. If either of these hands are valued at eight or nine, it's considered a natural win and the game is over, with wagers paid out if a correct bet was placed on the winning hand. If a natural win doesn't occur, additional third-card-rules come into play.
Player third card rules:
If the players hand is valued at five points or less, a third card is dealt.
If the players hand is valued at six points or more, the hand stands.
Banker third card rules:
If the player stands with two cards, so does the banker. Whether or not the banker receives a third card depends on the value of both hands as follows:
Banker hand of three = draws a third card unless the players third card is an eight
Banker hand of four = draws a third card unless the players third card is a zero, one, eight or nine
Banker hand of five = draws a third card if the players third card is a four, five, six or seven
Banker hand of six = draws a third card it the players third card is a six or seven
Banker hand of seven = the bankers hand stands
---
Punto Banco house edge
Using punto banco rules, winning bets in baccarat are paid out as follows:
Player win = pays 1 to 1
Banker win = pays 1 to 1 less a 5% commission to the house
Tie win = pays 8 to 1
While the tie bet obviously sounds like your most lucrative way to go, the house edge on this bet is through the roof and general baccarat strategy suggests the tie bet should be avoided at all costs unless you can afford to take the risk. The house edge for each bet is:
Player bet = 1.24%
Banker bet = 1.06%
Tie bet = 14.36%
Now you've got the general gist of how to play baccarat online, head to Royal Vegas, All Slots or Guts Casino and give it a go today.