Gambling laws in Japan
Gambling laws in Japan
Gambling in Japan is an activity deemed illegal according to Chapter 23 of Japan's Criminal Code. However, not all forms of gambling are prohibited in the country. We clarify what forms of betting is legal in Japan and explain the current and future gambling laws.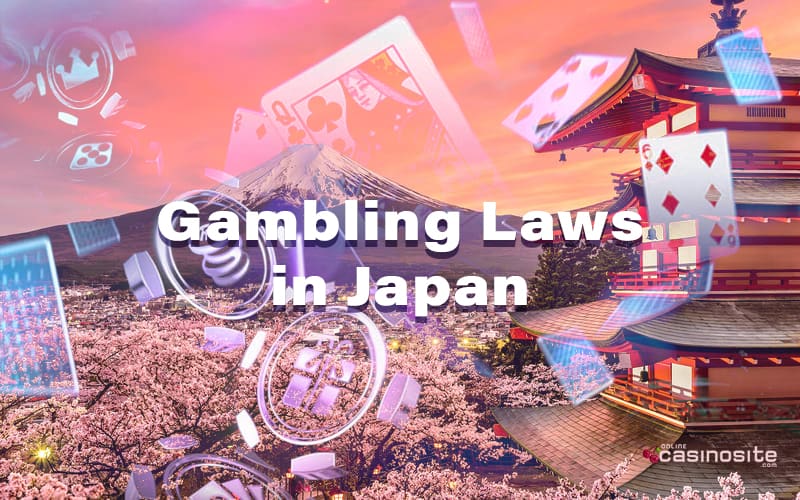 ---
Japanese betting laws for residents
Japanese residents are permitted to gamble on the following:
Government sponsored lotteries
Scratch cards
Sports betting on horse racing, bicycle racing, powerboat racing, motorcycle racing and soccer (the J-League)
All other forms of gambling remain outlawed, however there are bills in place and support from the government to loosen certain restrictions placed on real money betting within the country.
---
Legal forms of wagering in Japan
Lotteries which are supervised by the government, are run throughout the calendar year in Japan. There are three major types of lottery games which are regulated and legally available for residents to partake in:
Unique number lotteries
Selected number lotteries
Scratch cards
Ticket prices for the above lotto games range from 100 to 500 yen, and cash prizes can reach in excess of 100 million yen. According to the laws in place for lottery games (the takarakuji law), the total prize pool must be less than 50 per cent of the total sales, with the left over profits going to local governments and charities. You can purchase lottery tickets from booths and retail stores around many cities in Japan. There is no age limit for people to partake in lottery games.
Wagering on certain sporting events is an activity regulated by the government and allowed in the form of pari-mutuel betting. Parimutuel betting is a system whereby all wagers placed on a certain sport or event are pooled together, and the payout odds for winning wagers are calculated in accordance with the total amount spent. Payouts are calculated by what is known as the totalisator (or Tote for short) in many other countries. In parimutuel betting, any taxes and the amount charged by the bookmaker (vig) are removed.
The Sports Promotion Voting Act is the legal document providing authority to the Ministry of Education, Sports, Science and Technology (MEXT) to regulate soccer betting in Japan (known as soccer toto). Japanese residents can lawfully bet on the following soccer games: J-League Division 1, J-League Division 2, Emperors Cup, Super Cup and Nabisco Cup matches.
Japan residents wishing to bet on sports such as horse racing, bicycle racing (keirin), powerboat racing (kyōtei) and motorcycle racing (autorace), as well as soccer, can do so via official government regulated websites, at the track/circuit in person, and via ticket booths in cities such as Nagoya, Osaka, Tokyo and Yokohama. You must be 19 years and older to place real money bets on and buy tickets for public sporting events.
Pachinko – The game of pachinko is immensely popular within the Japanese culture, and primarily played at licensed gaming parlours around the country which are privately owned. A type of gambling permitted for historical, monetary and cultural reasons, there are more than 14,000 parlours across the nation. You must be 18 years or older to play pachinko – a game not dissimilar to a combination of pinball and slot machines. Players win balls which are redeemable for prizes, and these prizes (typically slits of gold) are sold for cash at neighbouring outlets (usually owned by the owner for the pachinko parlour).
This round-a-bout way of turning your wins on pachinko into actual money keeps the Japanese criminal code intact, and the police and government can turn a blind eye to keep everyone happy.
In late 2015, the city of Kobe placed a ban on day-care centres from offering pachinko, card games and other forms of entertainment to their elderly patients, citing people' s tendencies to become addicted to the gambling nature of the games as reasons to prohibit such entertainment.
---
Banned forms of gambling in Japan
Land based casinos are outlawed in Japan as of late 2015, however there is a bill in place to overturn this ban, and it is expected to pass in 2016. The bill would allow for the opening of casinos within integrated resorts – luxurious properties which would boast not only casinos and gaming facilities, but also hotels, entertainment shows, theme parks, retail and dining.
If passed, it has been predicted that Japan would fast become the world's third largest gambling industry in terms of revenue, behind Macau and the United States (expected to produce approximately $40 billion a year in additional revenue). The decriminalisation of casinos has received support from the Japanese government, and it would significantly boost the tourism industry. However, it is unlikely any casinos would be developed in time for the 2020 Olympic Games.
While many keen Japanese gamblers head to countries with more liberal gambling rules such as Australia, China, Korea, the Philippines and Singapore, there is also a host of illegal betting which takes place within Japanese borders, and is known to be operated largely by the Yakuza (Japan's organised crime syndicates). The Yakuza run underground casinos and traditional games such as blackjack, roulette, sic bo, baccarat and mahjong.
Online gambling – Unless a government licensed site, online gambling is prohibited under Japanese law. However, the government does very little to thwart residents from betting with offshore licensed bookmakers and gaming operators such as www.Bet365.com, www.bwin.com and www.WilliamHill.com.
Such operators support the Japanese Yen (JPY), and provide fixed odds and live (in-play) betting for global sporting events and races, casino titles, poker, bingo, keno and other games. As a Japanese resident, you can open an account using your home address without fear of prosecution, with a significant amount of the population already doing so. The game of rock-paper-scissors is also popular at illegal mobile gambling sites.
---
Our take
If the bill to legalise land based casinos in Japan is passed, this will pave the way for a far more liberal gambling culture inside Japan's borders, and bring about a major boost to the Japanese economy.
It has been stated that casino gaming, if legalised, would be chiefly targeted at the more wealthy popular of Japan such as foreigners, businessmen as well as tourists. In a couple of years time, Japan's culture could shift dramatically to make way for the booming industry that is offline and online gambling.