What is Pachinko? And can I play it online?
What is Pachinko? And can I play it online?
In Japan where gambling for real money on casino games is illegal, Pachinko is the popular alternative, with this game often touted as being Japans favourite pastime. This electronic machine closely resembles a pinball machine, with a few major differences, and serves the Japanese industry in the same fashion as slot machines do in the West.
Playing Pachinko won't reward you with real money, but instead offers up real world prizes, from the spectacular to the zany, some of which can be exchanged for cash elsewhere. Read on to find out more about Japan's favourite gambling device.
---
Pachinko explained
Pachinko is a mechanical game that can found at thousands of Pachinko parlours around Japan. The machines look like vertically standing pinball machines but without the flippers on either side, and are brought to life using all kinds of lighting, sound effects and electronic displays. The machine display is made up of hundreds of densely laid pins, and the aim of the game is to shoot tiny balls into the playfield in hopes of landing them in certain positions within the pins.
The game is played by renting balls from the Pachinko parlour, with most players typically choosing to rent between hundreds and thousands of balls at a time. The balls are then launched into the machine by pressing a knob, and if the ball lands into a winning pocket within the pins, additional balls are rewarded as prizes.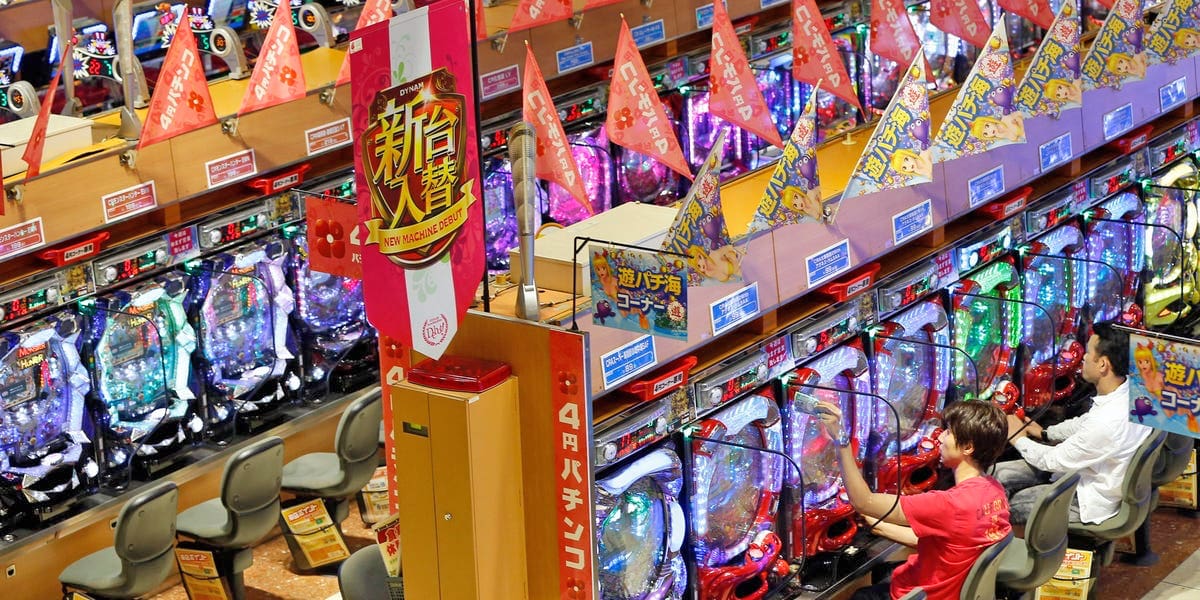 Players can choose to insert the balls back into the machine in hopes of winning more, or keep the balls aside to later redeem for prizes. Modern Pachinko machines offer all kinds of special features, including jackpots and bonus payouts.
Essentially, Pachinko is very similar to slot machines in that the games are dazzling and addictive, and no real skill is required to play. Other than the obvious differences in the physical formats of both games, the major variance between the two is that while the slots are played by inserting coins with wins paid out in cash, Pachinko awards balls as winnings which can then be exchanged for prizes. Just like the slots, Pachinko is a game based entirely on luck and there's nothing a player can do to influence the outcome of a ball drop.
---
What prizes can I win playing Pachinko?
In Japan it's illegal for players to bet real money on casino games, so instead Pachinko is played for balls which are then exchanged for prizes. When a player decides to exchange their balls for winnings, they press a button at the top of their Pachinko machine which alerts an attendant who is usually dressed in a bright yellow jacket so they are easily identified in the crowded parlours. The attendant then feeds the balls through an automated counting machine to determine how many balls the player has, and will issue a card with a record of the number of balls. Some of the newer parlours have self-serve counting machines.
The player then heads to the parlour prize centre to exchange their card for a prize of their choosing, with a very eclectic array of prizes up for grabs. While tokens can't be exchanged for cash, it's become common for players to exchange tokens for a "special prize", usually a small chunk of gold or silver, which can then be swapped for Yen at a nearby establishment that's not technically part of the parlour, therefore creating a loophole around Japan's gambling laws.
Other than the special prize, you can never be completely sure what prizes you might find at a Pachinko parlour exchange centre. Prizes have been known to include cigarettes, pens, CDs, lighters, soda, beer, perfume, jewellery, stereos, digital cameras, books and sunglasses, amongst other equally varied prizes.
---
Pachinko parlours
Pachinko parlours range from extravagant, flashy venues catering to thousands of players (similar to land based casinos), to smaller neighbourhood establishments that only hold 30 to 100 players. Just like casinos in the West, Pachinko parlours are licensed by local Japanese governments, but they are also required to donate a small portion of their revenue to charity.
In true Japanese style, Pachinko parlours are packed with action – filled with flashing LED lights and blasting music. Smoking is allowed, and the whole parlous is usually encompassed by a thick cloud of cigarette smoke, although talk is underway about banning smoking in Pachinko parlours. The Pachinko experience can provide a complete sensory overload, with the constantly clanking of thousands of steel balls adding to the mayhem, but the chaos and excitement is all part of the charm.
Despite all the action, Pachinko is considered to be a solitary game where players come to take solitude, so these are not especially social places. Parlour etiquette allows players to reserve machines while taking restroom breaks, and general superstition suggests that touching another players Pachinko balls will bring you bad luck.
---
Can I play Pachinko online?
You'll find some websites that offer a computerised version of Pachinko, but these are generally pretty unimpressive and are just there to offer a bit of fun. Online games of Pachinko are hard to come across, and don't offer the option of playing for real money.
If you're looking for an online alternative to Pachinko, we recommend playing real money slots at an online casino. Japanese players can legally place real Yen wagers at such offshore casinos as Royal Vegas Casino, All Slots, Guts and BGO Casino.
Just like Pachinko, the outcome of a slot game is based entirely on luck, and online slot games feature all kinds of exciting animation, graphics and special bonus features to keep players entertained. If you're making the switch from Pachinko to the slots, you can try games for free in practice mode to familiarise yourself with the different gameplay format before handing over any of your hard earned Yen.