Blackjack Party live dealer review
Blackjack Party live dealer review
The concept of Blackjack Party live dealer in a nutshell is a standard game of blackjack is played, while two charismatic croupiers sit behind the table chatting to themselves and to players, kind of like in a talk show format. Upbeat music plays and the conversation continues, all the while a legitimate professionally hosted game of blackjack is taking place. The croupiers are there to deal cards and keep players entertained, keeping things interesting for those who like their 21 with a side of party atmosphere.
If you're thinking this whacky idea sounds like one of the most bizarre ideas of all time, you're not wrong, but try it for yourself and you'll understand why this game has people lining up for a seat at the blackjack table. It has proven incredibly popular since launching, with Thrills and Guts casinos both having a few minutes wait before we could get a seat at a table.
---
Live dealer gaming explained
For those who aren't familiar with live dealer gaming, these are casino games that are hosted by human croupiers from venues around the globe and then streamed directly over the Internet to the homes of online punters. The games follow the exact same format and rules as any game you'll find in a land-based casino, with dealers who are just as professional and well presented, the only difference being instead of standing around a crowded casino, you can play from the comfort of your computer at home. Games are hosted from studios set up to replicate sophisticated gambling venues and then streamed in real time using high-def video camera technology.
Live dealer games are ideal for those who want to enjoy the social, interactive element of casino gambling, or those who are wary of random number generated (RNG) games. Blackjack Party takes this social element to a whole new level and is a hugely appealing game for those who enjoy friendly banter while gambling for real money.
---
Where to play Blackjack Party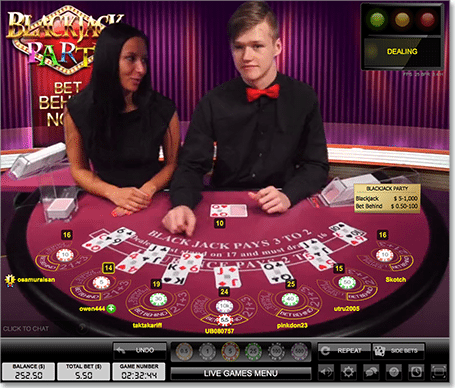 Blackjack Party has become one of the most popular live dealer titles from software developers Evolution Gaming, a world leader in live casino gaming. Like all other live dealer games, Blackjack Party can't be played in demo mode and will require a real money deposit to play. If you want to see what it's like, you can enter the game as a viewer without having to place a bet, but it'll be a short matter of time before you're directed back to the game lobby.
You can try Blackjack Party at these leading online casinos, taking advantage of some sweet welcome offers to boost your bankroll and get stuck into the Blackjack Party whirlwind:
Thrills offer a large range of secure deposit options for Australian players and use the latest in SSL security encryption to ensure player protection at all times. This site also offer a range of Evolution Gaming's other live dealer titles including live dealer roulette, baccarat and poker.
---
What is Blackjack Party?
Blackjack Party is a live dealer casino game from Evolution Gaming that can only be played for real money wagers. While there is good money to be won here, it's a low stakes game where the main focus is on fun. Blackjack Party is played using the standard rules of American 21, complete with vibrant music and two bubbly chat hosts, one male and one female. The dealers are professionally trained for television, and one assumes the role of croupier while the other acts as co-host.
While we were trialling this concept we were betting behind a gentleman who was gambling in excess of $20,000 per hand, so this game also caters to those with big bankrolls.
A chat function means you can interact with the hosts and other players, making it ideal for social interaction while also ensuring any questions you have are answered quickly. Disrespectful comments or foul language will not be tolerated and any anti-social behaviour will see you eliminated from the game, so use your manners at all times.
To play, simply head to Thrills.com and sign in to enter the game. Once you have your place at the blackjack table you'll be asked to place your desired bet, with minimum bets set at $5 and maximum bets capped at $1K. Players then take it in turns deciding how to play their hand, with the dealer letting you know when it's your turn to play.
There are seven seats at the table but close to an unlimited amount of bet-behinds, with the sentiment being the more the merrier. Players can bet behind anyone on a hot winning streak while waiting for a seat at the table.
Blackjack Party rules
The standard rules of classic American blackjack are used in Blackjack Party:
Eight standard decks of cards are used
Dealer stands on all 17's
The payout for blackjack is 3 to 2
Hands can only be split once
Double down is allowed on the first two cards
Blackjack Party side bets
There are also three side bet options in Blackjack Party:
Perfect Pairs – this is an additional bet that your first two cards will be a matching pair of any description. Minimum bet is $1 with a maximum of $250.
21 + 3 – a bet on the hand made up of your first two cards plus the dealers up-facing card, with payouts made for straight flush, three of a kind, three card flush and three card straight. Minimum bet is $1 with a maximum of $250.
Bet Behind – this allows players to place a bet on another player's hand and can be made even if you're not seated at the table. Most commonly these bets are placed on a player who seems to be on a winning streak. Minimum bet is 50 cents with a maximum of $100.
Players have the choice to turn off the side bet feature, but it can be a great way to jazz up a game, especially if you're waiting for a seat at the table.
---
The verdict
This game may not be for everyone, but it certainly gets our tick of approval. The main aim of Blackjack Party is to provide a fun and entertaining gambling space, and it certainly achieves that goal. If the only downside to online 21 is missing out on the enjoyable social interaction, this game makes that concern a thing of the past. Colourful, jovial and upbeat, we definitely recommend Blackjack Party to anyone who wants to have a new online casino experience and for those who like games a little on the quirky side.
Head to award winning online casino Thrills Casino with Aussies able to start playing Blackjack Party for real money instantly
.