Live dealer Sic Bo
Live dealer Sic Bo
If you have never played Sic Bo before you could be forgiven for thinking it looks like the most complicated game on the planet. However, once you learn the rules it can be a fun and addictive game which offers the opportunity to win big.
Sic Bo can be played at a number of online casinos both for free and real money, with some casinos even giving you the option to play live Sic Bo which features a human dealer who interacts with the dice and tables via a video stream.

Best Sic Bo live dealer casinos
---
How to play live dealer Sic Bo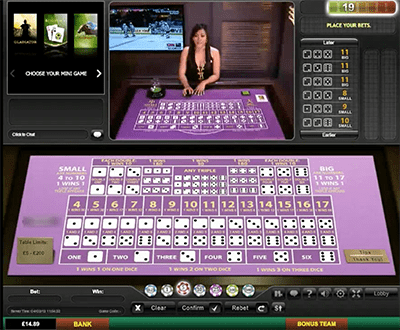 Sic Bo is a dice game played with three dice, rolled within a small bamboo cage or glass jar, with players able to bet on a wide range of results for each roll.
Each bet type has a different payout, with players able to place as many bets as they like.
In order to understand the game, we have outlined each type of bet below.
Small and Big:
These are two of the most popular Sic Bo bet types where players try to predict whether the total of the three dice will be small (four to 10) or Big (11 to 17).

If you win a Small or Big wager you are paid one unit for every unit stakes, therefore making them even chance bets much like Red/Black in Roulette.

Big and Small bets both lose if the result is a triple, meaning when the dice all show the same number.

Double:
This bet is when a player predicts the same number will appear on two of the three rolled dice.

You can bet doubles from 1-6, with the odds a whopping 10 to 1. While it can be difficult to land because you have to bet on a specific double, you can bet on as many Doubles as you like and combine your Doubles with other bet types.

Triple:
A Triple bet requires all three dice to show the same number in order to receive a payout. You can bet on any Triple between 1 and 6, while you can also place a bet that any Triple will occur, with this bet also known as 'The House'.

A successful payout on a specific Triple is 180 to 1, making it the biggest payout on the board, whilst the payout on any Triple is 30 to 1.

Total:
Players can also bet on the total number shown by the three dice, however it is important to note that you can only wager on a total of four to 17 due to the fact that three and 18 are covered under Triple 1 and Triple 6.

The odds for each total is different, however these are all clearly indicated on the board.

Single:
A Single bet is dependant on a certain number appearing on any of the three dice. It is a unique bet because each wager can win different amounts depending on how many times your chosen number appears.

If your chosen number appears on one dice you are paid at even money odds, two dice will see you collect odds of two to one, whilst three to one is the payout for the number appearing on all three dice.

Combination:
The Combination bet is a wager predicting that two specific numbers will show up on the three dice.
No matter which Combination you choose, the odds of a Combination bet is five to one.
---
The history of Sic Bo
Sic Bo is more than 200 years old and was established in China where it also has other names such as Tai Sai and Dai Siu.
The name Sic Bo means 'dice pair' – ironic given that the game is played with three dice. The game first appeared outside of China back in the 1920s, however it wasn't until 1970 that it made its way into a land-based casino in Monte Carlo.
These days, Sic Bo can be played at most brick and mortar casinos around the globe as well as online, meaning you can enjoy all the fun and excitement of winning big from the comfort of your own home.
---
Live Sic Bo by Microgaming
As mentioned above, Live games add a unique dimension to online casinos, allowing players to experience the social aspect of gambling through an actual dealer.
The best live dealer Sic Bo game is produced by Microgaming and is available for instant play through your web browser or by download, with both Windows and Mac players able to join in on the action.
The table limits of the game range from 50c through to $72, $2 to $180 and $5 to $350, with players able to adjust their bets by clicking on the chips.
The graphics of the game are clear and detailed, providing an atmosphere which is as authentic as you can get to playing in a real life casino.
Upon loading the game, place your bets by selecting your chip size and then clicking on the section of the table which corresponds with your desired bet type. The live dealer will then roll the dice which display on the screen and determine whether or not you will be paid.
---
Where can I play live dealer Sic Bo
Unfortunately, only one of our recommended online casinos, Royal Vegas, offers the live dealer Sic Bo title.
However, don't be too disappointed because the Royal Vegas online casino is as good as they come – offering a safe and secure betting environment and a lucrative sign-up bonus of up to $1200.
In order to play the game, you will need to create an account with Royal Vegas because live games are played with real-money.
Once you have created your account, make your first deposit which will be 100 per cent matched up to $1200, and get set to immerse yourself in the exciting world of live dealer Sic Bo.