Best multiplayer casino games
Best multiplayer casino games
Multiplayer casino games are a great option to find a social experience online. Internet multiplayer and two-player casino games allow you to play with friends, and the best part is the players can be from all over the world thanks to a simple Internet connection. Prefer the lower house edge and convenience you can find online? Want to compete against your friends? We recommend multiplayer casino games.

Best online multiplayer casino sites
---
Best multiplayer casino games to play online with friends
While online casino games can appear quite isolating, you can interact and play with your friends – you just need to know what games to play. For the most interactive gaming experiences on the Web, check out the game types below.
Live dealer casino games
Live dealer casino games are the best place to start when it comes to finding a social experience in real money online gambling. They allow you to join tables with other real players with their multiplayer variants and enjoy the atmosphere you get at the real tables with the live dealer, a real person streamed to your computer or mobile via video feed who handles the tables.
Multiplayer live dealer casino games allow players to place their wagers for the game, as well as see the bets made by other players. You can also chat to your friends on many variants via the chat box, which we will talk about below. You can organise these players to be your friends by setting up a time to play a certain title.
Microgaming offer great multiplayer live casinos games, including live blackjack, roulette, baccarat and poker, with croupiers dressed traditionally or in a Playboy Bunny getup. You can find these at RoyalVegasCasino.com – one thing these titles unfortunately lack, however, is a chat box.
Evolution Gaming, NetEnt and Extreme Gaming also offer an amazing multiplayer live catalogue for their blackjack and poker variants, and these tiles include a chat box. You can find these at at Guts.com on desktop and mobile devices.
Bingo
Interestingly, bingo is another online casino game which can be quite social – provided you visit bingo sites that offer an array of 75-ball and 90-ball bingo in an array of different rooms. These rooms can be open 24 hours a day or at certain times in the day, and you and your friends can organise to be here at the same time.
If you want to meet new players you can too, since these rooms are filled with players all around the world and feature chat boxes so you can interact with them. Moderators often spice up the conversations with mini-games and extra bonuses, and there is always an array of friendly communities to be found at the casino sites we promote which host housie games online.
Pokies tournaments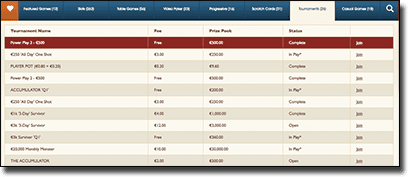 If you prefer a competitive edge attached when playing casino games with friends, you can actually verse them in online pokies tournaments.
Royal Vegas Casino hold regular tournaments, open to real money account holders (click our links to sign up and view what's available at the moment) where you can enter for free, or a fee, and play to win prizes.
Invite your friends to join the tournaments and battle it out for the top position on the leader board by activating bonus rounds, winning free spins, and more.
Many of our other recommended online casinos – each accept multiple currencies – also offer monthly leader board promotions where you can play for points and earn a position on the board. Make it a multiplayer casino promotion by inviting your friends and compete against one another for first prize – usually cash, vacations, the latest gadgets, free spins, and much more.
Progressives
While this may be somewhat of a stretch, progressives can be considered a multiplayer casino game if you want to compete against other players. It isn't as social as the aforementioned titles as you are spinning the reels as you would a normal video pokie.
However, we consider it a multiplayer game due to the prize pool attached. Every time a player plays the real money title they are contributing a percentage of their wager, and every time you spin the reels you are fighting for the chance against other players to win the jackpot attached.
The best titles include Microgaming's Mega Moolah and NetEnt's Mega Fortune, as these have the biggest prize pools attached and the most amount of players to compete against.
---
Social features in real money online games
Land-based gambling allows us to interact with other players and people who have similar interests, and it makes for a great night out. Online gaming can sometimes feel somewhat isolating and in turn make us feel a bit guilty.
This is why software providers have implemented multiple features for multiplayer and two-player casino games to create a social atmosphere and the best part is you have the ability to control it so you can decide how much you want to engage, or how little.
Chat box
The chat box feature is available on the majority of live dealer casino games available at our recommended online casinos, as well as on bingo games where you enter the special bingo rooms.
These chat boxes act as a messenger service where you can type what you want to talk about to other players – whether they are your friends or strangers you are welcome to engage. For live casino games you can even talk to the dealer who will respond verbally – creating an authentic social ambience.
There are rules to these chat boxes, for example obscene, insulting, foul, and aggressive language is not tolerated, so be sure to read the terms and conditions attached before you start.
If your friends are at the tables, be sure to respect other players from around the world who may also be present when chatting here.
Leader board and prizes
A leader board is a great social tool in creating a competitive and fun environment. For promotions and tournaments, Web casino operators will often display the positions of players – using their usernames, not their real names – and you can see who you need to beat. If you are playing against your friends, you can see if they're beating you too. The prizes are also a great addition, especially if you beat your friends and take home first prize.
Portable devices
Even if you aren't playing a multiplayer casino game or you can't get stuck into a tournament against players from around the world, if you have a portable device you can take it to your friends' house and turn any title at our recommended online casinos into a multiplayer game – provided you both play it at the same time.
This could be a fun idea for a gambling night out, instead of spending a lot of money just getting to a land-based casino. Nevertheless, there is something for every casino player at our recommended Internet casinos – whether you prefer single play, two-player, or multiplayer games.
For a large range of instant-play casino games, we recommend BetOnline Casino as our top-rated casino site for players from United States, which has some excellent welcome bonuses available for new players.