What is Nick Xenophon's Pokie-Leaks?
What is Nick Xenophon's Pokie-Leaks?
Three Australian senators have kickstarted an anti-pokies campaign, dubbed "Pokie-Leaks", they claim reveals addictive poker machine features that feed gambling addiction. The campaign, which is being spearheaded by independent MP Andrew Wilkie, Greens Senator Larissa Waters, and the NXT's Nick Xenophon, will rely on parliamentary privilege to protect whistleblowers, who the group claim have secret information about poker machine design and industry payments to politicians.
This page documents what their campaign is about and its progress in the Australian senate.
---
Pokie-Leaks: The Basics
The Pokie-Leaks campaign claims there are hidden tactics and industry scandals exploiting society's most vulnerable. While the functionality of poker machines is publicly available online and, as required by law, inside pokie venues, the senators claim the industry knowingly uses tactics to trick people into playing for longer periods. Senator Wilkie claims "when the bells will go off and the lights will flash", players are tricked into thinking they're won, when "they have actually lost".
Pokie machines have an expected return rate of between 85% and 92%, which the senators claim is inadequate and not communicated well enough to players. Primarily, the group wants to introduce more safeguards to ensure players are fully aware of the chances of a win.
There are also concerns about the money reportedly being paid to political parties, both on and off the books, according to Senator Wilkie. The Pokie-Leaks group claims the industry is avoiding scrutiny because it paid hundreds of thousands of dollars to the major parties during the federal election, and Australians will "keep getting ripped off" so long as the gambling lobby continues to pay off politicians.
Clubs NSW, which operates pubs and hotels across the state, is at the forefront of these claims. Former Midnight Oil frontman Peter Garrett, who contested and won the New South Wales seat of Kingsford Smith at the 2004 Federal Election, claimed he was offered a cheque from Clubs NSW, which he rejected.
Senator Xenophon claims he has the information to tackle the pokie machine industry, believing machines are manipulated to make them more addictive. This led to the formation of Pokie-Leaks, which is a sub-group of The Alliance For Gambling Reform. It's calling for a maximum pokie machine bet of $1 per spin.
---
Feeding addiction
The Pokie-Leaks campaign is using former gambling addict Shonica Guy as an example of how manipulative pokie machines can be. Ms Guy launched a well-publicised legal case against pokies manufacturer Aristocrat, claiming the company's machines made her "hooked" and she was addicted for 14 years.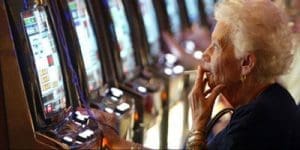 Ms Guy's primary argument is at the forefront of the Pokie-Leaks campaign: that pokie machines simply aren't fair enough, and/or trick the player into thinking they have won. Ms Guy pointed to Aristocrat's Dolphin Treasure game, which she says is unfairly weighted against the player.
Sadly, Ms Guy's tale is not uncommon. While information as to the RTP (return to player) rates of pokie machines is widely and easily available, many players fail to truly understand the chances and potential for a big win. On average over time, the house stands to see a return of 12 cents to every dollar, meaning players see a return of 88 cents per dollar (or a 12-cent loss). The problem, according to Senator Wilkie, is a $10 wager and $5 win on a spin is often interpreted as a profit, when in fact the player is down $5.
This is fuelling the Pokie-Leaks campaign. However, if its claims of payments to major parties is true, it may find itself fighting an uphill battle to initiate any sort of change. While it has mentioned some of the changes it would like to see introduced — like a maximum bet limit — it has remained vague, perhaps purposefully so, as to what "safeguards" it hopes to introduce.
---
Pokie-Leaks alternatives
If there are genuine concerns about the influence the gambling lobby has on politicians, this should be dealt with. The problem, however, is politicians tend to veer from one extreme to another, either supporting something or imposing some ridiculous regulation instead. Not to say the industry can't remain as it is without ridding parliament of payoffs, but some Senators have a knack for applying tyrannical pressure, and the fear is the likes of Xenophon will go to great lengths to not just impose "safeguards", but to kill off the industry completely.
Education is widely available, but maybe it's not enough. Perhaps this is what the Pokie-Leaks lobby means when it says "safeguards", because surely it can't mean the plain packaging-equivalent for pokie machines where all lights, sounds and branding are removed. Many players struggle to understand the "randomness" of pokie machines, and the true meaning of RTP. In the case of Ms Guy, it appears she misinterpreted the rate of return and how much she was getting back relative to how much she was wagering. Whether it was a product of the machine manipulating the outcome, or through Ms Guy not understanding how the game works is a matter for the courts to decide.
There appears to be a common misconception as to how machines work, and Pokie-Leaks appears to focus on this misconception as a malicious attempt by the industry to trick punters. However, with widely available information and clear guides as to how to play pokie machines, it may just be a matter of ensuring people have a better understanding of how the machines work, and improving the ways in which players are educated about the odds.