Pokies games I would like to see made
Pokies games I would like to see made
While we are treated to thousands of pokies when we head to online casinos, there's always room for new additions. We've dreamed up some of the most amazing pokies we would love to see added to our favourite online casino catalogues, and hope Microgaming, Net Entertainment, BetSoft and other top software developers take note.

Best real money online casinos
---
Interactive pokies using Virtual Reality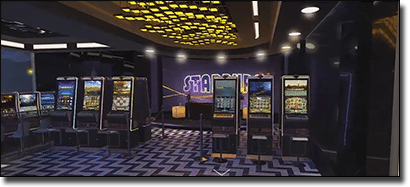 The world of Virtual Reality (VR) is only just starting to take off, with Microgaming pioneering the way for VR gaming and SlotsMillion.com offering the first official VR casino where you can access 40 popular titles via the Oculus Rift (a VR headset), or in 3D on your Windows 7 or 8 device.
However, we want to see an expansion on this and we are basing this on the VR Roulette demo by Microgaming at the ICE Totally Gaming Conference 2016.
The leading software developer integrated the Leap Motion 3D Controller with the Oculus Rift so the player's hand movements were thrust into the virtual world of a roulette table run by a robot. The player could place their bets using their hand movements and view it occurring in a different realm with the Rift.
To use this on the pokies would mean we could sit on our lounge with a headset and a motion controller and feel as though as we were spinning the reels of an actual video pokie in a land-based casino.
What's more we would love to see the pokies, and the VR casinos, imitate real life instead of featuring animations. At the time of writing, Slots Million's VR casino features animated graphics and while we are thrust into another world, it doesn't feel real. Our vision would see a hand, a real one at that, open the door of a real casino and then pull the lever on our favourite online pokies all accessed via a headset and a motion controller.
So instead of the VR Starburst pokie (available at Slots Million's VR Casino), which features the animations we see on our desktops, laptops, tablets, and smartphones, we would love to see the same game put into a real pokie, which we can access via a VR headset.
---
True stereoscopic 3D pokies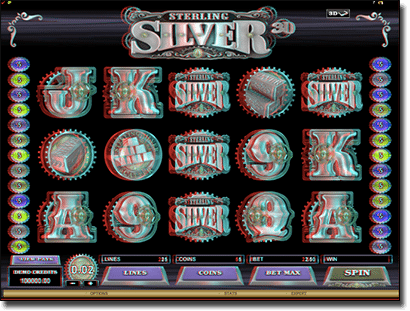 When 3D gaming came to the forefront Microgaming attempted true stereoscopic 3D pokies and brought out Sterling Silver, a pokie which requires 3D glasses to be worn in order to see the 3D graphics.
While the concept is both unique and intriguing, the graphics are quite boring and include lumps of silver and traditional value symbols which don't really jump out at you, despite being in 3D.
Therefore, we would love to see pokies which use this technology and require the use of 3D glasses (most TV's come with them or your can buy them separately). Imagine playing Gonzo's Quest by NetEnt and have all the creatures of the jungle coming out of the screen – playing with real money would be better than paying to see a 3D film.
What's more, with Net Entertainment's announcement of 3D sound at the ICE Conference 2016, combining the two would see a truly exciting gaming experience, immersing the player right into the game graphically and via 3D sound effects.
---
New format for pokies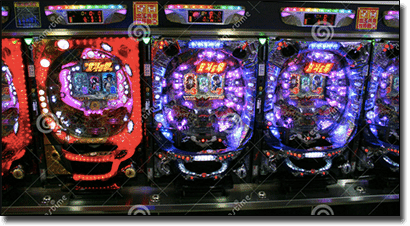 Why just change the graphics and audio when you can change the entire format of a pokie machine? For example, in Japan there are machines called Panchinkos which are arcade type games. These resemble a pinball machine but don't use flippers. These can be used for fun or for gambling. The balls are fired into the machine and go to certain locations to be captured. The object is to capture as many as possible for prizes and cash.
While these were originally mechanical, modern machines incorporate an array of electronic features making them quite similar to video pokies.
Incorporating games similar to this into casinos would make attempting to win money quite a different and exciting and if we didn't happen to win at least we would've paid for a service.
Changing how we play the pokies, along with changing the aesthetics, would be something we would welcome for the future of pokies.
---
Better bonus features and mini games
While we jumped into the deep end with our expectations on what we'd like to see in the future for pokies, we thought we'd better be more realistic in terms of technology and time frames.
We would love better bonus features and mini games within pokies, instead of the same formats with different themes, and though we are starting to see this we would prefer it to be more prevalent.
Instead of pokies which have been optimised for the mobile platform mirroring the exact same features as desktop titles, they should include different features instead. It would be good to see titles which integrate the platform, such as having to pay extra to tap as fast as you can to win a payout on your smartphone or tablet, so players who have both desktop and mobile devices can mix it up.
Pokies which see players verse other players, instead of the house, would also be quite interesting. For example, once you trigger a bonus feature you verse another player who is playing the title, by completing an activity or spinning a certain combination with the winner taking the pot.
The features available now are interesting but we would love to see a bit of variety and uniqueness when it comes to new pokies.
Overall, we have a wide selection of great pokies at our recommended online casinos, but it would change the iGaming industry forever if at least one of these ideas were incorporated into our favourite casino catalogues.