Publicity stunts from casinos
Publicity stunts from casinos
From the incredibly successful to the plain ludicrous, we take a look at some of the best casino publicity stunts over recent years.

Best online real money casinos
As anyone who's had the pleasure of strolling down the Las Vegas Strip will know, when it comes to gambling, the bigger and more outrageous the better. Casinos and their owners are not ones to shy away from the limelight, which means publicity stunts for both land based and online casinos are all part of the public relations package.
---
Golden Palace casino publicity stunts
There's no way to talk about casino publicity stunts and not first mention Golden Palace, the Canadian run online casino that has earned a worldwide reputation for its completely absurd publicity stunts, with the venue being deemed "the king of marketing." Golden Palace seem to be following the golden rule of marketing; the crazier the better; which has certainly paid off as the site brought in over $80 million in revenue annually during its peak in the mid 2000's.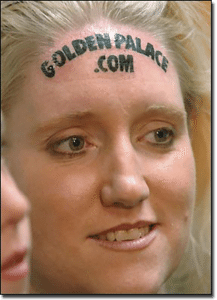 The relatively unknown company started by employing advertising tactics that were completely unheard of at the time, mostly paying professional boxers to adorn temporary tattoos advertising the site on their flesh during widely televised games, making the casino an instant hit and generating a huge flow of traffic to the casino.
Next, they started paying "professional streaker" Mark Roberts to wear the RoyalPalace.com tattoo on his chest when he streaked naked during huge sporting events like the French Open, the Swimming World Championships, the Superbowl and even the Running of the Bulls. Such exposure bought a boost in revenue, which Royal Palace used to buy all kinds of odd paraphernalia from eBay, like the grilled cheese sandwich that resembled Virgin Mary, Britney Spears alleged pregnancy test and William Shatners kidney stone, items which they then used for publicity events where proceeds went to charity.
Then came much more audacious stunts, including having a woman legally change her name to goldenpalace.com for a payoff of $15,000; having a woman permanently tattoo goldenpalace.com into her forehead, and more controversially, buying the rights to name a woman's then unborn fetus, with the child now bearing the name Golden Palace Benedetto, nickname "Goldie."
Now almost completely off the radar, the basis of Golden Palace's marketing strategy was to have fun and make people laugh – they did they nail that one. This is a small cut of the gigantic list of publicity stunts this casino pulled during its hey-day, with professionals estimating that what cost Royal Palace only a few million in purchases, resulted in over $30 million dollars of ad value.
---
British man bets all his possessions on the roulette table
32 year old UK resident Ashely Revell made headlines a few years ago when he publicly announced that he was going to sell every single one of his possessions and bet his life savings on one single spin of the roulette wheel. He sold everything from his clothes to his homewares and along with some backing from online gambling sites, Revell managed to pull together US$135,300.
The fiasco caused quite the stir, receiving huge amounts of publicity and media coverage, with a reality TV mini-series called Double or Nothing documenting the lead up to the event. When the big day came, Revell placed the US$135,300 bet on red at a roulette table at the Plaza Hotel & Casino in Las Vegas and much to the joy of himself and onlookers, the wheel landed on red seven and he doubled his bet to take home US$270,600.
The stunt not only hugely benefited the Plaza Hotel & Casino, but also Sky 1 television, Blue Square bookies and Revell's future endeavors which included now defunct poker site Poker UTD and his consultancy company, iGaming Recruitment.
---
Roulette baggage claim in Venice
Elaborate and effective, the Casino of Venice (Casinò di Venezia) made it virtually impossible for any visitor arriving at the international Venice airport to avoid thinking about making a trip to the casino when they turned the baggage carousel into a giant roulette wheel.
Sporting a black and red numbered conveyer belt, the casinos name and the motive 'keep playing', it was impossible for any visitor to Venice picking up checked luggage to avoid it. Not only was this great exposure to tourists, but the publicity stunt generated a load of hype and was covered by all the leading Italian media. Well played indeed!
---
Jackpot Joy's rubber ducky
In 2012 online casino JackpotJoy.com launched a publicity stunt of a different kind when they set a giant 50 foot tall bright yellow rubber ducky down the Thames River in London to a huge public response. The bizarre thing about this was that the rubber ducky didn't bear any markings of the casinos brand or contain any advertisements for Jackpot Joy, leaving many people scratching their heads as to what the point of the whole thing was. Jackpot Joy said the duck was there purely to bring some joy and laughter into people's day, fitting in with their FUNdation campaign that aimed to fund ideas that purely increased the daily laugh quota of the nation. Can't argue with that!
---
Sportsbet's giant Jesus balloon
Perhaps taking a leaf out of Golden Palace's marketing book, in 2004 sports betting supergiant Sportsbet.com.au caused giant outrage when they floated a giant air balloon of Jesus wearing a Sportsbet t-shirt along with the hash tag #KeepTheFaith above the city in Melbourne.
Aiming to resemble the iconic Brazilian statue of Christ the Redeemer, naturally this did not go down well with religious groups or anti-gambling activists, with many demanding that the balloon be taken down. SportsBet stood by their advertising tactic and said that the balloon spoke to their half a million social media followers, who spokesman Matthew Campbell said fully supported the publicity stunt.
Campbell also said the aim of the balloon wasn't just to direct people to the betting site, but to support the Socceroos during the Soccer World Cup which was happening at the time.
---
Paddy Power's Amazon deforestation backlash
The 2014 World Cup seemed to bring out some bizarre behavior in several betting sites, with UK's Paddy Power making a move that many have deemed the most idiotic publicity stunt in history. Paddy Power released a picture to their social media followers of an aerial shot of the Amazon forest, with paths cleared out so that from above the deforested area read 'C'MON ENGLAND PP'. It turns out the picture was completely doctored and a total hoax, but understandably, it did not go down well.
Spokespeople for Paddy Power said the stunt was a ploy to raise awareness for the deforestation of the Amazon, coinciding with the hashtag #SaveTheRainforest, but not everyone bought the claims that the hoax was done with good intentions. So while no trees were harmed in the making of this publicity stunt, Paddy Powers reputation certainly was.
The online casinos recommended on our site don't need to rely on crazy publicity stunts to draw users to their venues, relying much more on genuine promotional offers, word of mouth and solid safety reputations to keep crowds coming back for more.