Roulette madness at Crown Casino
Roulette madness at Crown Casino
I ventured to Melbourne's Crown Casino recently, and found myself downstairs in the poker room, enjoying some casual hands of $20 Casino War – not exactly a thinking man's game, but a hell of a lot of fun, nevertheless.
To the right of me are the four lower-limit American roulette tables (featuring the zero and the double zero pockets). After several hands of War, and having generated a nice little profit for myself, I shuffled over to the bustling roulette area to check out what all the noise was about.
Sure enough, a couple of drunkards were riding their luck on a few 'lucky' numbers, and had hit the same straight-up number two times in a row, reeling in some handsome winnings. The buzz they had created was uplifting, and it had brought plenty of patrons over to join in the fun.
Just as I was about to return to my Casino War table, I noticed a couple of other players throwing down stacks of five dollar chips on specific numbers across the roulette betting layout.
$10 on 2 black, $10 on 4 black, $15 on 7 red, another $15 on 9 red, $25 on 21 red, $15 on 28 black, $15 on 29 black, $5 on the 0/00 split, and plenty of other $5 chips scattered on other straight-up numbers. And they were doing this spin after spin. They'd hit a few times and turn in some decent profit, and then miss and lose everything a couple times after.
The method of play was not an issue – this can often be a great way to maximise your profits, as the straight-up payout is a cool 35:1. However, the problem was these guys were more than doubling their odds of failure.
How so?
---
The problem with playing roulette at Crown Casino
Down in the poker room at Crown Casino, the roulette tables have lower wagering limits for casual players who aren't looking to bet too heavy. Minimum wagering limits typically range from $1 to $2.5 inside bets. However, to counteract these small betting limitations, Crown has made sure to employ double-zero roulette games (American format) to bump up the house edge to 5.26 per cent.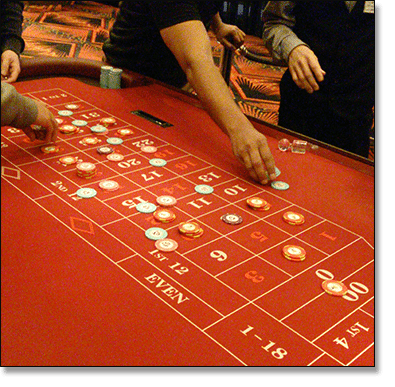 In order to find the much friendlier European roulette tables (single-zero format), you'll need to pop upstairs to the main casino floor where the minimum inside wagers are $5. But the $5 minimum single-zero tables tend to only stay open on the real busy nights; most other nights you'll struggle to find these tables, and the best you can do for European roulette are $10 minimum inside wagers.
But even at $10 single-zero tables, this minimum would have been more than sufficient for the types of wagers these guys were throwing down. And at a single-zero table, they'd stand a much better chance of raking in profits, with a house edge of only 2.7 per cent (there is one less number on the wheel, guys!)
Understandably, there are those who don't want to be spending a minimum of $5 or $10 on single numbers and splits every spin of the roulette wheel, but prefer laying down $1 or $2.5 wagers, and thus the double-zero game is the only option. And that's fine.
But for those punters who plummet $25 on specific numbers, I implore you to go upstairs and find a bloody European roulette table – you'll boost your odds of winning significantly!
The same goes for players who are pumping out wagers of $25 or more on Blackjack Plus tables. Stop doing it! You are haemorrhaging your cash. Go upstairs and locate the Crown Blackjack tables which hold minimum bets of $25 per hand and utilise stock-standard blackjack rules, instead of rules which force the dealer to push on 22.
---
Online casinos with better roulette bets and odds
Here's some advice for everyone: If you are searching for blackjack and roulette tables with lower minimum bets, so you can enjoy your gambling experience for a bit longer and play without too many worries, jump online and register an account (cost-free) at any of our recommended Internet and mobile casino sites, such as:
These sites are licensed, reputable and legal for eligible to access, offering minimum bets as small as $1 per hand on legitimate, player-friendly blackjack and roulette tables. Check out the poker, pokies, bingo, keno, video poker, scratch cards and live dealer games which are also available at these gambling websites.
But please, higher limit players, when you find yourself at your local casino, stop suffocating your odds and make an effort to play at the tables which provide far lower house edges. Thank you.