Banana Drop slot review
Banana Drop slot review
Pack your bags; we're going straight into the jungle in our Banana Drop slot review. This exciting slot is one of Microgaming's latest casino games. Released in July 2020, this friendly game impresses with its vivid color scheme and adorable monkeys swinging past your screen.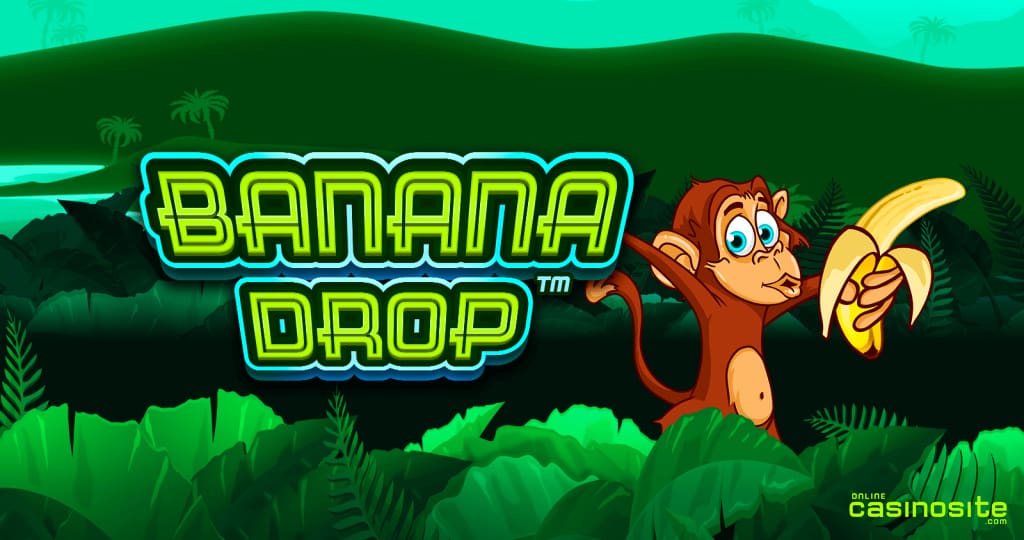 The base game consists of 6 reels, each containing four symbols. Instead of a dramatic storyline, Banana Drop sets a relaxed mood with its playful primates. Don't let its laid back vibe fool you, though, as there are 4096 ways to win, with a few multipliers along the way.
Banana Drop has medium volatility and an RTP of 96.7% to boot. There are plenty of bonus rounds and even free spins. So don't let this opportunity slip and read our Banana Drop review to find out more.
---
How to Play Banana Drop at Microgaming Casinos

Best Microgaming online casinos
If you're wondering how to play Banana Drop at Microgaming casinos, it's easy. First, you need to sign up to an online casino offering Banana Drop and other Microgaming titles. We've listed a few of our favorite online casino operators with Microgaming games below:
Once you've registered, you will need to deposit some real money into your casino account. While you're at it, why not see if you're eligible for a welcome bonus that can give you an extra amount to play with.
Of course, this goes without saying, but make sure you read the wagering requirements before claiming any bonus. The last thing you want is for your experience to be ruined over a misunderstanding.
---
Banana Drop Gameplay
The concept behind the Banana Drop gameplay is simple. Get three or more matching symbols on any adjacent reels. Unfortunately, if you're hoping to get multiple sets, it only pays out the highest winning match.
The progressive slot offers dynamic high-value symbols like a giraffe, hippos, lions, wilds, and a scatter represented by a leaf. If that's not enough, there's also coconuts, pineapples, and watermelons. Like most slots, the lower value symbols are shown in the form of card values.
You can stake a minimum bet of 0.15 credits, and a maximum of 30 per spin. While the payouts aren't exactly appealing, the bonus features and free spins make up for it.
We also liked the autoplay option. Here you can set the total amount you wish to bet every spin. You also can set your loss and win target. There is a limit, of course, a minimum of ten and a maximum of 100.
Alternatively, there is a quick spin setting that repeats your initial bet until you land on a winning combination.
---
Banana Drop Features
Banana Drop features some unique bonuses that may pique your interest. First, the wild symbol can replace any other one (except for the scatter) to create a match. Additionally, the wilds can stack, allowing for a subtle multiplier.
You can't have the word 'banana' in the title and not use the fruit in some way, right? Of course not. This slot includes an exciting falling banana feature that can trigger randomly throughout the game.
You'll know when it happens, too, because the monkeys swing past your screen and knock off the bananas on top of the reels. This act awards extra prizes like wilds and if you're fortunate a few free spins.
One other feature worth mentioning is the Big Buildup mechanic. Again, it triggers randomly in your game and increases the number of bananas and loot in the trees for a mighty bonus.
Banana Drop Free Spins
Everyone loves a free spin and rightly so. The possibility of winning real money without having to stake anything is tantalizing, no matter your experience level. To get your hands on some of the Banana Drop free spins, you'll want to look out for the leaf scatter symbol.
You need three or more scatter symbols to get a reward of seven free spins. These aren't just regular spins either. You can receive up to 6,000 times your bet, making for Banana Drop's most significant multiplier.
---
Banana Drop Review Conclusion
When it comes to our Banana Drop review conclusion, we feel somewhat lost in the jungle while we are playing this online slot. There is nothing wrong with the gameplay. The entire time you can hear a relaxed tropical beat as well as subtle animal noises. The graphics are great even for cartoon standards with a rich assortment of vibrant colors.
It somewhat slips on the banana peel when it comes to the value of its symbols. The highest possible winning combination, which is six of a kind, offers disappointing values. Luckily, the bonus features like scatters, wilds, falling bananas, and free spins make up for it slightly.
Overall, Banana Drop is worth a try, especially since it boasts a massive jackpot and a few extra spins along the way.