Mega Fortune review
Mega Fortune review
Have you ever looked at pictures of all the things you could buy after purchasing a lottery ticket? If so, you now understand the basic concept behind the Mega Fortune slot from Net Entertainment.

Top progressive jackpot NetEnt casinos
The reason we say this is it's a progressive slot, with a huge jackpot on offer that can make you an instant millionaire while featuring all the possible things you could buy with the money, including a boat, expensive champagne, jewellery and more, on the reels.
---
About Mega Fortune
Mega Fortune was released by Net Entertainment in 2009 and the progressive has not only made many millionaires but it has also broken records in the process. This has included the record for the largest amount on an online slot in the Guinness Book of World Records. This was by an anonymous Finland player who scored over €17.8 million in 2013, with a bet of just €0.25 when he won the record breaking jackpot.
We have found an array of reliable and secure web casinos which offer Mega Fortune so players can do a little research and find out the size of the Rapid and Major jackpots at each online casino. If you are only concerned with the Mega jackpot then any of the casinos in our table above are a good option.
---
Mega Fortune jackpots
For those who do not know what a progressive jackpot video pokie is, it is a slot machine which has one big prize pool that is linked irrespective of who plays it or where, and grows by a percentage of every player's bet contributing to it.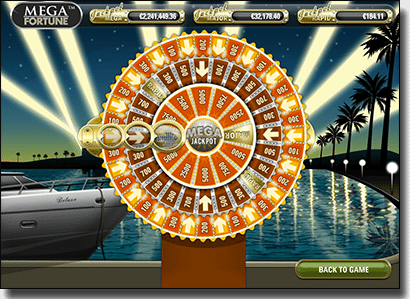 The progressive can be casino-specific, though this generally means it is much smaller in size, or it can be linked to every casino which offers the progressive. There can also be more than one jackpot, as is the case with Mega Fortune.
Mega Fortune is made up of three progressive jackpots, including the Mega, Rapid, and Major jackpots. The Mega jackpot, which is the biggest jackpot, is linked to every Mega Fortune Mega jackpot, regardless of the online casino you are playing at, while the Rapid and Major jackpots, the two jackpots that decrease in monetary value respectively, are casino-specific meaning if you play at one Internet casino, these two jackpots are going to be different in size to another Internet casino.
How to win the jackpots:
In order to win one of the three jackpots, you need to spin three bonus symbols, which is the wheel with 'Bonus' written across it. Once you have spun these symbols a wheel-of-fortune type bonus game will appear which features three reels, and three jackpots. The first wheel will either give you a chance to play the next wheel, or a payout. The second and third wheels, if you get to them, will give you a payout or a jackpot win. To win the jackpot, you just spin the wheels here and if it stops on 'jackpot', then you've landed one of the jackpots.
---
Format and gameplay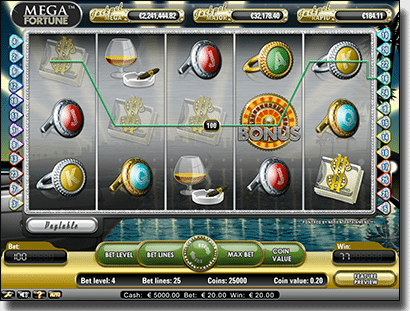 Mega Fortune is a 5 reel 25 payline slot which is similar to many standard slots, albeit the jackpots on offer. Additionally, it features the usual symbols such as Scatters and Wilds, as well as free spins. The minimum bet for Mega Fortune per spin is $0.25, while the maximum is $50. Additionally, the coins range from 0.01 to 0.5.
Wild symbol:
The Wild symbol is the boat symbol with 'Wild' written on it and it substitutes for all symbols except for the Bonus symbols and the Scatter symbols. If you spin five Wilds you can win 10,000 coins.
Scatter symbol:
The Scatter symbol is the champagne bottles symbol and triggers free spins as well as acts as a 'pick me' type bonus to determine how many free spins and the multiplier attached.
Free spins and multipliers:
Land three Scatter symbols or more to trigger the free spins. Here you will then be able to choose one champagne bottle out of three to determine how many free spins you will receive and the multiplier attached, with up to a 5x multiplier available. You can re-trigger this feature again and again, and even while you are spinning your free spins.
---
Is Mega Fortune available for smartphones and tablets?
Mega Fortune also comes in a Touch version, which means you can play on your mobile device, such as an Apple, Android, or Windows smartphone or tablet. The Mega jackpot is still the same regardless of the platform and the mobile casino you have chosen to play at, while the other two jackpots are dependant on the casino you are playing at, but it does not matter what platform you are playing on.
---
Our verdict on Mega Fortune
Making the Guinness Book of World Records is incredibly impressive meaning this slot starts off on a high note before we even begin spinning it. However, it upholds its reputation as a quality slot especially with the 96.6% RTP and the fact there are regular wins even if you don't hit the jackpot.
While the theme is quite apt, it isn't overly exciting, but regardless the bonus feature included in order to win one of the jackpots is quite thrilling and makes this slot a worthy contender amongst the other popular progressives.
---
What is Mega Fortune Dreams?
Mega Fortune Dreams is a sequel to the Mega Fortune progressive we have reviewed here today. It too is a progressive and also offers three jackpots with three wheel-of-fortune type wheels. We recommend trying Mega Fortune first and then trying Mega Fortune Dreams out so you can get the feel of both and make your own mind up, but it is important to remember that these two aren't linked and are two different progressives.