Neon Life review
Neon Life review
If you haven't yet experienced the craziness, glitz and glamour of Las Vegas, then Neon Life from Playtech may be a nice way to dream about a trip to Sin City. This online pokies game takes a classic, neon-infused Vegas theme and makes for a soothing, ambient gaming experience.

Where to play Neon Life pokies online
---
How to play Neon Life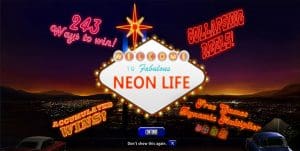 Sign up at Casino.com to receive a 100% welcome bonus up to $400. Then jump straight into Playtech's latest Neon Life slot, and you could be on your way to a huge win of up to 100 coins. Neon Life is a 5-reel, 243 ways to win slot, and can be played on desktop, mobile and tablet. With a host of exciting features including free spins, collapsing reels and scatter wilds, Neon Life is an exciting albeit placid ride through the bright lights of Las Vegas.
Neon Life has bonus features including free spins up to 25, along with dynamic multipliers of up to 5x. Winning combinations are formed whenever the same symbol lands on successful reels, and this also comes with exploding reels and accumulated wins, making for a very diverse and exciting winning mechanic.
The betting options for Neon Life are as follows:
Minimum bet per spin – $0.25
Maximum bet per spin – $12.50
Scatter – Yes
Wild – Yes
Bonus rounds – Yes
Free spins – Yes
Jackpot – 100 coins
---
Audio and Graphics
Neon Life's minimalist design will be hit and miss for some players looking for a more exciting and "in your face" slot. I found it to offer a nice backdrop against hotels and casinos along the Las Vegas Strip, celebrating a 1950s-type noir aesthetic to the tune of classy piano lounge music.
One thing I don't like, however, is the placement of bankroll, which is located on the outer border of the slot, so it's easy to miss and lose track of. The Turbo functions works well to keep the action fast, completely removing the animated spin and drop of reels and symbols, and simply reloading the reels with new ones.
---
Neon Life gameplay and bonus features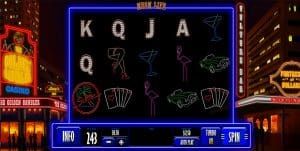 Neon Life is deceivingly deep when it comes to bonus features. The game initially plays out like it has little to offer, but there's some significant depth here if you can play for long stretches. The small betting range – the maximum $12.50 bet may be a turn off for players looking for a higher maximum – can make for a game with long stretches of little to no wins or bonus features, but once they do eventually tick over, there's plenty of fun to be had.
Let's take a look at Neon Life's bonus features.
Collapsing Reels
This is certainly not an uncommon feature, appearing quite often across Playtech games. The difference in Neon Life is that instead of the winning symbols disappearing in a combo, all of the non-winning symbols disappear. This means that the winning icons drop and continue to drop until there are no more matching reels. These non-winning symbols can potentially be additional winning symbols, so it can lead to some big wins.
Free Spins
Free Spins are awarded whenever you get at least five scatter symbols across at least five reels. In my experience, I had five scatter symbols but across four reels (two symbols on one reel), and this didn't initiate the free spins, which was disappointing at the time. Here's how many free spins you win relative to the number of scatters.

5x scatter symbol: 7 free games
6x scatter symbol: 10 free games
7x scatter symbol: 12 free games
8x scatter symbol: 15 free spins
9x scatter symbol: 20 free spins
10x scatter symbol: 25 free spins.

The interesting thing about the free spins feature is that the collapsing reels feature is still active, now with the added bonus of multipliers for every win.

3 wins: 2x multiplier
5 wins: 3x multiplier
7 wins: 5x multiplier
---
The Final Verdict
Neon Life isn't a particularly deep or exciting slot, but I like how rewarding the bonus features can be one they're initiated. The Free spins combining with the collapsing reels is enough to save the slot from complete disaster, while the design is a nice ode to classic noir-inspired Las Vegas.
You can play Neon Life and more Playtech online pokies games at Casino.com – check out our full review of the site for more information.