Pimped pokies review
Pimped pokies review
Play N' Go's gangsta-themed slot, Pimped, is not without its fair share of glitz and glamour, but does it reward players with some of its sparkling treasures? This 10 payline, 5 reel game is a little limited in ways to win, but its varied betting range almost (but not completely) makes up for this. An additional gambling feature, Wilds and Free Spins make it a solid if uninspiring slot, which is surprising considering the in-your-face presentation.

Play'n Go online pokies casinos
---
How to play Pimped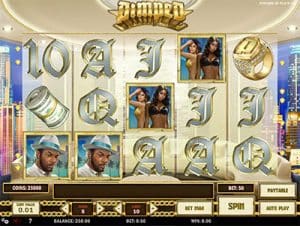 If you recognise two of the symbol characters in Pimped, you're not alone, but we doubt Snoop Dogg and Xzibit had much to do with the design of this game. The core gameplay here isn't particularly unique: there are three standard symbols — two "pimps", and a symbol with two women — with the latter paying the least, while the pimps, as one might expect in a game called "Pimped", paying out the most on at least three reels.
The brass knuckles Wild substitutes for all symbols except the dollar sign Scatter, which initiates free spins. There are options available for additional spins on top of the current bonus, as well as full new bonus round if the Wilds appear during the Scatter round.
The betting options in Pimped are as follows:
Coin sizes – $0.01, $0.02, $0.05, $0.10 $0.20, $0.25, $0.50
Minimum bet per spin – $0.10
Maximum bet per spin – $25
Scatter – Yes
Wild – Yes
Bonus rounds – Yes (additional free spins and bonus rounds, gamble option)
Free spins – Yes
Jackpot – 500,000 (in-game)
RTP – 96.51%
---
Audio and graphics in Pimped
Pimped looks just as you'd think a game with that name would look. Symbols are a mix of diamond coated letters and numbers, girls in bikinis, and pimps in white and purple suits. Throw in some gold, diamond-crusted dollar signs and a brass knuckle Wild, and you have the most pimped-out slot imaginable.
The beat on repeat is subtle enough to keep at a reasonable volume, although it just repeats the same few chords over and over again with little variation. Not much happens in the way of animations during the bonus rounds apart from some gold and diamond flashes whenever you land additional free spins and a big coin win. Eh, we don't play slots for the visuals and audio, and Pimped doesn't try too hard while still managing to look excessively tacky for the fun of it. There are no surprises here.
---
Pimped gameplay and bonus features
You can bet as low as 0.10 in Pimped so there's some good variation here, with the maximum bet being $25. It's not an excessively expensive slot to play but then again, there are few bonus round, even if the free spins mode adds the potential of additional free spins (you only start off with 5, anyway).
Big wins during the standard spins aren't much unless you land at least three Wilds and some of the pimp symbols across the other reels, or a combination of all three. There is the potential for big wins but ultimately you're looking for the free spins and some additional scatters during that bonus to net you some extra coins.
Wild: The brass knuckle Wild substitutes for all symbols except the dollar sign Scatter.
Pimps: Our Snoop Dogg-looking friend is the most lucrative in the game, so you want at least three spread out across the reels with some Wilds for good measure. He's followed closely by the Xzibit wannabe, while the bikini-clad ladies offer the least (who'd have thought?) of the themed symbols.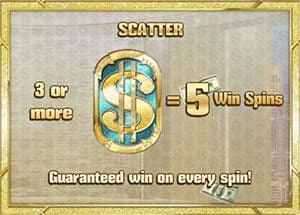 Free Spins: The dollar sign Scatter symbol kicks off the three games with at least three across any of the 5 reels. You start off with five free spins, with a win on every spin (this is why you're desperate for the bonus round and additional spins). Each dollar sign Scatter during the free spins bonus adds an additional 2 free spins, so there's the potential for endless free spins, as rare as that may be. You can land more than one additional scatter in a spin, so any one free spin can net you an additional 10 free spins. With a win guaranteed on every spin, you can see why the bonus round is so much more lucrative than the standard base game.
---
Where to play Super Flip
You can play Pimped at many of our recommended sites listed in the tables at the top of this page (automatically geo-targeted to only show sites legally catering to your country), which all host Play'N Go online pokies software. All are verified by industry watchdogs like eCOGRA, are safe and regulated for player deposits, and have hundreds more pokies on offer from Play'N Go and other game developers.
---
Pimped on mobile and tablet gaming
Play'n Go is no stranger to the mobile gaming scene and as such Pimped is a fantastic slot to play on your smartphone or tablet. All of the best online casinos allow you to play Pimped and other Play'n Go games on your portable device. You can play for real money or for fun on your smartphone, tablet and desktop at any of our favourite casinos that host Play'n Go games.
---
The Final Verdict
Pimped isn't a fantastic slot, but it's far from bad, and its free spins bonus along with the potential for additional spins and guaranteed wins makes it a potentially lucrative slot to play. It lacks much in the way of inspiration, even going as far as to copy the likeness of two of rap's biggest stars. Nonetheless, Pimped offers some decent level of value with its varied betting range, Wilds and Scatter symbols.