Spinosaurus slot review
Spinosaurus slot review
We're going back in time with Booming Games in its new Spinosaurus slot game! Booming Games takes us back to prehistoric times with a dynamic dinosaur theme. There aren't many dinosaur-themed slot games, but Spinosaurus is a welcome addition to this limited collection of slots.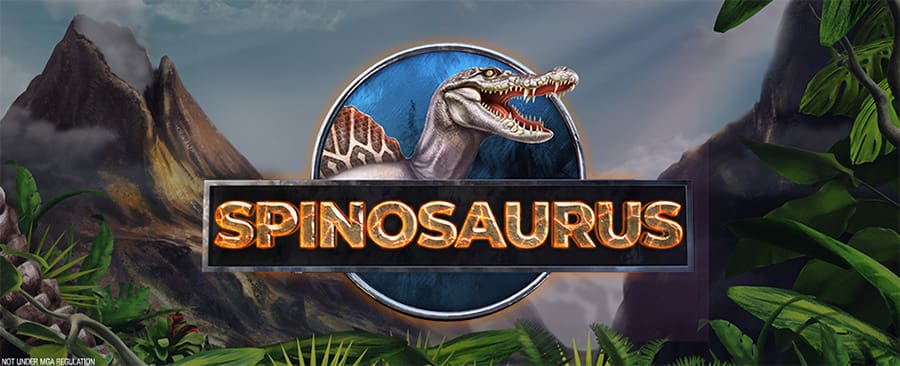 In our Spinosaurus slot review, we're going to take a closer look at the game's mechanics, symbols, gameplay, graphics. design, limits, and RTP. If you want to know how to play Spinosaurus and get the most out of your experience, this review will show you the way.

Top casino for Spinosaurus
---
How to Play Spinosaurus
When it comes to gameplay mechanics, Spinosaurus is similar to most other online slots. It has 5x reels and comes with 20 fixed lines. There are scatter symbols, free spins, pterodactyl wilds, and symbol upgrades.
Players can increase or decrease their bets by either clicking the plus or minus symbols or selecting the coins on the side menu. There's also a handy auto-spin feature and a speed spin setting.
The slot is easy to play and understand. Volcano scatters trigger free spins, but if less than three appear, they'll act as wilds. Although players can trigger free spins, there are no Spinosaurus bonus rounds or games.
If you'd like to try Spinosaurus out before playing for cash, you can. Booming Games allows players to try out and enjoy free games, but you won't win real money.
---
Spinosaurus Slot Special Symbols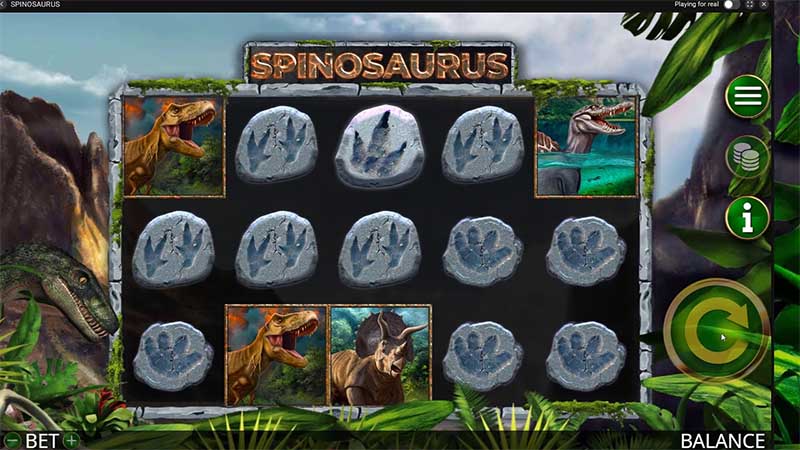 Considering how rare dinosaur-themed slot games are, it almost feels like all the symbols are special. That said, there are a few key symbols that add a little fire to this jungle setting – quite literally, in some cases.
The standard symbols in the game are footprints in stone. These are the Triceratops, Raptor, T-Rex, and titular Spinosaurus footprints, and each one corresponds to a major dinosaur symbol.
Symbol Upgrades happen when random dinosaurs walk past the screen, turning their minor footprints into major dinosaurs. This effect doesn't always trigger, though, especially if there are no footprints that correspond to the roaming beast.
Volcano Scatters can land on reels 1, 3, and 5, giving players between 8 – 12 free spins. The free spin round turns the lush jungle fiery-red, and players can expect many random bonuses, including more free spins, during the round.
Finally, there are Pterodactyl Wilds. These can appear randomly in the reels, but occasionally a passing pterodactyl can drop between 0 – 15 wilds. These are the highest value symbols in the game but only pay out on five symbols per pay-line or more.
| | |
| --- | --- |
| Software | Booming Games |
| Slot Type | Video Slots |
| Paylines | 20 |
| Reels | 5 |
| Min Coins Per Line | 0.01 |
| Max Coins Per Line | 10 |
| Min Coins Size | 0.20 |
| Max Coins Size | 200 |
| Jackpot | 125x, or 25,000 on max bet |
| Wilds Jackpot | 2,500x, or 500,000 on max bet |
| Progressive Jackpot | No |
| RTP | 95.53% |
---
Why Spinosaurus slot is a Special Game
Spinosaurus features excellent overall design, random rewards, and fantastic audio effects, making it a top-notch pokies game for Australians. Although Spinosaurus has similar mechanics to most other slot games, there's more than enough features to make it unique. Little surprises make Spinosaurus stand out from its competitors.
The background of the game is a lush jungle with an ominous volcano in the background. When the volcano erupts in free spins, the entire scene changes to a dangerous red hue with the music turning far more urgent.
It's a dangerous paradise, but this time we're all hoping for the dinosaurs to appear. With a gust of wind as your only warning, a random dino might just reward you with an upgrade and a Jurassic win!
There's a lot that this game has going for it, and, while trying it out for our Spinosaurus review, we certainly had quite a bit of fun exploring this prehistoric world.
---
Betting Limits and Winnings in Spinosaurus
According to Booming Games, Spinosaurus is a low volatility game, although we think it leans towards low-medium volatility. Considering that the minimum bet is AU$0.20, it's still a great game for players who don't want to risk too much. The maximum bet is AU$200, and, combined with symbol upgrades and wilds, players can win quite the pretty penny.
With a max bet, players can win up to 125x their wager, or AU$25,000. If by a massive stroke of luck, a player managed to fill the screen with wilds, they could win up to 2,500x their stake. That's a whopping AU$500,000, although we wouldn't hold our breath. To accomplish this feat, players would need a combination of wilds on the reels and a very generous-feeling pterodactyl.
That said, a jackpot of AU$25,000 is nothing to sniff at, and there's nothing quite as exciting as seeing 'Jurassic Win' displayed in massive letters across the screen.
To show how the winnings work, we've included this Spinosaurus pay table:
Symbol
3x
4x
5x
Min Bet
Max Bet
Min Bet
Max Bet
Min Bet
Max Bet
Triceratops Print
0.10
100
0.20
200
0.50
500
Raptor Print
0.12
120
0.30
300
0.75
750
T-Rex Print
0.15
150
0.40
400
1
1,000
Spinosaurus Print
0.20
200
0.50
500
1.25
1,250
Triceratops
0.35
350
1.50
1,500
4
4,000
Raptor
0.40
400
2
2,000
6
6,000
T-Rex
0.45
450
2.25
2,250
8
8,000
Spinosaurus
0.50
500
2.50
2,500
10
10,000
Wilds
N/A
25.00
25,000
---
Spinosaurus slot conclusion
More: Slots reviews
Booming Games certainly decided to go outside of the box when they brought us Spinosaurus. Testing the game was a pleasure for our Spinosaurus review. The sound effects alone are thrilling, with the sounds of rumbling dinosaurs and ominous winds combined with great background music adding to the experience. Great graphics combine with awesome audio effects, transporting you to the past as you wager.
Another huge plus about the Spinosaurus slots game is it is available at many of the top online casinos for Australians, with Booming Games software having no trouble with their games being played in countries with strict online gambling laws.
Our Spinosaurus verdict? We'd have loved to see a prehistoric themed bonus game, and triggering 'false' symbol upgrades or wilds can get a little disappointing after a while. Despite these minor cons, it's a lot of fun to play, and we're certain that most punters will love Spinosaurus Slots.