Casinos supporting smart TV play
Casinos supporting smart TV play
If you own a smart TV or are thinking about purchasing one, here's all you need to know about using your smart TV to play virtual casino games.

Best online casino sites
---
What is a smart TV?
It wasn't that long ago that we were first able to play casino games on our smartphones and tablets, and already there's a new tech giant in the mix. Smart TV's (otherwise known as connected TV's) are now all the rage, providing a multi-media platform to not only watch free to air television, but also surf the net, tap into paid streaming services like Netflix and most importantly, play real money casino games on the big screen.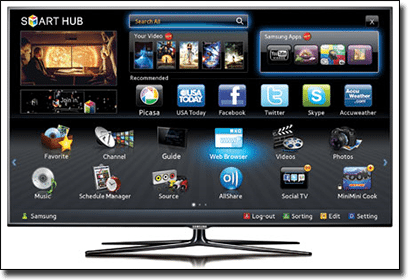 With an estimated one in eight Aussie households now owning a smart TV, many owners still aren't aware of all the capabilities and therefore not getting the most out of this advanced technology. In a similar fashion to a smart phone, smart TV's provide a multimedia hub that's connected to multiple Internet services including web browsing and apps. Think of it as a kind of hybrid between a computer and a television. The TV is connected to the Internet via a standard WiFi or Ethernet modem connection, so you'll need to have one of these services set up at home to access the web capabilities of your smart TV.
All smart TV's have a home page where you can access the different features that the TV has to offer, with apps that are free to download. Each television manufacturer has its own app store, so the individual features available vary between different makes and models. Actions on a smart TV are controlled using either a special remote or with voice control. Remote apps can also be downloaded from the App Store or Google Play that allow you to control your smart TV from anywhere in the house using your mobile phone or tablet.
2015 saw the release of many smart TV's, most of which come in full HD, LCD and LED. Manufacturers behind the most popular models include Panasonic, LG, Sony, Samsung and Hisense.
Popular smart television models include:
LG 4K Smart TV
Panasonic Viera Series
Sony Bravia
Hisense T910 Series
Samsung Series 6 and 7
LG Prime
A majority of the new TV's hitting the market come with smart capabilities, starting from the affordable to the exuberant. If you already have a good TV but it's not a smart system, there are special set top boxes you can purchase that will give you access to smart TV capabilities without having to purchase an entirely new unit.
---
How to play casino games on your smart TV
There are no specific casino apps for use with smart TV's, but given that the best online casinos are all web-based you can play games on your smart TV directly over your Internet browser. Bring up the web browser on your TV and follow our links to head to any of the leading online casinos in our table above.
Use your smart TV control to sign in or register for a new account just as you would if playing on your computer. Deposit some funds if you want to play for real money or you can play games for free in demo mode (except for live dealer games which require real cash wagers to play). You can select from such browser-based casino games as slots, blackjack, roulette, video poker, baccarat, craps, keno and scratchies.
---
Can USA players access casino sites on a smart TV?
The USA is one of the most popular markets for smart TV use, and although a majority of online casino sites don't accept American players due to US online gambling laws, American's are still accepted at these reputable casino sites which can be played using a smart TV as explained above.

Can I play casino games on my television without a smart TV?
Despite all the incredible advances in smart television technology, many users still report issues with web browsing speeds when using a smart TV to surf the net and play online games. With technology advancing at the rate it does, no doubt this will soon be an issue of the past, but for those who aren't satisfied with the current speeds or those who don't own a smart TV there is another option.
If you have a compatible laptop, PC, smartphone or tablet you can hook your television directly to it using a HDMI cable, which will stream the games directly to your TV screen maintaining all the usual speed of your Internet connection. You'll still be required to use your keyboard or mouse to make your commands, but you'll have the benefit of enjoying playing on the big screen in high-def quality.
This is especially great for live dealer casino games, where you can really replicate the real life casino atmosphere at home. HDMI cables don't cost much, making it a very affordable alternative if you don't own a smart TV or just want a faster connection.
---
Downsides of smart TV gaming
As mentioned above, web browsing on your smart TV may not meet your needs when it comes to Internet speed, but keep in mind that this technology is still in its infancy and improvements are being rolled out constantly.
Another downside of smart TV gaming is that TV's may be more susceptible to attacks and viruses than computers, with reports of malware being installed on televisions from remote locations. Television manufacturers are now working with anti-virus software developers to come up with malware protection specifically for smart TV technology but if your TV isn't adequately virus protected you may want to be cautious when entering any financial details over an unsecured network. Stick with the casinos recommended on our site as these are all protected by reliable SSL (Secure Socket Layer) digital encryption security.