Sporting legends with gambling downfalls
Sporting legends with gambling downfalls
There's a reason why most professional sports leagues apply a blanket ban on sports betting for its athletes. Aside from the ethical issues it raises and the potential for match fixing, there's the financial vulnerability that young athletes face alongside their sudden boost in wealth. There are countless tales of young NBA and NFL stars going bankrupt during retirement — sometimes even during their playing career — and while a lot of it is due to simply spending well outside their means, gambling often plays a huge part. It's also a PR disaster for major leagues, who often want to distance themselves from gambling. Despite the countless horror stories, there are still many notable athletes that love a cheeky punt. Let's take a look at the most well known.
---
Michael Jordan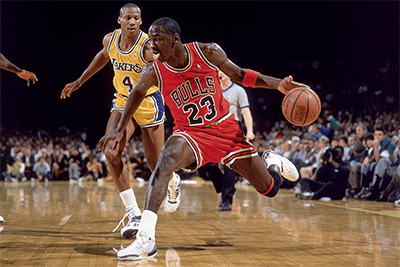 There are many fascinating anecdotes about Michael Jordan, many of which centre on his ruthless competitiveness and passion for betting. Combine the two with his intimidating sense of confidence, and you have a nasty mix. One such story tells how in one night in 1993 before a match between his Chicago Bulls and the NY Knicks in Manhattan, he ventured out to Atlantic City in New Jersey and lost $165,000 in a matter of minutes. On another road trip, he infamously tricked his teammates into offering him 9:1 odds that his bags would come out on the carousel ahead of anyone other passenger's. They did, and his teammates reportedly coughed up more than $100,000. They didn't know at the time, however, that he had bribed the baggage handler a few hundred dollars to deliver his bags first. Such is the gambling obsession that Jordan had.
---
Charles Barkley
Despite having been trumped by Jordan in multiple playoff series' and also in the NBA Finals, Charles Barkley is a long-time friend of the Chicago Bulls great. That might explain his gambling habits, which he appears to share with Jordan. Barkley admitted on ESPN that he once lost $2.5 million in six hours playing blackjack, and a further $700,000 on random bets during a Super Bowl party. He was also sued by The Wynn in Las Vegas for what the casino claimed was $400,000 in unpaid markers. He claims to have lost $10 million in his life time, although it's easy to assume the actual figure is much higher.
---
Wayne Rooney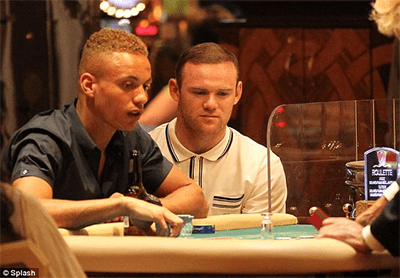 Rooney has been a well-known gambler since his early 20s. The international soccer star was a millionaire at a young age, which may explain his gambling habits, although they appear to have waned in recent years. He once incurred a £700,000 debt betting on football and horses, which he owed to a business associate of then-teammate Michael Owen. He reportedly lost £65,000 in only two hours at a Manchester Casino.
---
Pete Rose
Perhaps the most infamous case of gambling addiction in professional sport is that of former Baseball manager Pete Rose. He was accused of having bet with a bookmaker on a 52 Cincinnati Reds games in 1987, reportedly wagering $10,000 every day. He was also accused of betting against the Reds, at which point he admitted his guilt but said he bet on the Reds every night. He accepted a lifetime ban from the game.
---
Art Schlichter
Another sad tale of gambling addiction that completely ruined a young athlete's career. Schlichter was an up and coming Colts player in the NFL, but his career ended in 1985 when gambling debts reached $700,000 and he was arrested for his role in a multi-million dollar sports betting scandal. He is still involved in gambling scams, having been charged in January 2012 for violating his parole stemming from a million-dollar lottery ticket scam.
---
John Daly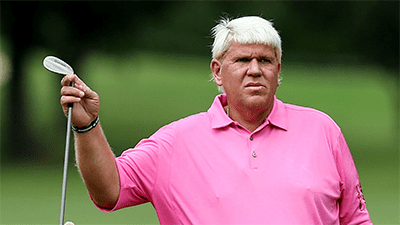 Daly has admitted to having lost between $50 million and $60 million in gambling over a 12-year period, which dwarfs Barkley's $10 million admission. Daly's personal life and interests are no secrets, and he enjoys many a cheeky vice. Gambling is one of them, and he reportedly spent hours playing the $5,000 slots after losing a match at a World Golf Championship. He would lose $1.65 million on a single machine in around five hours of play.
---
Rick Tocchet
Tocchet was a national shame after having been exposed as the centrepiece of a sports gambling ring. The former NHL star had formulated a group that had more than $1 million in wagers circulating through it at any one time, and he pleaded guilty in 2007 to conspiracy and promoting gambling. He eventually returned to the NHL, however, as an assistant coach for the Tampa Bay Lightning.
---
Floyd Mayweather, Jr.
In 2014, it was reported that Mayweather placed a staggering $10.4 million Super Bowl bet. Whether that actually happened or not is irrelevant, because it ties into the star's well-publicised gambling habits. He doesn't shy away from showing off his bets, once Tweeting a $100k ticket for an Orlando Magic 1H point spread in the NBA. He's also known to have played blackjack with rapper 50 Cent using $25,000 chips. At around $20 million per fight throughout his career, it's no surprise that he has that sort of money to throw around.