Will Two-Up ever be playable online?
Will Two-Up ever be playable online?
Two-Up is available at Crown Perth all year round – not just at pubs and RSLs on ANZAC Day – and we have wanted to know if we can play it online. The iconic Australian game played with just two coins is a definite favourite around the nation, but unfortunately it isn't available online just yet. However, you will want to be prepared if and when it does come to the Web, which is why we have everything you need to know about the game right here.

Best online casinos with niche games
---
About Two-Up
While the exact origin of Two-Up is quite vague, it is considered to be a traditional Australian gambling game attributed to the diggers who served in the trenches and troop ships in Gallipoli and World War I. Additionally, farmers and miners in rural Australia would often pass the time playing the game as early as the 1850s, therefore proving a strong link with the nation.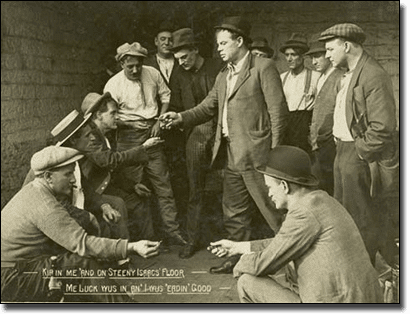 Interestingly, it was actually illegal to conduct the game up until the late 1980s. There was regular illegal 'two-up schools' operating around the country, as strange as that sounds. However, in 1989 it became legal to conduct and play the game, but only on Anzac Day, in order to acknowledge that Two-Up was a national game.
In 1992, laws changed in NSW to legalise Two-Up in Broken Hill – an amendment which was made to the NSW Gaming and Betting Act. The Act sees games can only be held at one location at the one time, and in Broken Hill only.
While it is legal to play two-up around Australia on Anzac Day only, you can actually find it in Western Australia at the Crown Perth Casino any time of the year, as it is the only casino in Australia to operate a Two-Up ring all year round. It was once available at the Star casino in Sydney, but wasn't economical in terms of the expenses involved to keep it running and was therefore removed.
There are free play versions available online, but nothing as of yet that involves real money – specifically at our recommend online casinos that protect your financial details when making deposits.
---
How to play Two-Up
Two-Up is an incredibly simple game and is perhaps one of the reasons why it draws such a large crowd around Australia on April 25.
The game is played in a ring and a 'Spinner' (the person who throws the coins in the air in the middle of the ring) is selected from the crowd to toss the coins, with a minimum amount imposed for the Spinner in order to enter the ring.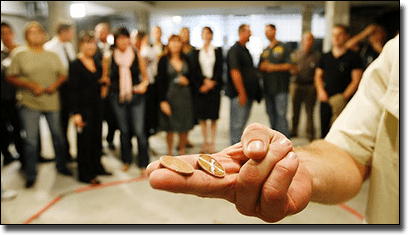 The Spinner then tosses the two coins and the aim for them is to toss two heads in a row to win. If they manage to toss three they can opt to spin again or simply opt out and take their money. However, if they toss two tails in a row then they lose their initial bet and the money goes to the punter who bet against them.
Punters on the outside of the ring bet amongst themselves, either opting for Heads or Tails. The person who has chosen to go with Heads needs to give their opponent (a player betting the same amount of money on Tails, e.g both betting $20) their money to look after.
Once the outcome is determined by the Spinner, the Heads punter will either take the money off the Tails punter if they won, or the Tails punter will keep the money if they won, and the winner doubles their money.
A tie can occur, where a Heads and a Tails appear – which is actually quite common – and in this case the Spinner tosses the coins again.
---
Online alternatives to two-up
Two-Up is an exciting game thanks to the social atmosphere. Since it is generally only played once a year at Australian gambling venues, there is already an engaging ambience created. When punters gather around a ring with the Spinner in the middle, it's an enjoyable spectacle and part of the game.
If the title was to go online, it may need to be in a live dealer format to retain the ambience and social feel of the game. With a 50/50 chance to win, we would welcome it with open arms if it ever was to come online.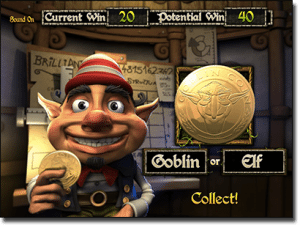 Unfortunately, there isn't really anything like Two-Up online or at land-based venues, but the gamble feature on many Internet pokies available at our recommend online casinos offers a similar thrill in terms of being able to double your money, or sometimes even quadruple it.
This feature sees players gamble any amount of money won after a winning spin, on either red or black, or the suit of the card, doubling or quadrupling the player's winnings respectively. Sometimes, depending on the software developer it won't be a card, but rather two options coinciding with the theme.
Funnily enough, despite Australia and New Zealand sharing a close bond when it comes to defence, Kiwis do not play two-up and many do not even know what it is. Having said this, many Kiwi online casinos will have 2-Up, and many other casino games, available to play for real money.
Some pokies that offer the gamble feature include: