Google Glass casino games
Google Glass casino games
Google Glass is what happens when tech developers try to make sci-fi films come to life. These lightweight, all-purpose digital specs allow you to make phone calls, browse the Web and run applications without having to hold anything in your hands. It's basically magic. So will it be used in future online casino games?
Over the coming years, as it becomes for affordable, available and refined, this kind of wearable technology is expected to replace (or at least compete with) smartphones and tablets as the mobile device du jour. And as that transition takes place, Australians can expect a whole new world of online gambling options to open up.
---
What is Google Glass?
Google Glass is known in technical nomenclature as an optical head-mounted display (OHMD) – that is, a computer you can wear on your face. A set looks almost identical to a regular pair of eyeglasses, and the most recent models weigh less than your run-of-the-mill sun specs. They can even be fitted with prescription lenses.
But what, if anything, makes Google Glass a viable alternative to mobile phones and tablet computers?
The big draw for OHMD technology is that it requires no hand-held controls. The Google platform uses a natural voice activation system coupled with a compact touchpad located on the device's frame. There is no clicking or typing required, no smearing the screen with grubby fingers – just talk and tap.
With such a streamlined user interface, surely you miss out on the all-round functionality of an iPhone or Android device? Not really. These new devices are packed with all the bits and bobs you currently have in your pocket, including WiFi, Bluetooth, GPS, high-res camera and video capabilities, two-way audio – the whole shebang. Google Glass is even compatible with Apple iOS, which is something your Android or Windows smartphone can't do.
But perhaps the biggest selling point is the potential for such devices to be worn and used all day, every day. Google Glass is designed to be light, practical and inconspicuous, while its optical heads-up display allows for discrete activity in just about any situation. You can open apps, jump on the Net, or take photos and videos without broadcasting what you're doing to everyone in the immediate vicinity.
---
Real money casino games for smartglasses
Software developers have already launched a stack of mobile apps for Google Glass, from in-house essentials like Gmail and Google Maps to popular third-party products such as Facebook, Twitter and CNN. So where does online gaming fit in?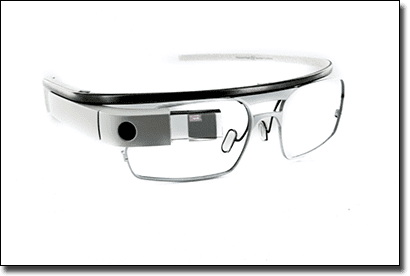 You might have heard about Las Vegas casinos banning patrons from wearing Google Glass on the premises. This only makes sense, HUD (heads-up display) devices can give gamblers a big advantage in poker, blackjack, and many other games where tracking hand history and cards played can benefit the player. If the operators won't let you count cards with your naked eyes, why would they allow a computer to do it for you?
This has little effect on the Internet casino world, however, and there are some very promising signs for the future of wearable iGaming platforms. Several bookmakers already offer Google Glass betting products which allow punters to place wagers, view news and results, check your cash balance and account details – just about everything you can do at a regular online sportsbook.
Real money casino sites aren't far behind. Beyond 6 released the first Google Glass blackjack app late in 2014 – a simple free-play game which, though it might not be a masterpiece, shows that casino software brands already have OHMD gaming well and truly in their sights.
It won't be long before leading producers like Microgaming, Net Entertainment, Play'n Go, BetSoft and NextGen Gaming are pumping out real cash pokies and casinos games for smartglass devices.
---
Where to buy Google Glass
Since its global unveiling in 2012, the Google Glass device has only been made available in limited quantities. Following an exclusive run in 2013, the prototype was released to the public in May 2014 for a fixed price of US $1500.
In January 2015, however, the company announced that the Google Glass Explorer program had ended and that the production of new units had ceased. But fear not, tech fans, for this only means that GG has graduated from the 'beta' phase and will be refined and ready for a worldwide commercial launch in the very near future.
And Google Glass casinos won't be your only option, either. The Apple iGlass project is much more than a myth, while rival products from big names like Microsoft (HoloLens) are also well into the development phase. Then there are virtual reality headsets such as the Oculus Rift, which is slated for public release in 2016.
Of this we are certain: Australian casino players will soon be able to enjoy real money pokies, blackjack, roulette games and more on a number of different heads-up augmented reality (AR) devices. Google may be leading the pack, but it has only given us a taste of what is to come.