Weirdest online pokies games
Weirdest online pokies games
Sometimes we play and review a few online pokies games that just make us scratch our heads and question what in the world were the software developers thinking. Generally, it has nothing to do with the features they have included, but the bizarre and strange themes and symbols they have chosen to go for. We take a look at some of the weirdest pokies available on the World Wide Web.

Best real money online casinos
---
Kitty Cash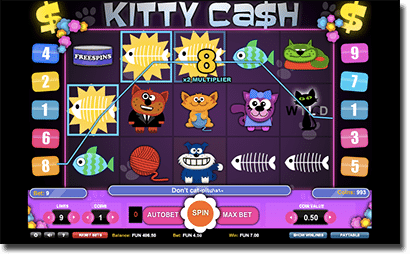 While we love cats, this slot created by 1×2 Gaming feels like a strange and horrible nightmare thanks to the loud, yet eery soundtrack, as well as the graphics of creepy animated felines.
We do understand that the 'Cash' part is that we win cash from these cats, but we do want to know where they got the money from – and whether or not players think they're cute or creepy.
There is some funny puns across the menu panel above the spin symbol, and there are up to 25 free spins, with multipliers available, but it is definitely an unusual slot gaming machine.
---
Fish Party
Microgaming have produced some stellar slots that are graphically unique, but nothing compares to Fish Party in terms of the theme and the unusual animations.
Fish Party is a 243 ways slot about a bunch of deep sea creatures that would never coincide naturally but have indeed come together for a party. Along with the grimacing starfish, an over-excited blue fish (who seems to also be wearing a crown), a scared looking green fish, and a sleazy looking hermit crab, there is also a hook with a worm as bait. This doesn't really sound like the best party for the fishes, but we guess there's always that one unwanted guest.
Overall, it is a good slot in terms of features, including free spins, Stacked Wilds, and more, but the graphics and theme are just downright weird in this online pokies game.
---
40 Shades of Santa
Whoever was behind this slot at Probability Games seemed to think it was a good idea to mix a child fantasy with an adult one, making this online slot one of the weirdest pokies we have ever seen.
While it isn't available anymore, it was originally exclusive to Paddy Power casino, and tied our childhood hero with the scandalous 50 Shades of Grey book authored by E. L. James.
Featuring handcuffs, masks, and some adult-only festive toys, this was quite an unusual theme to go with, and can perhaps explain why it is no longer available.
---
Wild Turkey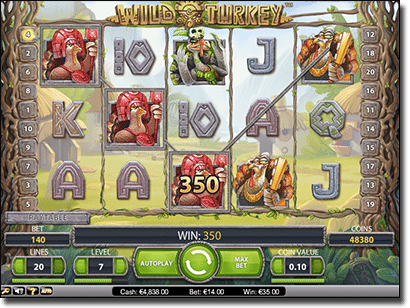 Net Entertainment generally do no wrong when it comes to themes, but this slot is just downright weird.
While bourbon first comes to mind when we read the title in actual fact, it is about a tribe of turkeys that are worshiped and live in a remote village. But is only leaves us with questions, such as who worships them and what do they even do other than gobble?
The symbols of the turkeys are pretty hilarious though and the fact you can win up to 800,000 coins is quite appealing, but this is definitely a unique slot from NetEnt.
---
Hell's Grannies
Another unusual theme by Microgaming, which is actually kind of funny in a weird way. The top leading software developers have combined grannies with the notorious biker gang 'Hell's Angels' and created a bunch of biker grannies who like to 'Knit Fast and Die Warm'.
It is a weird concept, but if you find this sort thing funny you may get a kick out of Hell's Grannies.
We enjoyed the the tattooed knuckled but the cigarettes hanging out their mouths was a bit much, however the 'Spin to Win It' feature is an exciting Wheel of Fortune type bonus that we thoroughly enjoyed.
Overall, the concept of this pokies theme is weird but it can be quite comical and exciting.
---
Gold Diggers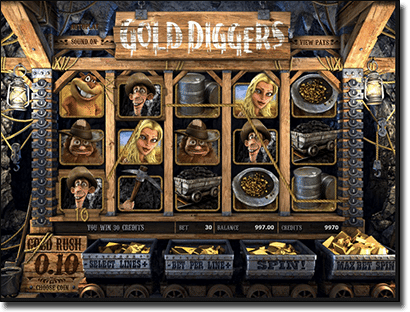 This slot is weird as it sends us mixed messages. Created by BetSoft, Gold Diggers follow the story of two men who head 'West' to dig for gold, but the weird thing is there is a blonde girl just hanging around them when they find gold.
So are we focusing on the fact that the two men are literally gold diggers or that the woman is a gold-digger (a woman who dates men to get their money)? Since the majority of the symbols are associated with the idea of physically digging for gold, we are leaning towards the former, but it's weird that BetSoft included the her. It is also weird they included a squirrel on the reels, we can't even figure where that symbol fits.
The animations however are pretty well done, with even the bet choices, such as bet lines and bet size, integrated in gold carts that bounce every time you change the size.
It is a fun slot, but it just has a weird choice of symbols. However, 'More Gold Diggin' a sequel to this slot, seems to explain the squirrel as the evil villain that steals their gold and the woman has disappeared – smart choice by the guys digging for gold.
---
Cash 'n' Curry
We can understand that while there is a market for classic fruit machines that have new themes, but we just can't understand this theme.
Created by Microgaming, Cash 'n' Curry is a 3 reel slot, with a single payline, that offers poppadums, chillies, and other indian food related symbols in the place of the traditional fruit machines.
While we see what Microgaming was trying to do, it's just downright weird.
Think these pokies are weird? Check out our list to some of the most insane casino games of all time.