Aussie Millions
Aussie Millions
Aussie Millions is the biggest poker tournament in Australia. Learn more about this giant annual event, including the history of Aussie Millions, previous winners, the prize pools up for grabs and how you can take part in the Aussie Millions poker tournament.
---
What is Aussie Millions?

The Australian Poker Championships, more commonly known as Aussie Millions, is an annual poker tournament which has become a major stop on the international poker circuit. It takes place every January at the Crown Casino in Melbourne, attracting players and spectators from all over the country and the rest of the world, including some of the biggest names in poker. The Aussie Millions Main Event offers a prize pool of over seven million dollars, making it the highest paying poker tournament in the Southern Hemisphere.
---
History of Aussie Millions
The first poker tables were introduced to Melbourne's Crown Casino in 1997, prompting the first ever Australasian Poker Championship to take place the following year. The inaugural poker tournament, which would later be coined Aussie Millions, was held in June 1998, offering a Main Event with a buy-in of $1,000 that attracted 74 players for a total prize pool of $74,000.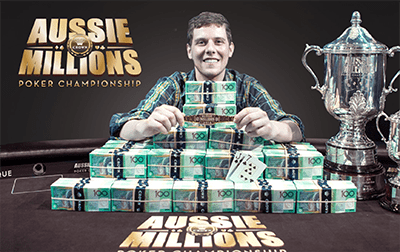 Aussie Millions has experienced significant growth every year since its inception. In 2001 the event was moved to January in accordance with the peak summer tourism season, with a Main Event buy-in of $5,000 attracting 40 entrants for a total prize pool of $200,000. By 2003, Aussie Millions had gained international interest, with 122 entrants signing up for the Main Event which offered a cool $1.2 million-dollar prize pool.

By 2005, over half of the tournament participants hailed from overseas, with players coming from the United States, Norway, Denmark, Canada, Italy, Sweden, New Zealand, England, Lebanon and Ireland.
The Aussie Millions poker tournament has attracted some of the biggest names in the international poker circuit, including Joe Hachem, Phil Ivey, John Juanda and Daniel Negreanu. 2016 saw the biggest prize pool and largest number of entrants to date, earning Aussie Millions the title of the sixth biggest international poker tournament in the world.
---
Main Event prize pools
You only need to look at the Main Event prize pools to see how much the Aussie Millions poker tournament has grown each year. What started as a fairly modest casino tournament has expanded into the highest paying poker tournament in the Asia-Pacific, attracting some of the world's best players with its tempting prizes and media attention.
Here are the details of the Main Event prize pools and the number of entrants each year:
1998 – 74 entrants, $74,000 prize pool
1999 – 109 entrants, $109,000 prize pool
2000 – 109 entrants, $173,500 prize pool
2001 – 101 entrants, $151,500 prize pool
2002 – 66 entrants, $330,000 prize pool
2003 – 122 entrants, $1,220,000 prize pool
2004 – 133 entrants, $1.33 million prize pool
2005 – 263 entrants, $2.63 million prize pool
2006 – 418 entrants, $4.18 million prize pool
2007 – 747 entrants, $7.47 million prize pool
2008 – 780 entrants, $7.80 million prize pool
2009 – 681 entrants, $6.81 million prize pool
2010 – 746 entrants, $7.46 million prize pool
2011 – 721 entrants, $7.21 million prize pool
2012 – 659 entrants, $6.59 million prize pool
2013 – 629 entrants, $6.29 million prize pool
2014 – 668 entrants, 6.68 million prize pool
2015 – 648 entrants, 6.48 million prize pool
2016 – 732 entrants, 7.32 million prize pool
---
Previous winners
Winners of the Aussie Millions Main Event come from all over the world, taking away some monumental prizes.
Here is a list of the previous tournament winners, along with their origin and the amount of money they won:
1998 – Alex Horowitz (Australia), first prize of $25,900
1999 – Milo Nadalin (Australia), first prize of $38,150
2000 – Leo Boxell (Australia), first prize of $62,225
2001 – Sam Korman (Australia), first prize of $53,025
2002 – John Maver (Australia), first prize $150,000
2003 – Peter Costa (England), first prize of $394,870
2004 – Tony Bloom (England), first prize of $426,500
2005 – Jamil Dia (New Zealand), first prize of $1 million
2006 – Lee Nelson (New Zealand) first prize of $1.3 million
2007 – Gun Hansen (Denmark), first prize of $1.5 million
2008 – Alexander Kostritsyn (Russia), first prize of $1.65 million
2009 – Stewart Scott (Australia), first prize of $2 million
2010 – Tyron Krost (Australia), first prize of $2 million
2011 – David Gorr (Australia), first prize $2 million
2012 – Oliver Oliver Speidel (Australia), first prize $1.6 million
2013 – Mervin Chan (Malaysia), first prize $1.6 million
2014 – Ami Barer (Canada), first prize of $1.6 million
2015 – Manny Stavropoulos (Australia), first prize of $1.38 million
2016 – Ari Engel (Canada & America), first prize of $1.6 million
---
High Rollers tournament
The Aussie Millions poker tournament offers two special events for high rollers, with some of the biggest buy-ins in poker tournament history, attracting whales from all over the world:
The $100,000 Challenge – Players start with 100,000 chips, with betting set at pot limit pre-flop and no limit afterwards. Players have only 30 seconds to choose how to play their hands.
The $250,000 Super High Roller – When the Super High Roller tournament was originally launched in 2011, it had the highest buy-in of any poker tournament in the world, but it has since been superseded by the World Series of Poker (WSOP) which now offers a high roller buy-in of one million dollars.
---
Satellite tournament information
A satellite tournament offers a more affordable way for players to enter the Aussie Millions poker tournaments that have big buy-ins, allowing those with smaller bankrolls the chance to play in the big leagues. Players hoping to get a seat at the big buy-in tables can instead play satellite games in an attempt to win a seat at a table they couldn't otherwise afford. While the major Aussie Millions tournaments start with buy-ins from around $1,150 to $10,000, satellite tournaments start from just $50.
Aussie Millions satellite tournaments start as early as October, and run all the way through the main event in January. While you will find a handful of satellite tournaments free to enter, satellite buy-ins typically cost around the $80-$250 mark.
---
Aussie Millions 2017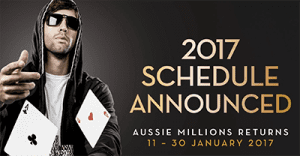 In July 2016, it was announced the next Aussie Millions event would take place at Melbourne's Crown Casino from the 11th to the 30th of January, with the highly anticipated Main Event commencing on the 22nd and running for eight consecutive days, ending on the 29th. The Main Event will feature three starting flights; Flight 1 – Sunday 22 January, Flight 2 – Monday 23 January and Flight 3 – Tuesday 24 January.
The 2017 Aussie Millions event is expected to attract over 6,000 players from Australia and around the world. There will be 26 different poker tournaments running, with the total prize pool expected to exceed $30 million. The winner of the Aussie Millions Main Event will walk away with an estimated AUD$1.6 million prize, along with the highly sought-after Aussie Millions Main Event Champion bracelet valued at over AUD$25,000.
Crown Melbourne's Tournament Director Joel Williams released a media statement saying, "Crown's Aussie Millions Poker Championship continues to absolutely stamp itself on the global 'must-attend' list for both recreational players and seasoned pros alike. With a schedule now featuring 26 official Championship events, 2017 looms as one of the biggest years yet".
---
How to enter the Aussie Millions poker tournament
Players can register to take part in the Aussie Millions tournament in a number of ways. You can register directly at the Crown Casino, via the official Aussie Millions website (www.aussiemillions.com) or via the Crown Casino website. Simply select the tournaments you wish to enter, provide your personal information including contact details and then provide payment using your credit card. Make sure you've read the full terms and conditions of entry, which are available online, as you'll be required to check a box confirming you agree to abide by all the tournament rules.
The Crown Casino and Aussie Millions websites provide a full tournament schedule listing all relevant dates, buy-in prices, game formats and duration times. Buy-ins start from $250, ranging to the high-roller buy-in of $250,000.
---
The Crown Casino poker experience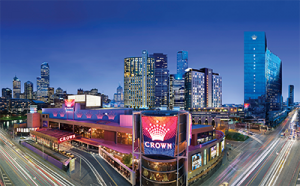 If you've never played poker at Melbourne's Crown Casino before, you'll be in for a treat when you enter the Aussie Millions tournament. The Crown Poker Room is home to 50 poker tables, offering the largest range of cash games and tournaments in Australia, along with 10 fully automated PokerPro tables. The Poker Room also offers learn to play guides, catering to players of all skill levels and experience. It's open 24 hours, seven days a week.
The Crown Casino complex offers a truly world-class gaming, dining, accommodation and retail experience located on the banks of the gorgeous Yarra River on Melbourne's Southbank. Along with the Poker Room, Crown offers a huge range of other table and electronic games, including blackjack, roulette, baccarat, craps, pai gow, pontoon, mini-dice, sic bo, Big Wheel and hundreds of pokies. Crown's VIP players can enjoy the luxury experience of playing in the exclusive Mahogany Room, which offers high-stakes games with personalised service and premium amenities.
Visitors from outside of Melbourne can opt to stay in one of Crown's award-winning hotels – Crown Towers, Crown Metropol or Crown Promenade. Rooms start from around $250 per night, offering views over Melbourne's CBD and access to world class facilities including indoor swimming pools, state-of-the-art fitness centres, rooftop tennis courts and business centres. Premium dining experiences on offer include the world-famous Bistro Guillaume, Nobu, Rockpool Bar & Grill, Silks, Long Chim, Conservatory, Koko, Spice Temple and Dinner by Heston, amongst many others.
---
Prepare for Aussie Millions online
Online poker has become hugely popular, and many players take to the Internet in the months leading up to Aussie Millions in order to hone their poker strategies. The great thing about online poker is you can play it for free at our recommended casinos, so you don't need to risk any real money in order to sharpen your skills. If you choose to play for real money, online buy-ins are much more affordable than the Aussie Millions buy-ins, so you can put your skills to the test to see if you have what it takes to enter without having to risk your life savings.
Our top-rated online casinos offer a range of poker variants including Casino Hold'em, Texas Hold'em, Caribbean Stud, Three Card Poker and live dealer poker, all which are available to play directly over your Web browser with no downloads required. We recommend BetOnline Casino as our top-rated casino site for players from United States, which has some excellent welcome bonuses available for new players along with a great range of poker variants, online slots and other table games.