Top 5 Australian poker players of all time
Top 5 Australian poker players of all time
Since we have the biggest land-based casino in the Southern Hemisphere, known as the Crown Casino in Melbourne, it makes sense that we have some pretty good poker players from Down Under.
We have found five of the best poker players in Australia and although we have listed them from lowest to highest in terms of live tournament earnings, they may not necessarily be ordered in that way in terms of skill, strategy, tactics, and titles, with the likely exception of Joe Hachem.
Additionally, their earnings are subject to change with the totals listed correct as of May, 2015.
---
5.

Mel Judah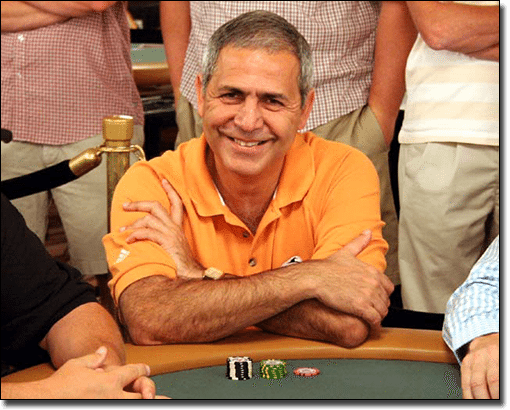 Also known as the 'Silver Fox', a nickname he shares with British poker player, Peter Costa, due to how long he has been playing poker for. Mel Judah has earned $3,579,720 in live tournament earnings.
Judah learnt how to play poker by watching his father, when he was just 14, and has since turned his childhood hobby into a career, even winning the World Series of Poker (WSOP) bracelet in 1989 for Seven Card Stud, which had a buy-in of $1500. He won his second bracelet in 1997 for the $5000 Seven Card Stud WSOP event. He also managed to come third in the WSOP main event that same year earning him $371,000.
In 2003, Judah won the World Poker Tour (WPT), earning him the Legends of Poker title and $579,375. Here, he beat many International poker stars.
But what truly puts him on our list of being one of the best poker players in Australia is that he won the $1100 Omaha Hi-Lo tournament in 2009 at the Aussie Millions event which is held at Crown Casino in Melbourne. There is nothing quite like a win at your local.
Globally, Judah is ranked 516th in terms of popularity out of all the poker players in the world.
---
4.

Antanas Guoga
Born in Lithuania, but moved to Australia when he was just 11, Antanas Guoga has made $4,862,339 in live tournament earnings.
Although this isn't related to poker we thought it was relevant to include with Antanas Guoga being Lithuania's Rubik's Cube Champion, an object which takes perseverance and skill to crack. This hidden talent could have potentially contributed to his poker career, which kicked off when he was 18-years-old.
He is notorious for using intimidation techniques and has been known to to insult players once he has eliminated them. This behaviour may have helped him place fifth at the World Poker Tour Grand Prix de Paris in 2003, as well helped him win both the Texas Hold'em Pot Limit event and the Seven Card Stud event at the 2004 WSOP.
He earned $414,478 at the World Poker Tour Grand Prix de Paris 2004 with second place, the same place which he came in the WPT 2004 Mirage Poker Showdown. The following year, at the European Poker Championships, he won the No Limit Hold'em main event and won $456,822.
He won the WPT Bad Boys of Poker II tournament in 2006, and that same year came second at the Intercontinental Poker championships which earned him $150,000. And notably he won the Asian Poker Tour held that year which earned him $451,700.
Globally, he is ranked 70th in terms of popularity which is quite high considering his outlandish table behaviour and intimidation techniques.
---
3.

Jeff Lisandro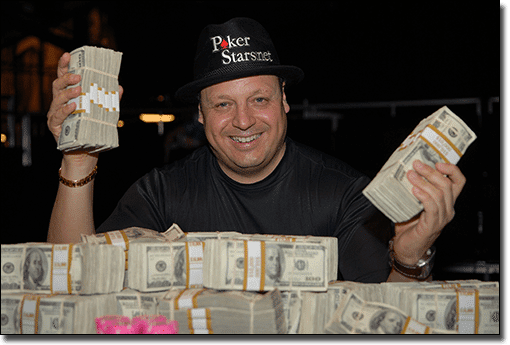 Also known as the Iceman and while we like to think its because he left Australia (born in Perth) to live in Italy, it's actually because he can take on experienced and well-known poker players confidently and calmly. He's earned $5,400,901 over his poker career due to live tournaments.
Lisandro was taught poker at the age of five by his mother, and throughout his career he has frequented many WSOP tables including 11 of which have been the finals. He has also won five WSOP bracelets at an array of poker variants from Pot Limit Omaha, to Razz, Seven Card Stud hi/lo and Seven Card Stud.
Although he is third on our list of best poker players, he hasn't actually ever won a WPT, nor made the finals. We have ranked the players in terms of how much they have earned but whether or not you believe it should be on how many events they have won is up to you.
Regardless, he has made a lot by playing poker and one of the best wins by Lisandro included when he won the 2004 $25,000 Heads-Up Limit Hold'em tournament held at the Bellagio. Here, Lisandro beat the infamous American poker player, Howard Lederer. This wasn't a fluke either with Lisandro beating American poker player, Phil Ivey (considered one of the best poker players), a year later at the 2005 WSOP $10,000 Circuit Championship.
In 2006 he came 17th in the WSOP main event which landed him $659,730. He then won a WSOP bracelet in 2007 for the Seven Card Stud $2000 tournament. And to really add to his WSOP resume, Lisandro won the WSOP of the year award in 2009.
Our favourite thing about Lisandro is that he plays online at PokerStars. He is ranked 71st in terms of popularity worldwide.
---
2.

Jeffrey Rossiter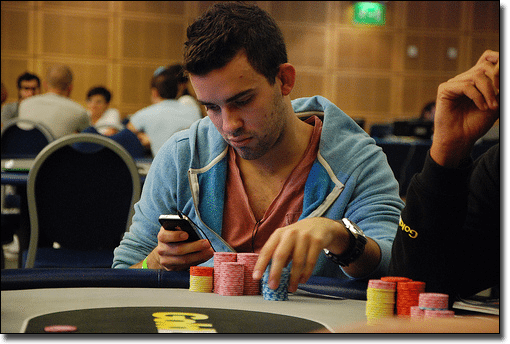 Jeffrey Rossiter has made more than most Australian poker players and he is only in his early 20s. He has made a total of $5,631,092 in live tournament earnings.
Many began to learn his name at the 2011 Aussie Millions event which saw Rossiter make a strong lead only to be beaten by British poker player, James Keys, and Aussie poker player David Gorr (who took out the first place prize of $2,000,000). Third place did earn him $700,000 though.
In 2013, Rossiter hit the jackpot in terms of cash winnings when he won $3.2 million for placing second in the Guandong Asia Millions, a tournament held in Macau. Being so young and earning a place right behind Joe Hachem in our list is quite impressive.
What is most impressive is that Rossiter only started playing when he was 18 which is around six to seven years ago and he has already made millions. He says he learnt when friends started bringing home poker kits with small buy-ins to play for fun .
Though worldwide he is ranked 302nd in terms of popularity this could be because of his age and the fact he hasn't been around for long.
---
1.

Joe Hachem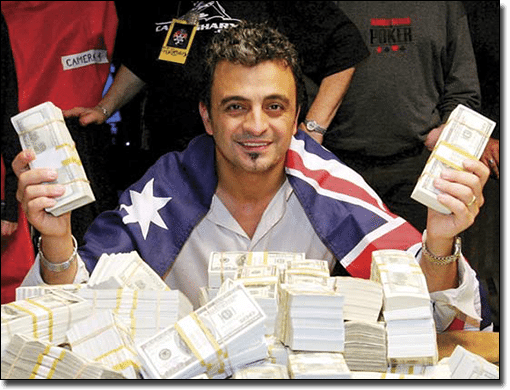 Now to the poker player who is considered the best in Australia. Joe Hachem has been dubbed the best perhaps it is because he was the first Australian to win the main event of the WSOP, earning him $7.5 million in 2005 (this prize broke the record for biggest tournament prize total). Or it could be because he has won $11,894,158 in live tournament earnings.
Hachem was born in Lebanon, but moved to Australia when he was six years old. In 2006, he returned to the WSOP and came second in the $2500 No Limit Hold'em tournament which saw him take home $256,800; fourth in the $2,500 Pot Limit Hold'em event which saw him pocket $90,482; and interestingly 238th place at the WSOP main event, earning him $42,882 and a lot of criticism regarding his win the prior year.
However later that year he silenced his critics, winning $2.2 million and his first WPT at the Bellagio Casino's Five Diamonds Poker Classic which saw him earn join just four other poker players in the world who have won both a WSOP main event title and a WPT.
In 2007, Hachem came first at the Poker Stars Asia Pacific Poker Tour Tournament of Championships, beating some of the best poker players around the globe including friend and winner of the 2004 WSOP main event, Greg Raymer.
Hachem has also been in the public eye, taking part in season five of High Stakes Poker, which as a minimum buy-in of $200,000 and broadcast one the Game Show Network. That same year he also produced The Poker Star, an Aussie reality show about finding the next big poker player.
While he is ranked number one in Australia in terms of live tournament earnings he is ranked only 16th worldwide which makes him a contender for being one of the best poker players in the world. Additionally, he is ranked 24th in terms of popularity worldwide.