Blackjack super sevens side bet explained
Blackjack super sevens side bet explained
If you've got the basic strategy down pat and the game of 21 is becoming somewhat monotonous, you can mix things up with an array of side bets to make things interesting, including the Super Sevens side bet. We have everything you need to know about the additional wager and whether or not it is worth adding onto your regular blackjack gameplay.

Best online casinos for real money blackjack
You can read more about blackjack side bets here.
---
Online blackjack side bets
Side bets in a game of blackjack may or may not be available in your favourite title online as they depend on the software provider and ultimately the variant you have chosen to play.
They are optional bets players can make in conjunction with the main wagers of the game to add more excitement, however, side bets can unfortunately raise the house edge quite significantly.
Online we can get blackjack titles as low a 0.13% with the perfect basic strategy, but since the main aim is to get the house edge as low as possible, it may not be worth it to you to place a side bet, such as the Super Sevens side bet.
---
Super Sevens side bet
Super Sevens is an additional wager available in some blackjack variants found both online and offline, and relies on the first three cards dealt to the player.
To activate the side bet players can opt to place an additional wager, before the cards are dealt. In the initial deal you need to get at least one seven. The ultimate goal is to get three sevens, with this often a progressive jackpot, or some versions will payout 5000:1
The side bet is independent of our wagers in the main game, so even if you lose your hand to the dealer you can still win the side bet.
Super Sevens side bet payouts
The appeal of the Super Sevens side bet is the massive payout you can land should you be successful, with two sevens of different suits even scoring you a good payout.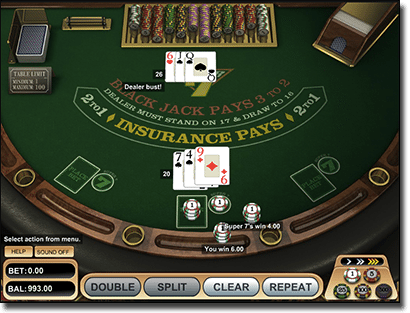 First card dealt is a seven of any suit, pays 3:1
Both first and second cards are sevens but are differing suits, pays 50:1
Both first and second cards are sevens of the same suit, pays 100:1
All three cards are sevens but are differing suits, pays 500:1
All three cards are sevens of the same suit, pays 5000:1
If you choose to split the sevens when you are dealt a pair it will still pay 50:1 or 100:1, depending on whether they are matching suits, irrespective of whether you are dealt more sevens.
House edge of Supers Sevens side bet
As mentioned, above, the huge payout potential is incredibly appealing however when you factor in the house edge it seems to lose its allure.
The house edge for the side bet in a popular online game by Betsoft, which we detail below, sees a house edge of 12.6%. This is with a no guarantee of a third card being dealt. If you can get the same rules but with a guarantee of a third card dealt the house edge drops to 11.40%, which is still incredibly high.
Additionally, the less number of decks there are, the higher the house edge of the Super Sevens side bet. The maximum house edge for the side bet is set at 16.97% on a four deck variant with no guarantee of a third card. The lowest you can get the house edge for this side bet is 9.01% on an eight deck variant with a guarantee a third card will be dealt.
The minimum house edge is still high considering we can get the house advantage of a standard blackjack title below 1%. But this is what makes the side bet so thrilling and while we wouldn't recommend opting in every hand, every now and then can't hurt if you manage your bankroll correctly and want to add a little thrill to the game.
---
Where to play the Super Sevens side bet
Online there are blackjack variants available named after the Super Sevens side bet, for example the Super 7 title by BetSoft available at www.Guts.com, which offers the standard rules of blackjack but also includes the Super Sevens side bet.
Featuring six decks of cards, players can use the basic strategy and play up to three hands at one time. There is a minimum table limit of $1 and a maximum of $100, while Blackjack pays 3:2 and insurance pays 2:1.
Other rules include;
Dealer must stand on soft 17
Double Down is available on any hand
Double Down is allowed after splitting
Re-splitting isn't available
Hitting on split Aces isn't available
Surrender isn't available
Dealer checks for blackjack
You will also find the side bet at various land-based venues around Australia, such as Jupiters on the Gold Coast and Treasury Casino in Brisbane.