Blackjack strategy chart
Blackjack strategy chart
Playing a game of strategy such as blackjack means we can't rely on luck to win the game rather we need to learn the basic approach to play effectively. There are countless strategies floating around both land-based venues and online including the blackjack strategy chart.

Best casinos for real money blackjack
The simple blackjack strategy chart is the a great tool for blackjack players and is mathematically proven to maximise the player's chances of walking away a winner. Obviously it doesn't eliminate the house edge completely, but it can cut it back to a manageable percentage.
---
What is the blackjack strategy chart?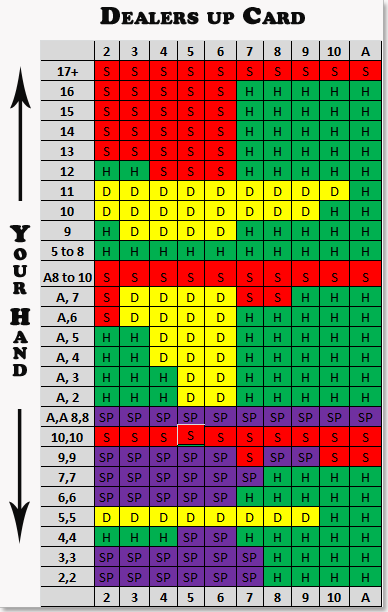 The traditional blackjack strategy chart relies on the game being played with four to eight decks and the dealer must stand on a soft 17. But there is other charts created for different rules, including one for when a dealer hits on a soft 17. Both tell you when you should stand, hit, or split.
The chart, where the dealer stands on a soft 17, has been said to be created in the 1960s by Edward O. Thorp in his book called Beat the Dealer. It has now been reprinted countless times, and is available all over the Internet. Additionally, there are now charts available which suit each variation of blackjack.
For example, there are charts which suit Classic Blackjack Gold, Vegas Strip Blackjack, and Atlantic City Blackjack. Ensure you have the right chart for the right game as you may end up playing the wrong strategy. For example, in Atlantic City Blackjack the chart advises you to surrender when your hand amounts to 16 when the dealer's first card is a nine, 10, or an Ace. This option isn't available in Vegas Strip Blackjack.
To use the strategy chart, your hand total is along the vertical axis, while the dealer's face up card is along the top. You will find a colour or letter key which will tell you what hit, stand, split, double and surrender, if allowed, is represented by.
The strategy chart tells you to split Aces and eights, always hit on a hard 11 or anything less, and always stand on a soft 19 or more. There are countless combinations all covered by the chart which will ensure any hand you end up with, in association to what the dealer's up card is, will be covered.
It is also recommended for players who are playing in a land-based casino to memorise the one strategy, either for the dealer hitting on a soft 17 or standing, as it can cost the player if they make a mistake. if you are playing online there is the option that you can have all of the charts in opened tabs so you can easily access them all.
---
Is it worth memorising the blackjack chart?
When it comes to blackjack it is definitely worth understanding the basic rules, however memorising the blackjack strategy chart is another issue in itself. Without understanding the rules of blackjack, a strategy chart isn't going to help. Once you have this down pat then its time to decide whether you want to learn the strategy chart off by heart.
Since the full strategy is incredibly in-depth, long, and involves a number of combinations it can seem quite a mission to learn it all. But if you focus on one variation of blackjack you will begin to see a pattern in chart and in turn it should improve your gameplay. The chart takes a common sense approach to the game, with it playing the odds in all variations of 21 games.
---
Simplified blackjack strategy
Although it wont give the same nice odds as the full blackjack chart may it does allow players with no access to a chart better odds then those with no strategy at all.
Double down on nine if the dealer's up card is three, four, five, or six; 10 or 11 if a dealer has anywhere from two to nine; or 10 if you have 11. Hit if double down is not an option.
Hit on 11.
Stand on 17-21.
Stand on 12-16 if the dealer has six or less. Hit if they have a seven or above.
Hit on a soft 15 and lower.
Stand on a soft 19 or higher.
Hit on a soft 16-18 if the dealer has a seven or higher; double down or hit if dealer has a six or lower.
Split on aces or eights.
For pairs of four, five, and 10, never split.
Split on every other pair if dealer has a six or less. Play the hand accordingly otherwise.
Don't play insurance on blackjack.
---
House edge in blackjack
House edge of blackjack varies both online and offline, amongst software providers, and even between titles. When playing online, the house edge of blackjack is often lower due to overhead costs being smaller in comparison to their land-based counterparts.
As we basically view the house edge as how casinos make a profit, they don't need to have it as high for online casinos due to not having as many costs. Additionally, playing online can see a blackjack title having the lowest house edge of all online casino games at 0.28%.