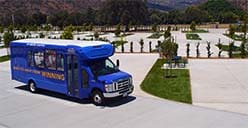 IN some countries they are known as grey nomads — the typical retirees setting off on the adventure of a lifetime in a caravan or RV — and creative casinos in the USA are aiming to tap into this market.
The RV industry association estimates more than 500,000 RV's will be produced and moved this year, capping off an astonishing nine year run of sustained growth — which has been headlined by a youth-push towards camping — and putting the industry on track for its biggest year yet.
It's not uncommon to see RVs camped up near casinos, particularly in the First Nations venues across the USA, with many of them catering to camping, however several have upped their game considerably.
USA: ONLINE CASINOS
Some creative casino executives believe marketing and catering to the RV crowd can give them an edge on their competitors. Both Pala and Pechanga Casinos in San Diego have set aside land for RV's and campers.
Pala Casino Resort & Spa, which opened in 2016, has 100 fully serviced sites and offers a truly authentic experience, as you camp in the grounds of the casino, where you are also treated like royalty, with the venue even allowing you to have your dog with you.
The true innovators in the RV gambling scene was Pechanga Resort & Casino, which opened in March of 2000. The picturesque setting has all the amenities you could require, including luxury sites and quick access to the casino facilities.
Both of these RV casino camping grounds are close to some great dining options, while both also cater extensively to kids. And of course both give you access to 100s of slots and table games.
Before you set off on your camping adventure do your homework because not all the casinos across the country are allowed to take in campers.
More casino news