Players who prefer classic slots but enjoy high quality graphics and modern game features will be excited to know the Microgaming classic Chain Mail has been revamped and is now available in HD.
Microgaming has not only brought out an incredible new release this month, specifically Hot as Hades, but the software provider has also revamped the classic slot, Chain Mail and last week the new HD version was rolled out at Microgaming casinos.
We have recently seen many pokies from the Microgaming catalogue revamped, with Adventure Palace, Avalon, and more all re-released in High Definition with added features Microgaming have found players have grown to love.
Chain Mail has now been re-released for both downloadable Microgaming casinos and for the instant play casinos, in HD meaning it has been touched up in terms of graphics, gameplay, and can now be viewed proportionately on widescreen.
About Chain Mail HD slots
Chain Mail is a 5 reel slot with 20 paylines and it was originally released in 2010. While a quick glance may seem like it is the same as the original version, just graphically enhanced, it actually has changed a bit with symbols being replaced and a revamped bonus round that offers free spins added too.
The medieval theme is the same, however instead of pizzas, ice cream and chocolate bars, microgaming have pulled it back a bit and replaced these symbols with the 10, J, Q, K, A symbols instead, so that there is more of a focus on the medieval side of things instead.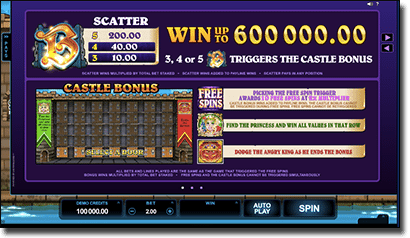 Microgaming have removed and changed a few symbols too. What was once deemed the Scatter symbol, which was a bag full of 'chain mail', has been completely scrapped and doesn't even exist as a lower value symbol on the reels anymore.
The Scatter symbol, which is the Letter 'B', was actually the Bonus symbol in the original Chain Mail slot but has been changed, most likely because it activates free spins, and free spins are generally activated by Scatter symbols on slots these days. If you land at least three of these symbols then you will trigger the bonus round, another completely new feature to the slot.
This is probably the best newly added feature too as while the bonus round still includes the 'pick me' style feature, players can progress through five different levels and earn free spins, which the original Chain Mail didn't offer.
With each level complete, players can win up to 30 free spins, with 10 free spins available to be 'picked' in the third, fourth, and fifth levels, while level one and two both have random bonus amounts you can 'pick' to win.
The Wild symbol, which is still the Chain Mail logo but enhanced, substitutes for all other symbols, excluding the Scatter symbol. It also still pays double when substituting for other symbols to complete a winning payline, and there is still 6000 coins on offer when players spin a winning combination with Wild symbols.
Where to play Chain Mail HD
Chain Mail HD is now available at the downloadable and instant play versions of our favourite Microgaming casinos. These include:
Our thoughts
With Microgaming rolling out this slot at their associated web casinos just last week, we can't help but play it when we visit every single of our recommended Microgaming casinos. While the slot doesn't offer an extra bonus round along with the free spins bonus feature, the newly added features to the slot definitely make this a worthwhile slot to try out.
Additionally, if you were a fan of the classic, you will likely enjoy this version as Microgaming toned down the weird graphics (removing the pizzas, ice cream and other tasty treats was a good move as it didn't really fit with the medieval theme) and added free spins to make it more entertaining.
Our top online Microgaming casino to register and play Chain Mail pokies in HD for real money is www.RoyalVegasCasino.com.
Where to play if none of these sites are available?
If you cannot sign up at any of the above recommended Microgaming casino sites due to regional restrictions, you can visit many of the alternative top-rated options we have reviewed across our site. Players from United States, for example, can still enjoy high-quality real money pokies and table games similar to Chain Mail HD at BetOnline Casino, which fully accepts sign ups from your country and offers regional bonuses and promos.