Do movies glorify casinos?
Do movies glorify casinos?
Let's face it, the movies make anything look awesome, but at the end of the day we aren't going to go join a mob when we watch a mobster film, nor are we going to rob a bank after watching a heist film. So we think that while we may enjoy watching our favourite actor clean up on the big screen we aren't going to go bet our life's savings at the nearest venue or at online casinos. However, we do find it fun to indulge the idea by escaping and watching some very popular gambling movies. We take a look at a handful of popular films that feature casino games so you can check them out and decide for yourself if movies really do glorify casinos.

Best real money online casinos
---
21
We all wanted to learn how to count cards after this movie came out in 2008, especially since it was based on a true story, Bringing Down the House, written by Ben Mezrich. Starring big names such as Kevin Spacey and Kate Bosworth, as well as Jim Sturgess, Laurence Fishburne, Liza Lapira, Jacob Pitss, Kieu Chinh, and Aaron Yoo, 21 is an incredible story that, quite obviously, features one of our favourite table games, blackjack.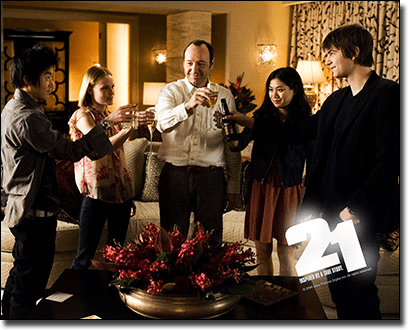 The plot follows the story of a Ben Campbell (played by Sturgess) who is accepted into Harvard Medical school but can't pay the fees. He attempts to go for a scholarship but is told it would go to a student that impresses him.
His professor Micky Rosa (played by Spacey) asks Ben to solve a probability puzzle, called the Monty Hall. When Ben solves it, Rosa asks him to join his blackjack team, which is made up of six MIT students.
The team then head to Vegas to use their exceptional math skills to count cards, beat the system and win. However, along the way Ben is distracted by all the money they rake in as well as his stunning teammate, Jill and learns that the stakes, including his life, are on the table.
We definitely tried to brush up on our maths skills after watching this movie, but at the end of the day the movie seems to say that even winning loads of money through blackjack has its drawbacks.
---
The Gambler
Mark Wahlberg is one of Hollywood's biggest actors and when he isn't rolling with his Entourage (or producing a show and movie about it) he's starring in some pretty big movies, including the Gambler, which was released in 2014. There is a 1976 version too, but we like this one.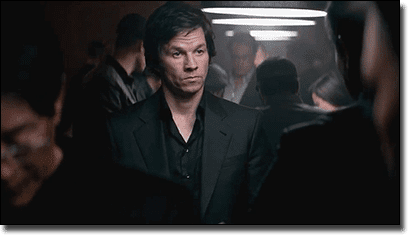 This movie follows a literature professor, Jim Bennet (played by Wahlberg), who has a double life in which he lives as a high stakes gambler, and loves to take huge risks.
After playing a few rounds of blackjack at an illegal casino, Jim finds himself owing a gangster a lot of money. A student of Jim's, named Amy (played by Brie Larson,) is waiting tables out the front of the illegal casino and notices her professor losing.
From hereon out, Jim attempts to find ways to pay, but always opts for the risk instead and we watch as Jim fights the clock to pay the money back, while being seduced by Amy along the way.
If anything, this movie does the opposite to glorify casinos and actually makes us want to decrease our bankroll. Regardless, it is still a good watch if not for the gambling, then for Wahlberg's performance.
---
Rounders
Matt Damon has been known for gambling alongside big time gambler Ben Affleck and we can't help but wondering if this 1998 movie is based on their lives, especially since it follows the underground world of poker which the pair are said to regularly participate in.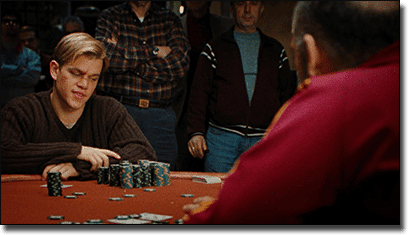 Mike McDermott (played by Damon), is convinced by his girlfriend Jo (played byGretchen Mol) to quit gambling after losing his entire bankroll, which was $30,000.
This only lasts up until his friend Lester 'Worm' Murphy needs to pay off a debt and Mike agrees to help him win back the money by playing poker. Worm wants to cheat, but Mike insists playing the card games straight. However, Worm is caught base-dealing (which is dealing favourable cards that have been placed at the bottom of the deck) and chaos ensues. Worm flees, but Mike stays and works on paying off the debt but not without a few obstacles.
Without ruining too much, the film ends with Mike heading to Vegas for the World Series of Poker Main Event (something both Damon and Affleck have participated in).
Once again, the troubles that gambling can bring are definitely highlighted in this film, but it is worth watching for a young Matt Damon.
---
The Cincinnati Kid
Released in 1965, this film is considered a classic and it follows the story of Eric 'The Cincinnati Kid' Stoner (played by Steve McQueen) who is a young poker player during the depression era.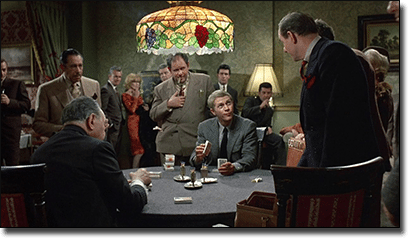 The Cincinnati Kid wants to become the best and believes in order to do so he needs to beat the best, which is Lancey 'The Man' Howard (played by Edward G. Robinson).
During the game with Lancey, which was scheduled by his friend 'Shooter' (played by Karl Malden), Eric finds out the game has been fixed due to a revenge plot on Lancey. He claims he can win on his own merits, but this may not have been the best move.
Since the movie is set back in the 60's there is no way it could glorify casinos even if it tried. However, it is a classic and the story of a determined young poker player definitely resonates with poker players everywhere.
---
Casino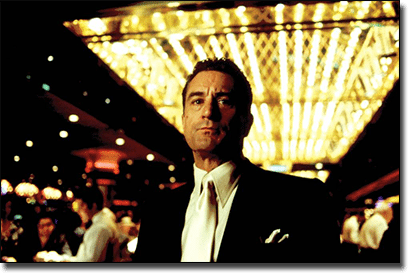 We couldn't leave out a movie named Casino, especially since it includes some of the biggest names in Hollywood, including actors Robert De Niro, Joe Pesci, and Sharon Stone, as well as director Martin Scorsese.
It follows the story of a lower level mobster, Sam 'Ace' Rothstein (De Niro) in the 70's who is told by his bosses to head to Tangiers Casino in Vegas.
He initially does well, but eventually faces problems with those higher up, as well as his wife (played by Stone) who was once a hustler. We then watch his downfall as the authorities are involved.
This movie is quite simply the rise and fall of a mobster, who happens to be in the casino business, and De Niro's performance in particular is a compelling one.
---
Casino games glorify movies
If anything, we think casino games actually glorify movies, rather than the other way around. Every movie we have listed actually shows the ugly side of gambling, which clearly doesn't glorify casinos or their games. However, there are an array of slots available that have taken a movie and turned it into an entertaining real money gaming machine.
Some of these include:
Jurassic Park
Scarface
Terminator 1 & 2
Aliens
Rambo
Hitman
The Mummy
Tomb Raider 1 & 2
And many more
All can be played at our favourite, recommended online casino sites for Australians and international players, listed in the table on top of this page. Simply click on any of the links to sign-up with extra player bonuses, read official reviews and get started on playing some high-quality movie-based pokies.
You may also enjoy these pages: