Casino sites approved by eCOGRA
Casino sites approved by eCOGRA
The third party testing organisation, eCOGRA, has created a name for itself as the authoritative body for the online gambling industry, and for an online casino to have its stamp of approval means it is generally safe to play at.

Best eCOGRA certified online casinos
There are other reputable independent testing agencies, but eCOGRA has developed a solid reputation which instantly confirms a casino is safe and secure for AUD players. However, it's important to note some rogue online casinos can falsify this logo, as well as create external links which look like the legitimate certification, but in actual fact it is not.
We have compiled all the information you need to know about which online casinos really do have the seal of approval, how to avoid rogue online casinos, and why it is important to check if they are regulated. We have also listed the best internet gaming establishments approved by eCOGRA in case players want to spend more time playing and less time researching.
---
eCOGRA & gambling online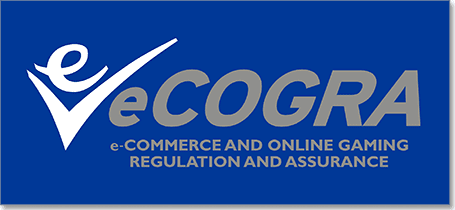 This organisation is an independent testing agency which exists to govern online operators and their software providers in order to prevent any fraudulent behaviour from occurring which could potentially go unnoticed. eCOGRA, offers its seal of approval after performing an intense investigation into the online casinos track record of payments, the games and their payout rates, as well as whether there have been any disputes involved.
Once they have met the criteria they offer their logo to be displayed on the online casino's homepage to indicate they are regulated. Interestingly, the majority of eCOGRA's accreditation goes out to Microgaming online casinos except other a few exceptions. Since we've mentioned it is a top leading third party testing agency which puts the online casino through intense testing, it is obviously an indication as to the level of quality, fairness, and security Microgaming offers in terms of its games.
When online operators choose to only offer one software provider it can feel limiting, but if it is just Microgaming and it has the seal of approval it can be an indication players aren't going to be tricked into a dodgy software provider and only play the safest games online. eCOGRA is certified by the UK Accreditation Service.
---
Best online casinos approved by eCOGRA
As mentioned above, the online casinos approved by eCOGRA are generally Microgaming, giving a good rap to the online operators who only use this software provider. We have listed the online casinos from our recommended list which all have the eCOGRA seal for your benefit. Each of the online casino's accreditation states the games are fair, the online operators act responsibly and honestly, and real money deposits are safe.
They have a percentage payout review for every month which can be viewed in an external window, along with the certification, by clicking on the eCOGRA logo on the homepage. If you scroll further down you will find the RNG certificates of all the games to compare too.
While they all use the sole software provider Microgaming, they each have a different layout and offer different benefits in terms of promotions and sign up bonuses, with some focused more so on certain games, for instance All Slots is focused more so on pokies than table games (though table games are still offered). Regardless, it is a good idea to check them all out to find which one is suited to you best.
---
What does eCOGRA's seal of approval mean?
Besides the obvious, the online casino is approved by eCOGRA, the seal actually stands for a lot more. It means the online casino operates fairly in terms of its games, its customer service, its rules, and more so players are not being ripped off. It means the Internet casino is secure and players can deposit without their money disappearing as well as be paid their winnings in a timely manner.
And finally it means the online casino conducts itself in a way that isn't fraudulent, all the while acting in a responsible manner in terms of marketing and advertising. These aspects are incredibly important when finding an online casino because we are playing with real money and we are inputting personal and financial details, so to put these details in and deposit at rogue Internet sites we could be compromising our own safety, not just losing money.
This is which is why we spend so much time finding the online casinos which are tested by reputable third party auditing agencies such as eCOGRA.
---
How to find the eCOGRA seal of approval?
Finding the seal of approval is quite simple, the problem arises when the online casino has falsified the seal, but we will go into detail about that below. In order to find out if the online casino has been stamped by eCOGRA simply go to the homepage of the online casino and scroll the the bottom. Here will feature a lot of fine print and an array of logos, from companies such as the software providers, the jurisdictional licenser, and of course the logo of eCOGRA if indeed it is sealed by this testing agency.
From here, you can click on the eCOGRA logo and an external window will appear where the certificate of approval will be situated listing the features of why it has garnered the seal; the payout percentage from every month since it was approved by the seal, which you can view easily; and the RNG certification on many of the games such as blackjack, roulette, poker, and more.
This information means the online operators are quite transparent in the way they operate and thus are quite trustworthy. The problem is however, some online operators who are rogue do falsify this seal and certification which can ruin it for everyone. There is a way though to tell if the online casino is rogue, and whether or not these documents have been falsified. We recommend playing at our suggested online casinos as we have done the research to ensure none of them are rogue, but are in fact regulated, safe, and top of their class.
---
Is there a way to see if the eCOGRA seal is fake?
By doing your research, if you plan to find your own online casino and not play at our recommended sites, you can prevent playing at a rogue Internet casino which has falsified the eCOGRA seal. By typing in a few key terms into Google, such as the casino title, 'eCOGRA seal of approval', and 'rogue', the search results may see this particular online casino on a list of blacklisted casinos.
If you do see your chosen online casino blacklisted, it is important to avoid this internet casino at all costs, as it has been identified as rogue for a reason. Generally players will share experiences and this will cause them to be blacklisted if they have been poor.
For example, Lucky Ace Casino and Poker got caught branding a fake seal of approval from eCOGRA quite quickly due to players experiencing poor gaming and was instantly blacklisted. While it still is up and operating, it no longer has this fake seal, and in the online gaming community it is rated incredibly poorly. Basically, the best advice we can give you is always do your research to avoid falling prey to a rogue Internet gaming establishment.
---
Does eCOGRA protect me if the online casino is located overseas?
This is one of the greatest features of eCOGRA and is partly why we recommend playing at eCOGRA certified online casinos. Since Aussies have to play at Internet casinos which operate overseas, it can sometimes be difficult to resolve disputes. Online operators may have customer service representatives which are only available at certain times or they can be quite biased when it comes to resolution and easily ignore the situation.
This can leave Aussies stranded. Enter eCOGRA, who offers a helpful service that acts as an unbiased voice reviewing the information provided and find a resolution. The online casino does need to be approved by eCOGRA to use this service and the player needs to have tried to resolve the issue with the online operator already, but if both criteria have been met eCOGRA will step in and the online operator will have to abide by the decision or face losing their seal of approval. This is incredibly helpful for Aussies, so it is a good idea to play at an online casino which are regulated by eCOGRA, such as the many we have suggested above.