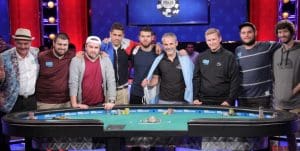 The table has been set for the 2017 World Series of Poker (WSOP) Main Event, with the event scheduled to air live in the US on ESPN at 9pm Thursday (although there will be a 30-minute delay on the broadcast due to gaming regulations).
The Main Event will be the first one in WSOP history where two players will be appearing at the table for the second time. French player Antoine Saout took a seat at the Main Event back in 2009, while American Ben Lamb made it to the final nine in 2011. Both players finished in third place during their time in the finals.
Lamb was proud of his achievement, saying, "You play a 7,000-player field; to make the final table, obviously, the odds are staggering. I don't care if you're ten times better than the second best player in the world, the odds are staggering to make the final table once, let alone twice, with six years in between."
Rather than taking place in November like usual, the Main Event is running from July 20th to 22nd, just days after the final nine were left at the table on Tuesday morning. Here's a look at this year's final table by seat position:
1. John Hesp – United Kingdom, aged 64
2. Scott Blumstein – United States, aged 25
3. Antoine Saout – France, aged 33
4. Benjamin Pollak – France, aged 34
5. Jack Sinclair – United Kingom, aged 26
6. Damian Salas – Argentina, aged 42
7. Ben Lamb – United States, aged 32
8. Bryan Piccioli – United States, aged 28
9. Dan Ott – United States, aged 25
While it's disappointing that no Australian made the cut, we were pleased to see that Aussie player James Obst won his first gold bracelet in the $10K razz tournament.
With a tournament buy-in of $10,000, each player will walk away with a minimum of $1 million in prize money, with the final table paying out the following:
1st place – $8,150,000
2nd place – $4,700,000
3rd place – $3,500,000
4th place – $2,600,000
5th place – $2,000,000
6th place – $1,675,000
7th place – $1,425,000
8th place – $1,200,000
9th place – $1,000,000
The 2017 World Series of Poker started on July 8th, where 7,221 players flocked to Las Vegas to sit under the bright lights and try their luck at the biggest poker tournament in the world. This year's tournament set the record for the biggest single day starting field and the biggest number of players making the money for the Main Event.
Looking for a safe place to play real money poker online? Not all poker sites accept players from all countries, but there are some leading online casinos with poker games available to players from United States. We highly recommend BetOnline Casino as safest and the best online casino providing support for players from United States, with several poker variants to choose from.