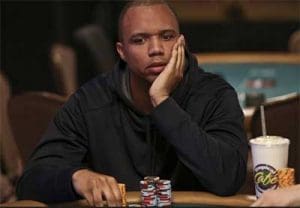 If you have been following the ongoing battle between the Borgata casino in Atlantic City and Phil Ivey, then you will know that the card manufacturer has been dragged into it.
Borgata casino took professional poker player Phil Ivey to court after he won $10 million at its baccarat tables in 2012 due to edge sorting.
But the case didn't stay between the casino and player, with the casino dragging card manufacturer Gemaco into the trial.
Mr Ivey is being accused of cheating after he revealed he used a technique called edge-sorting in a similar court case involving a UK casino.
He admitted he used the technique at the NJ venue too, alongside Kelly Sun who is also on trial, to win millions at the high roller tables five years ago. The pair, who used the flaws on the back of cards to determine whether the next cards would be high or low in value, insist they didn't cheat.
In the initial trial where the judge found Mr Ivey and Ms Sun guilty and ordered them to repay the casino, Gemaco wasn't involved. The judge said that although neither of the players had touched the cards, they had manipulated the game to benefit from it. However, when the pair refused to pay and appealed the case, the casino shifted the blame to the card manufacturer.
Borgata is claiming that the card manufacturer breached its contract as it supplied cards with minutely asymmetrical attributes on the back.
"The backs of each card in the deck shall be identical and no card shall contain any marking, symbol or design that will enable a person to know the identity of any element printed on the face of the card or that will in any way differentiate the back of that card from any other card in the deck," the New Jersey law states.
But Gemaco does not agree that edge sorting is "only possible when the playing cards are not cut symmetrically during the manufacturing process". The card company also used Ms Sun's court testimony, where she said she could edge-sort any deck of cards irrespective of the manufacturer, to prove their point. It added that if this is true, Gemaco is not at fault.
Gemaco also said that the industry allows for variations in patterns of up to 1/32 of an inch, which the playing cards used reportedly followed.
The case is all over the internet with many claiming that the casino is at fault, if the card manufacturer is, due to negligence. Whoever is at fault will be determined by the high court in due course.
In the meantime you can play online poker at Intertops Poker where you can claim a $1000 welcome bonus. Note that not all players are accepted at Intertops – read our online poker guide for more info about where to play.