Best high stakes baccarat sites 2023
Best high stakes baccarat sites 2023
All around the world you will find the high rollers flocking to one game in particular: baccarat. This simple, easy to learn and even easier to play game is favoured by the fat cats of the world because it is a generally low risk, potentially high return game. Not only that though, but a lot of punters feel they can divine a pattern from the history of results and use that pattern to predict what the next winning hand may be. There are a lot of superstitions involved in baccarat. The top high-stake baccarat sites for December, 2023:

Best hi-stake baccarat sites
---
Best high stakes baccarat online
There are many great baccarat sites that accept players from all over the world. These hi-stakes baccarat websites generally have maximum deposit limits in the 10s of thousands of most currencies. The payments types at these online baccarat sites are plentiful and include mainstream payments such as Visa and Mastercard, while cryptocurrency is also very popular. Live dealer baccarat is undoubtedly the most popular way to play real money games in modern times.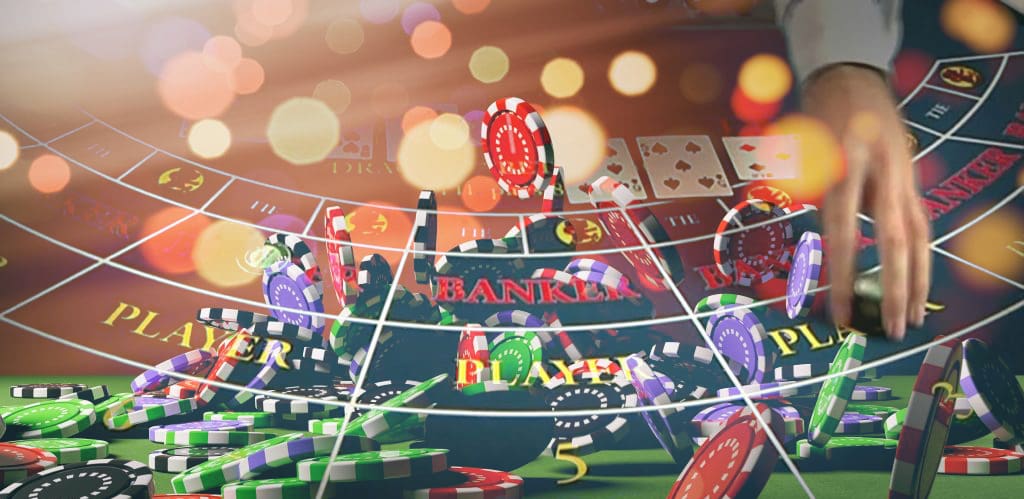 ---
Baccarat has low risk, big returns
Baccarat is mostly popular with high roller casino punters because the house edge on both the Player and Banker bets are extremely low compared to other casino games. The house edge on betting Player is 1.24% while on Banker the house edge is a low 1.06%. However, the low house edge on Banker is often countered by a 5% commission on all winning Banker bets or paying half on a winning hand of six for Banker.
Even with the 5% commission on Banker, baccarat is still one of the most popular games. With such a low house edge and often very high table maximums – both at bricks and mortar casinos and especially online casinos – high rollers see baccarat as a safer way to make big bets for big returns.
Thanks to the "essentially" even money pay outs (barring, of course, the 5% commission or only paying half on a winning score of six for Banker) and only two possible outcomes (there is of course the tie possibility of a tie but that is almost inconsequential because you do not lose your bet in the event of a tie) big money punters flock to the baccarat tables in droves.
---
Baccarat is easy to follow and engaging
Another reason for baccarat's popularity among high rollers is the general simplicity of the game and the punter's ability to follow or even control – in a sense – the flow of the game.
Once you have learned the "tableau" – or the drawing rules for the cards – then you are able to follow the game and are able to understand what cards are being drawn, what you need to win or even why you lost.
It's not uncommon to find that the majority of baccarat tables in high roller rooms are "squeeze" games. This is a game of baccarat where the cards are handed to the highest better from Player or Banker.
Squeeze games give the player a feeling of control and even enhances the playing experience by allowing the player to handle the cards and reveal the total in their own time and discretion. It's this feeling of control and even having an extra stake in the play that high rollers enjoy.
---
Best high-stakes Baccarat games online
Playing baccarat online is just as fun and engaging as playing at a bricks and mortar casino and playing online has the added bonus of less hassles. As a high roller, you would know that sometimes when you are laying big bets at a bricks and mortar casino that you will have Floor Manager's or Pit Bosses over your shoulder calculating every bet you make and essentially watching you like a hawk.
Online casino's allow you to play in the comfort of your own home without the feeling of being harassed by casino management. If you feel the need to bet above table maximums (which can be as much as $2,000 per hand) table max's can often be negotiated and raised by consent with the online casino.
Online casinos usually offer two different versions of baccarat a Random Number Generator based game or live dealer games. RNG-based games are completely computerised baccarat games where the cards are picked at random by a complex computer program that is regularly checked by independent third party's to ensure fairness of game play. Live dealer games are dealt by a real dealer with real cards from a real shoe and streamed live to your computer. It is just like being at a bricks and mortar casino.
Sign up to play high stake baccarat games at G'day Casino and claim an unlimited matched deposit bonus when depositing real money for the first time.