Land-based casinos in Japan
Land-based casinos in Japan
Under current Japanese law, it is illegal to gamble for cash. Land based casinos are banned entirely and the only form of legal betting allowed in Japan is on certain types of horse racing and specified motor sports. From time to time, special conditions are held under law to allow betting on some sporting events and national government run lotteries, but these are rare exceptions.
The issue of legalising gambling in Japan has been an ongoing debate, especially in recent times as the country looks ahead in preparation for the influx of tourism that will arise from the 2020 Olympic Games. This article will give you an overview of the history of casino gambling in Japan, the current stance on gambling and what the future has in store for Japanese casinos.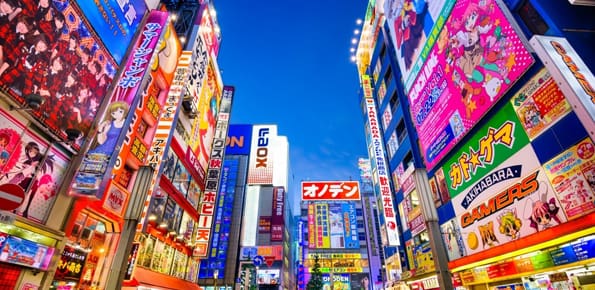 ---
The history of gambling in Japan
Gambling in Japan was banned under Chapter 23 of Japan's Criminal Code despite being a favoured pastime for many of the country's wealthy citizens. The ban means that many of Japan's elite take their money elsewhere to enjoy the casino facilities offered internationally at Macau, Singapore, Korea, the Philippines, Australia and beyond while everyday recreational gamblers are turning to online gambling, pouring dollars into offshore operations.
---
Gambling at pachinko parlours
To the typical Japanese resident or tourist, your option for a night out gambling is limited to the Japanese game called pachinko which can be found at privately owned pachinko parlours all over the country (with an estimated 12,500 parlours operating in 2011). Pachinko is a kind of slot machine/pinball game hybrid where the player must shoot a ball into a special hole in order to activate the jackpot.
The loophole here is that pachinko games aren't played for cash, but instead for tokens which can then be exchanged at the parlours prize centre. Prizes can include anything from pens to bicycles to cigarette lighters, but also for pieces of gold or silver which can then be sold outside the establishment in exchange for cash.
---
Japan's current casino climate
Until recently, it was illegal for casinos to operate in Japan. However, the country's stagnating economy and the 2020 Tokyo Olympics forced a rethink on the nationwide ban.
Despite mixed opinions among the wider community, Shinzo Abe's administration legalised casinos in mid-2018. The bill includes a number of particular requirements for operators and patrons, including certain restrictions for local residents. The Japanese government has declared that it will grant three licences for integrated casino resorts in 2019.
Many international gaming corporations have come forward with investment offers and development plans since the laws passed. Some financial analysts have predicted that Japan could become the world's third biggest gambling destination after Macau and the United States.
---
The future of land-based casinos in Japan
Casinos are now legal in Japan, yet many continue to debate whether it's a great or terrible idea. Many conservative Japanese with traditional views think that the introduction of casinos will bring more crime and create social issues like problem gambling, while those backing the changes assure that casinos will be restricted to non-residential tourist zones within Tokyo or Osaka, attracting mostly rich foreigners, wealthy businessmen and tourists.
The international gaming companies under consideration for the partnerships have also promised to bring their expertise in restricting underage and problem gamblers while supporting responsible gambling practices at all times.
Whichever way you look at it, with an economy on the decline and the country about to experience a huge tourism boost, the legalisation of land based casinos in Japan will bring a much needed boost to the Japanese economy for years to come.