Live dealer Keno
Live dealer Keno
Live dealer keno is one of the latest interactive offerings from the impressive Ezugi portfolio of live dealer games. These fun keno games are streamed live, with no pre-recordings and no random number generators, maintaining the exciting atmosphere of real life keno. Ezugi's Live Dealer Keno offers users fast and simple betting on an easy to navigate, attractive interface that flawlessly blends virtual gaming with real-life interaction.

Best online Keno for Australians
---
Where Australian's can play Live Dealer Keno
Live dealer keno is currently offered at one of our favourite sites, G'Day Casino for real money betting. G'Day Casino offers players a reliable, secure interface of the highest quality and is an online casino that users can trust. Find the Live Dealer Keno game under the 'Live Casino' game category. A fast internet connection is needed to avoid drop-outs and ensure optimal video quality.
G'Day Casino makes payouts in Australian dollars and also offer new users a special welcome bonus, so if you're not already a registered user, now is the perfect time to sign up and start playing live dealer keno for real money.
---
How to play Live Dealer Keno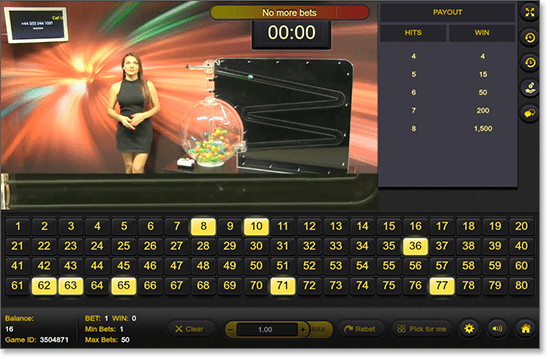 Ezugi's Live Dealer Keno is streamed live with new games happening every few minutes. Numbers are drawn in real time, with absolutely no random number generators. Unlike many other online casino games which can be played for free, Live Dealer Keno requires real money wagers.
To play at G'Day Casino, users are required to set up an AUD registered account, with no downloads necessary. Once you have an account all you need to do is sign-in, head to the 'Live Casino' category and start watching the magic unfold. If you're new to the world of Live Dealer gaming, then you're in for a treat! (Note: be mindful that this game will open in a new browser, so ensure you have pop-ups enabled on your computer.)
Once signed into the game, players selects up to eight different numbers at their own discretion. Players also have the option of selecting the 'Pick for Me' option which will randomly choose numbers on your behalf. Selecting your numbers is as simple as clicking on the ball with the corresponding number.
The live dealer then draws 20 numbers from a pool of 80, which we get to watch in real time, assuring that no random number generators are used. The live croupier repeats all numbers drawn, which the player can check off against the numbers they selected.
Players are paid for each number they selected that matches the number drawn by the dealer, covering up to eight numbers, and are paid according to a fixed pay table (see below for payout details).
Live dealer keno is simple to play and easy to follow, with new rounds starting every three minutes. If you find yourself entering the room between plays, simply wait for the timer to count down to the next round. Live chat is also offered, making it an interactive Keno experience where seeking help if needed will be as close to instantaneous as possible. If you're new to keno, find out how to employ the best keno strategy.
The rules of Live Dealer Keno
This interactive game stays true to the traditional rules of keno, with luck being the real key to success. Live Dealer Keno through G'Day Casino allow a minimum bet of $1.00 with a maximum bet of $50.00, which must be wagered in real money.
With a new game played every three minutes, all bets must be placed before the timer reaches zero.
Payout structures in Live Dealer Keno
Players are rewarded based on the amount of numbers they correctly predicted. As you select your numbers, the odds can be found in the top right hand corner of your screen. The odds fluctuate depending on the amount of numbers you select, with the best return rates available when you cover the maximum number of eight selections. The payout structure when covering eight balls is as follows:
Four hits – 4 for 1
Five hits – 15 for 1
Six hits – 50 for 1
Seven hits – 200 for 1
Eight hits – 1500 for 1
Live dealer keno gives you the option to view your payouts and previous betting history, just click the display in the top right hand corner. This is also where you'll find the live chat option.
---
Why we love Live Dealer Keno
Live dealer keno is a favourite here at OnlineCasinoSite.com for the same reasons we love all of the incredible Live Dealer casino games offered at G'Day Casino. The combination of virtual gaming meets real human interaction takes online casino games to a whole new level, making this online keno game a unique and enthralling experience, and we just can't get enough.
The high-definition video quality is remarkable and the simple interface is user friendly and visually pleasing, while the live chat option makes for an exciting addition to the online gaming experience. Being able to see a real life person hosting the game is a sheer joy to online gamblers, bringing the excitement of Keno to the convenience of your own playing schedule. Playing the game for real money with wagers in Australian dollars makes this game ideal for playing at home or on the go.
Ezugi offers an array of impressive Live Dealer games that can be played for real money at G'Day Casino, including Live Dealer Lottery, Live Dealer Blackjack and Live Dealer Roulette.