Keno strategy
Keno strategy
Keno is a game of luck, but we can't help implementing a strategy or two in order to try and increase our chances of winning. We take a look at the game of keno, some common keno strategies, and whether it is better to play at land-based venues or online.

Best online Keno for Australians
---
Types of keno
The rules of keno are quite universal, regardless if you're playing online or at land-based venues, despite the former negating the need of filling out a form with a pencil. However, we brush over some of the types of keno available online and offline. Playing keno is incredibly simple; so simple, in fact, that all you have to do is pick your numbers and decide how much you want to bet in order to play.
Classic Keno

For land-based venues that offer the electronic version, players simply grab a form that are generally provided on all tables at the pub or RSL. Here you fill out the form by crossing how many numbers you want to play, with the option to pick up to 40, though this isn't recommended; pick your numbers, in accordance to how many numbers you want to play; nominate how much you wish to play per game, from $1 up to $100; and then how many games you want to play, up to 100.

You then take this form to the bar tender or keno operator at the RSL where they put it through and return another form with your selections.

You can then either watch the screen at the venue to see if your selections appear; head here on your mobile device, download the app and have your own personal live screening (provided you at playing keno in NSW, QLD, or VIC); or simply just scan the ticket when your games have run their course to see if you are a winner.

If you are a winner you will be paid accordingly or the operators can put that money on another keno form with the same selections.

Head or Tails Keno

On the back of a keno form, or on a separate keno form, there is the option to play Heads or Tails Keno. This sees players picking whether they think during the game/games there will be more numbers in the Heads or Tails section, or they can pick that it will be even by selecting Evens on the form. Then you pick how much per game and how many games you wish to play.

You watch the same game simulation as the Classic Keno but you need to see how many numbers appear in your section, or you can wait until the end and scan your ticket to see if you have won.
---
Online keno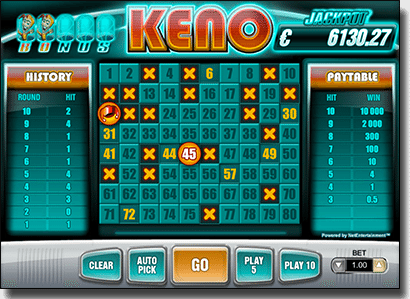 Online keno is a lot more convenient and can actually be preferred over land-based electronic keno as it negates the need for a form to be filled out by a usually blunt pencil. Players basically fill out each option by picking their numbers via a virtual interface and there isn't any need to specify how many numbers you are playing as it figures that out when you pick each number.
You can increase or decrease your bet per number manually by clicking on the bet size. Additionally, you can play at your own pace by clicking the 'Play' button. This means players are able to go as fast or as slow as they want. Winnings are paid out electronically to your casino account.
Some online casinos offer a live dealer keno variant, including G'Day Web casino, which offers Ezugi live dealer titles. It features the more traditional keno with a human dealer and a ball machine streamed directly to your screen.
Best online keno for Australian punters
Land-based venues see a payout percentage of around 70%-80% in keno, whereas playing keno titles online by reputable software providers, including Microgaming, sees a payback of around 90% to 95%, which is much better than land-based venues.
Since playing keno online offers better odds we have found two top leading keno titles available at reputable web casinos, including the many we recommend.
Bonus Keno: Bonus Keno is an interesting variation of the classic keno title from Net Entertainment. It has a percentage payout of 94.2%, which is much higher than what land-based venues have with keno and this title can be considered to be more fun due to the addition of a progressive jackpot. Players can only pick two to 10 numbers out of 80, with the usual 20 drawn. To win the jackpot the numbers drawn need to make a J shape and if you have bet the maximum bet of $5 then you win 100% of the jackpot. If you have played the minimum bet of $1 you can still win 20% of the jackpot.
Keno: This is a great standard keno title to play online and has a payout percentage of 94.90%. The best part about this game is you don't have to wait for the next game to start, rather you decide the pace yourself. Players can pick up to 15 numbers for this title and then 20 are drawn. Players can easily change the bet size and press play whenever they're ready. Try out any of the above recommended strategies on this title for yourself to see if these strategies work, but remember every number has an equal chance so they aren't a sure thing.
Play the above online keno games for real money at Guts.com, one of our favourite and top-recommended casino sites for Australian punters.
---
NT Keno
There are still land-based venues that offer the traditional live dealer keno and these are located in the Northern Territory. Considered to be one of the largest keno games, NT Keno sees players fill a form out and a live dealer draws the numbers out.
Regardless of the type, any strategy can be used, therefore we take a look at the different types of techniques recommended to use when playing keno.
---
Strategies for winning keno
Regardless the type of keno title you are playing there are some tips many experienced players have shared to potentially improve our odds when playing. However, it is important to remember each number has an equal chance of being drawn. Here are some of the best strategies for keno.
Begin with small odds
This is the most obvious tip, and unless you have a very large bankroll its the smartest. Start off by putting a small amount of money on a limited amount of numbers. Using your entire bankroll, or a large part of it, on a large amount of numbers will most likely see gameplay short-lived.
Select the right amount of numbers
It can be quite tempting to pick a large amount of numbers as the payout will be big if you pick them correctly. However, the chances players will land all of these numbers is so unlikely it is almost impossible, so we recommend picking in between three to eight numbers for the best odds. Many players stick to picking seven numbers, specifically numbers one, two, five, seven, 10, and 11 for five of the numbers, as well as picking two random numbers of their choice. This is because it is said that odds are that with these numbers at least five out of seven will be drawn. But again, remember each number has an equal chance of appearing.
Picking the right numbers
There are many out there who claim that there are certain numbers and certain combinations of numbers that should be picked. This includes picking a pair of numbers that are next to each other as they state it is more likely numbers will appear next to each other in the one game.
Other players state that picking two top rows will land you a win with at least a handful of numbers likely to appear. There are even some that use a pattern due to the fact the numbers are drawn electronically and computers use patterns to select numbers randomly.
Regardless the number choices you pick, remember that RNG's at reputable casinos are completely random and this means these aforementioned strategies may not work.
Never buy strategies
Along with online keno the introduction of the Internet has also brought scam artists who claim they have guaranteed winning strategies. This isn't the case. There are no guarantee winning strategies out there and anyone claiming that there is, is just trying to steal your money.
Sign up for an account at G'day Casino to play online keno for real money bets, and take advantage of a 100% matched deposit bonus for new players.