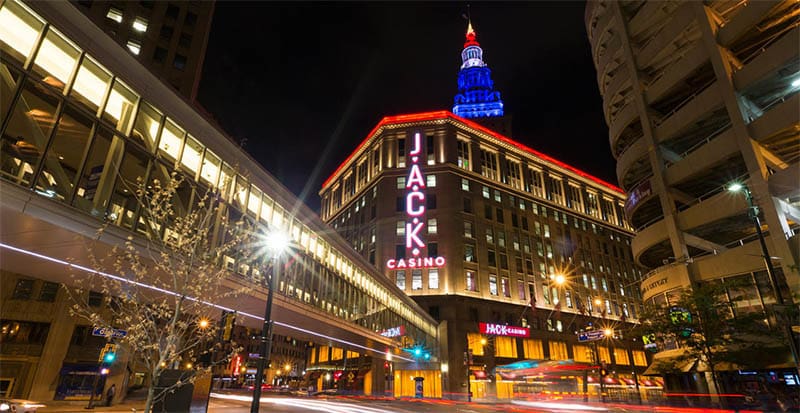 THE Jack Cleveland Casino is the only casino in Ohio to show a decline year on year for the month of April.
The other three casinos and seven racinos showed growth for the same period.
It is not panic stations for Jack Cleveland, with revenue falling from USD $17.5 million (2017) to $16.7 million for April of this year.
The decline came despite the launch of a new electronic table product called Synergy, which was launched at the tail end of March.
The product features video gaming machines, electronic gambling terminals, giant video displays and a DJ, with the casino hopeful of luring in a younger crowd.
Jack Entertainment Senior Vice President of North East Ohio Operations Mark Tricano said the Synergy line was aimed at keeping the casino on the cutting edge and providing a "fun and entertaining nightlife experience".
"Specific to April's overall performance, our business is healthier than ever and continues to grow. In the month of April we saw a lot of Clevelandars that got lucky at Jack Cleveland Casino," he said.
The three other casino in Ohio reported slight year on year April profit increases, according to the Ohio Casino Control Commission.
In total the casino revenue in Ohio for April was $71.8 million, while the racinos recorded $89.7.
The Hard Rock Rocksino at Northfield Park was the top revenue earner for April in Ohio, with a $22.8 million return.
Ohio legislation does not allow any online casino regulation, which has proven to be profitable for gambling companies in other USA states.
There has been a growing push to allow land-based casino to also host a online casino in the state, but there has been very little movement at a legislative level in 2018.
It is hoped if the New Jersey Supreme Court challenge to the online sports betting laws is successful, any Federal legislation will also tackle online casinos. Currently the only way for Ohio residents to play at online casinos is at one of the offshore casinos accepting USA players.
* The Ohio State Commission and Lottery calculate revenue after winners and promotions deductions are taken.