How to play Omaha variants
How to play Omaha variants
After Texas Hold'em, Omaha is the most popular kind of flop-style game among poker players. But where hold'em poker almost always uses the same set of rules (betting restrictions notwithstanding), there are a number of distinct Omaha variants with different gameplay characteristics and strategic requirements. Here, we will explain how common formats like Omaha hi, Omaha hi/lo and courchevel differ from one another, as well as the various betting structures which can be applied to each.

Best real money poker sites
---
How to play Omaha Hi
Omaha hi, or simply Omaha, is widely played in home games, cash games and real money poker tournaments around the world. The 'hi' in the name refers to the fact only the traditional high hands are recognised (i.e. pair, two pair, three of a kind, straight, flush, full house, four of a kind, straight flush and royal flush). As such, it is the easiest way to learn Omaha poker. Omaha poker rules also form part of the popular card game, H.O.R.S.E.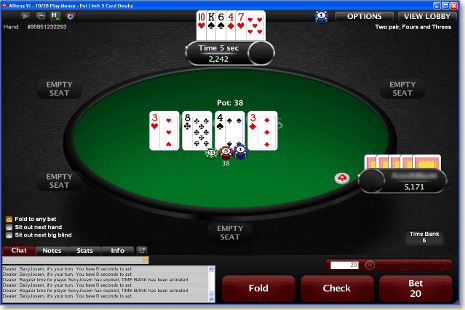 This game shares much in common with Texas holdem: the betting rounds are identical; there are five community cards, which are revealed in the same order (flop, turn and river); and the aim is to form the strongest possible five-card hand using a combination of their hole cards and those on the board. Where Omaha differs is that each player is dealt four pocket cards, and they must use exactly two of them and exactly three upcards to form a hand. In holdem poker, by comparison, players receive two downcards each and can use any combination of those and the five on the board to create their best hand.
This difference between the formats may appear subtle at first, but it has quite a significant impact on what constitutes a good hand. For example:
We have Ace of Hearts, King of Hearts, Queen of Hearts and Jack of Hearts in the hole, and the board shows Ten of Hearts, King of Spades and Ten of Clubs on the flop. Even though we have all the elements of a royal flush, our best hand here is actually a two pair (Kings and Tens) as we can only use two of our four hole cards. And because we have four of the five required cards in our pocket hand, there is no chance to draw a royal flush in Hearts.
As such, the best possible starting hand in Omaha high is a double-suited A A K K (e.g. Ace of Spades, Ace of Diamonds, King of Spades, King of Diamonds), as it gives you the two highest-ranking pairs to work with as well as two chances at a royal flush. The worst starting Omaha hand is four Deuces, as it leaves you with the lowest possible pair and no chance to draw a three of a kind or four of a kind.
---
Omaha Hi/Lo rules (split eight or better)
This is a challenging format which adds lowball poker into the mix. For while standard Omaha poker focuses only on the traditional high hands, Omaha hi-lo also allows asks players to put together the weakest possible five-card combo.
How do these low poker hands work, then? The basic idea is to combine the lowest-ranked cards in such a way that there are no pairs, threes of a kind, fours of a kind, or full houses. Flushes and straights are not considered — so even if you have five cards of consecutive rank, all in the same suit, it counts for naught.
Most Omaha hi/lo games use the 'Ace-to-Five' or 'California lowball' system, where Aces rank lowest and the best hand is 'the wheel' or 'Five low' (5 4 3 2 A). This is typically played in conjunction with 'Eight or better' rules, under which you cannot qualify for a low hand with any cards ranked Nine or higher — so Eight low (e.g. 8 7 5 4 2) would be allowed, but Nine low (e.g. 9 4 3 2 A) would not.
The ultimate goal is to create the best high hand and/or the best low hand. The run of play is the same as in Omaha hi, as are the general gameplay rules: you must use exactly two hole cards and three board cards to create each hand. You can use the same card(s) in both hands, however — for instance, a single Ace could count towards a high hand and a low hand at the same time.
In Omaha high-low, the pot is split down the middle so that one half goes to the winning high hand and the other goes to the player with the best low hand. If nobody qualifies for the low pot, the entire kitty goes to whomever won the high half. It is also entirely possible to win both halves outright, as there are many ways to draw 'the nuts' (the best conceivable hand) for the high and low hands at the same time.
A double-suited A A 2 3 is widely regarded as the strongest initial hand in Omaha hi/lo poker, as it allows you to start strong on both the high half (pair of Aces) and the low half (Ace and Deuce). Having matched suits also gives you a couple of shots at drawing a flush.
---
5 Card Omaha & Courchevel poker
In both of these online Omaha poker variants, players receive five hole cards each as opposed to the standard four. As such, many casual punters (and a few of the more experienced ones, too) think five card Omaha and courchevel are interchangeable names for the same game. However, there is one slight but important difference between the two:
In five card Omaha, as with standard hi and hi/lo games, the flop isn't dealt until after the first betting round
In courchevel, the first community card is revealed before pre-flop betting ensues
Otherwise, both games follow the same format as regular Omaha poker. There is also five-card Omaha hi/lo and courchevel hi/lo – both of which typically use the same A-5 low system as Omaha hi/lo, and can be played at leading online poker sites such as PokerStars.com.
---
Betting rules for Omaha poker
As with Texas holdem and many other forms of Internet poker, there are a few different betting structures which can be used for real money Omaha games:
In fixed limit Omaha, players cannot choose or change the size of each bet they make. In the first two betting rounds (pre-flop and flop), all wagers — whether starting bets, calls, or raises — must be the same amount as the big blind. On the turn and the river, the size of the fixed bet is doubled. There is also a cap on how many times you can raise and re-raise during a betting round (usually four).
Extremely popular in tournament play, pot limit Omaha (PLO) allows players to bet and raise up to the total value of the live pot. For example: if there is $100 in the pot and we are first in the betting order, the most we can wager is $100; however, with $100 in the kitty and our $100 on the table, the next player would able to raise the stakes to $400 (call $100 + raise $300). Unlike fixed limit games, there is no cap on the number of raises per round in PLO poker.
No limit Omaha lifts all the restrictions on how high you can raise the betting. If you have $750 in your chip stack, for instance, you can bet up to that amount at any time. This format is nowhere near as common as no limit hold'em (NLH), however, as the pot limit and fixed limit betting systems are much better suited to games like Omaha where the action relies heavily on the draw.