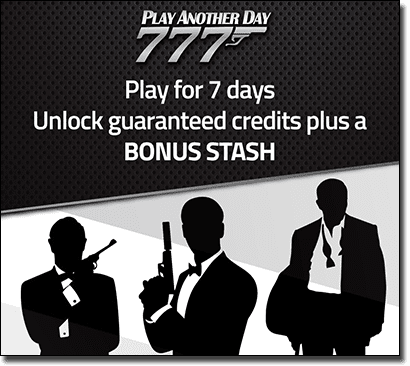 Royal Vegas want you to find your inner secret agent in their new Play Another Day promotion, which is bound to see you awarded with a share in $160,000 of prizes.
Channel James Bond up until October 31 to win win cash credits, multiplied winnings, and even a special bonus that can be unlocked every promotional week.
Play a certain number of days each promotional week to win corresponding prizes, as follows.
Play from the first day to the fourth day to win credits
Play for all four days and then on the fifth day to crack a code and have your winnings multiplied
Play for all five days and then on the sixth day to stop a bomb from blowing and have your winnings multiplied further
Play for all six days and then on the seventh day to unlock the bonus to add to your winnings
There are four missions to coincide with the four promotional periods, and while we've missed out on the first one there's plenty of bonuses to unlock over the next three.
October 4 through to October 10
October 11 through to October 17
October 18 through to October 24
October 25 through to October 31
Play all seven days to earn your bonus for each promotional period, or mission, and you can claim your credits. When you do claim your credits the mission ends, so be sure to do this on either day seven, or when you are sure you won't play again for that promotional period.
To start your first mission, simply follow our links to www.RoyalVegasCasino.com and log in, or sign up if you are new player. Then start your first mission by playing any casino game available in their extensive catalogue.
Best baccarat titles at Royal Vegas
Since we are channelling Bond for this Play Another Day promotion at Royal Vegas, we obviously want to be playing his favourite game, baccarat, in order to complete the missions.
There are three baccarat titles available at Royal Vegas, all powered by one of the top leading software developers, Microgaming.
Baccarat: Played with eight standard decks of cards, this title offers the banker bet at 1.06% house edge, the player bet at 1.24% house edge, and the tie bet at 14.36% house edge. It doesn't offer the player/banker pair bet however.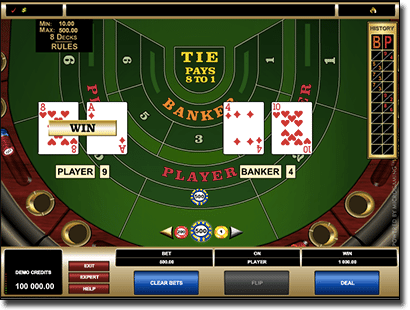 Baccarat Gold: Baccarat Gold is also played with eight standard decks and offers the same house edge, however it does offer the option of the player/banker pair side bets.
High Limit Baccarat: High Limit Baccarat is much the same as the standard Baccarat title by Microgaming, but it is perfect for the high roller secret agent thanks to the big chip sizes of up to $500.
Where else can I play high stakes baccarat online?
Royal Vegas Casino has a growing exclusion list these days, but if you are from United States you will be happy to know there are many other top rated real money casino sites such as BetOnline Casino to join and play high limit baccarat and other punto banco variants.