Top 6 best fictional poker players
Top 6 best fictional poker players
Daniel Negreanu, Phil Ivey, Phil Hellmuth, Antonio Esfandiari, Joe Hachem, Sam Trickett – these are some of the most successful and famous poker players from around the world, with prize money climbing into the millions of dollars. But what about all of the poker players that make a name for themselves in the world of fiction?
We've compiled a list of the top six best fictional poker players of all time. Let us know if you agree, and if you think we've missed out on any names.
Homer Simpson, from the TV series The Simpsons: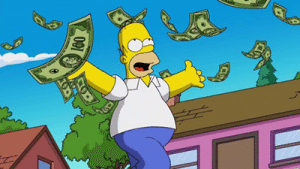 Homer Simpson embarks on several poker journeys throughout the TV series, most notably in 'Secrets of a Successful Marriage', 'Homer the Great' and 'Gone Abie Gone'. And he sums up his luck beautifully with this line: "As usual, I was winning and not realising it" – a quote that rings true for most of his life endeavours; he plays the fool, but always seems to come out on top.
James Bond, from the film Casino Royale:
Also read: Pokerstars review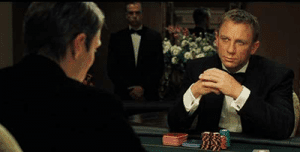 No one plays a poker hand quite as smooth as James Bond (Daniel Craig) in the 2006 film, Casino Royale. With a total pot of $115 million up for grabs, Bond beats LeChiffre's full house with a straight flush, after having regained his composure following his brush with death (drinking the poisoned Martini).
Henry Gondorff and Jonny Hooker, from the film The Sting:

In the 1973 classic movie The Sting, Henry Gondorff and partner-in-crime Jonny Hooker team up together to win a fortune from a criminal banker, playing poker and pulling off some elaborate scams within scams. With some memorable lines such as "Not only are you a cheat, you're a gutless cheat as well," and "Tough luck, Lonnehan. But that's what you get for playing with your head up your ass", this is one of the most well known poker films of all time.
The three main characters from Rounders:
Rounders is the 1998 American drama film about the underground world of high stakes poker, and the movie that seriously helped poker explode in popularity during the 2000s.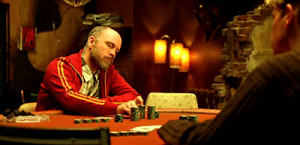 Teddy 'KGB':
Teddy 'KGB', the Russian mobster who runs an illegal underground poker room, played by John Malkovich, is a short-tempered and arrogant poker player. He initially beats Mike McDermott at a game of heads-up No-Limit Texas Hold'em, to take his college tuition money, but is outplayed at the end of the film after revealing his tell. Malkovich delivers some classic lines, all in a brilliant Russian accent:
"Mister son of a bitch, let's play some cards."
"He beat me… Straight up… Pay him… Pay that man his money."
Mike McDermott: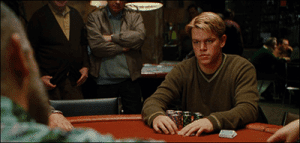 Mike McDermott, played by Matt Damon, is the talented poker player and law student that loses his entire $30,000 college tuition in the high stakes poker game. After attempting to win everything back with his friend Lester 'Worm' Murphy, and subsequently getting beaten up and losing all winnings, because 'Worm' was caught cheating, Mike challenges Teddy once more, and this time manages to beat him after he figures out his tell.
Lester 'Worm' Murphy: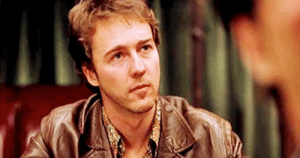 Lester 'Worm' Murphy is Mike's best friend, and once released from prison, embarks on a poker spree with Mike so they can pay back a loan 'Worm' owed prior to being incarcerated, and to win back Mike's college funds. While Mike plays the game straight, 'Worm' often cheats to win. But 'Worm saved Mike from any punishment following the incident they were both involved in that led to 'Worm's imprisonment.
---
Special mentions:
Will Salas, from the film In Time:
Justin Timberlake plays Will Salas in the American science-fiction dystopian thriller, In Time, where society's currency is time, and people stop aging at 25. A countdown clock on each person's arm reminds them all how long they have to live, and just like money and its impact on society, there are those who acquire more time and live for hundreds of years (the rich), and those who struggle to live day to day (the poor).
Will has already acquired 250 years, but bets it all in a high stakes game of Texas Hold'em against the extremely wealthy Vincent Kartheiser. Vincent shows three-pair, but Will holds a straight; the second best hand possible, and ends up winning 1100 years of youth (not to mention winning over Vincent's girlfriend, Sylvia Weis – played by Amanda Seyfried, in the process, too). In one of the deleted scenes, Will again showcases his skills, beating Sylvia in a game of strip poker.
The Gambler, from the Kenny Rogers song, The Gambler:
Read: Full Tilt review
Arguably one of the greatest songs of all time, The Gambler, written by Don Schlitz and made famous by American country singer Kenny Rogers, tells a tale that everyone can relate to, not just for the rules of poker, but for the rules of life. 'The Gambler' needs to be regarded as one of the most important fictional poker players ever to be spoken about. Owning some of the best lyrics ever written, the song has been re-recorded by several artists.
He said, "Son, I've made a life
Out of readin' people's faces
Knowin' what the cards were
By the way they held their eyes"

"So if you don't mind me sayin'
I can see you're out of aces
For a taste of your whiskey
I'll give you some advice"

You've got to know when to hold 'em
Know when to fold 'em
Know when to walk away
And know when to run

You never count your money
When you're sittin' at the table
There'll be time enough for countin'
When the dealin's done
Keen to play real money Texas Hold'em online? Head to our poker sites page to check out the best AUD poker websites for Australian players.