Double-zero vs single-zero roulette
Double-zero vs single-zero roulette
The most crucial part of playing Roulette is knowing the difference between double-zero and single-zero wheels. We'll explain why double-zero roulette offers the worst house odds of all roulette variants, and where to get more bang-for-your-buck playing single-zero games for real money online.

Best online roulette casinos
---
How double-zero increases the house edge
Before we talk about how double-zero American roulette increases the house edge, it's important to understand what "house edge" actually means.
What is the 'house edge'?
Most casino games have a built-in profit for the casino, which we call the house edge. It provides a predictable long-term advantage to the casino ("house"), meaning that when you win, the payout from that win is never the "true odds". On average, the casino makes a profit on all bets placed over time.
The house edge in roulette
In all roulette variants, the payout is 35/1 for straight up bets on one of the numbers, which would be fair if there were 36 pockets. However, both single-zero European roulette and double-zero American roulette have additional numbers, so the house has more opportunities to win, whereas the player's payout stays at 35/1. This is how we determine the house edge.
Double-zero American roulette has 38 numbers, so with a payout of 35/1, the house edge is 5.26%, compared to 37 numbers and a 2.63% house edge in single-zero roulette. It might seem insignificant, but that extra zero in double-zero roulette decreases your chances of winning yet has the same payout as single-zero roulette at 35/1.
The allure of American roulette is that it's fast and exciting, but a higher house edge means that single-zero roulette offers significantly better odds for the player. When playing American roulette, you're taking on more of a risk without the added benefit.
The general rule is that when you have the choice, single-zero roulette should always be played over double-zero American roulette. If American roulette is the only version available, be sure to steer clear of the Top Line/"First Five" bet, which is undoubtedly the worst bet in the game. It's a bet that is only available on American roulette tables and includes 0, 00, 1, 2 and 3. It offers an attractive payout of 6/1, but with a house edge of 7.9% has the worst odds of any bet in the game.
---
Understanding the different versions of roulette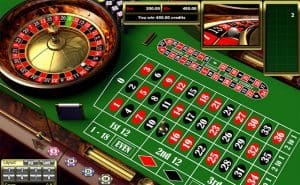 The obvious difference between single-zero and double-zero roulette is the number of pockets on the wheel. Single-zero roulette has 36 numbers (1-36) and one zero (0), whereas double-zero roulette has 36 numbers and two zero pockets (0 and 00). There are two single-zero roulette variants: European and French. While they are essentially the same game, there are key differences in rules and house edge.
European roulette
This single-zero roulette variant is the preferred game for savvy players looking to expand their bankroll. As it carries a lower house edge than double-zero roulette, live casinos generally hide European roulette games and impose higher betting minimums. However, our recommended real money online casinos have easy-to-find European roulette games with minimum bets as low as 0.01 AUD per spin. European roulette is also the most common version you will find at the top online roulette sites.
French roulette
French roulette, while rare in most land-based casinos, is popular among high rollers and generally found in high-stakes rooms. French roulette is easy to find online, and we recommend a host of great casino sides that offer fantastic value for money.
French roulette is almost indistinguishable from European roulette apart from a few key aesthetic and betting differences, as well as a lower house edge of 1.35%.
One of the more noticeable differences is that the outside betting field is split in two alongside both sides of the table layout.
Dozen bet: In European roulette you would place this bet in boxes marked as "1st", 2nd" or "3rd", whereas on a French roulette table, Dozen bets are marked as "12P" for numbers 1 to 12, "12M" for numbers 13 to 24, and "12D" for numbers 25 to 26.
Low/High: Low or High bets are made on the Manque (1-18) and Passe (19-36) boxes.
There are also some unique rules in French roulette that really set it apart from European roulette.
La partage: Should the ball land on zero, even-money wagers are split and the player automatically receives half their initial bet back. So a $10 bet on red would result in a $5 payback if the ball were to land on zero. This rule, along with the En prison rule below, reduce the house edge from 2.63% to 1.35%.
En prison: Similar to La partage in that even money bets are split and returned on zero. Players can also choose to keep the bet "in prison" and active for the next spin. However, if the ball lands on zero again, the bet is lost.
Finally, French roulette also has "Call Bets" (or "Announced Bets"), which are special bets that the player calls out as opposed to placing multiple chips on individual numbers across the table. There are a number of different call bets that players can utilise to improve their playing experience.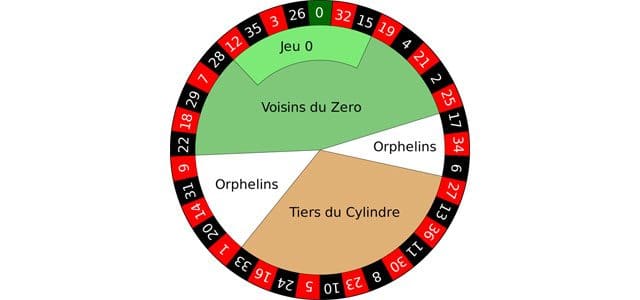 Voisins du zéro: This is the "neighbours of zero" bet, using nine chips to cover the 17 numbers closest to zero on the wheel. These numbers are 22, 18, 29, 7, 28, 12, 35, 3, 26, 0, 32, 15, 19, 4, 21, 2, and 25.
Le tiers du cylindre: This bet uses six chips to cover the 12 numbers farthest away from the zero: 27, 13, 36, 11, 30, 8, 23, 10, 5, 24, 16, and 33.
Orphelins: These "orphan" numbers are the two small segments that make up eight numbers outside the Voisins du Zero or Tiers du Cylindre regions noted above. These numbers are 9, 31, 14, and 20 on one side of the wheel, and 17, 34, and 6 on the other.
Jeu Zero: This bet is basically a small version of Voisins du zéro. It covers the two numbers to the zero's right on the wheel (32 and 15), and the four numbers to the zero's left (26, 3, 35, and 12). The 26 offers a 36:1 payout, while all other numbers offer 18:1.
---
Which version of roulette is more popular?
Any savvy and experienced roulette player would recommend European roulette over the other variants, particularly American roulette. Visit any land based casino and you'll notice that the floor is scattered with double-zero American roulette tables, while single-zero European tables are tucked away in a corner, typically with high betting minimums.
It's easy to get sucked in by the allure and excitement of an American roulette table, but those extra numbers don't equate to a larger payout. Due to that favouritism on the floor, it might seem that double-zero American roulette is the more popular roulette variant, but the reality is that players are often forced into it without much choice. French roulette is typically reserved for high-stakes rooms, although it's common on the floor in Monaco and other European casinos.
---
Best sites to play single-zero roulette online
We have reviewed and rated the best real money online casinos, with easy-to-find European and French roulette games with minimum bets as low as $0.01 per spin. While they may be hard to find in land-based casinos, they're easy to spot and play at our recommended casino sites – on computer, laptop or mobile. Any of the listed sites in our table at the top of page, including our #1 recommended roulette site for players from United States, BetOnline Casino, all offer real money and practice-play no download single-zero roulette games in European and French variations.