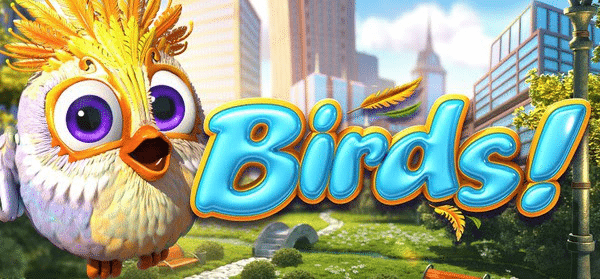 POKIES only online casino Slots Million, famous for its Oculus Rift compatibility, will get a hotly anticipated new game today.
The casino has vowed to have available a new title by Betsoft called BIRDS!, with it being a 3D game featuring 5 cascading reels and 25 paylines.
The game has an outstanding feature, labelled, Free Flight bonus, given to players when they accumulate winning birds combinations.
Betsoft has a growing reputation as one of the most proactive iGaming software providers on the world.
BIRDS! Has encapsulated everything that makes Betsoft a successful software provider, with it having a "revolutionary" style of reels that are visually striking, while also staying true to the avian theme of the game.
This amusing pokie sends any winning combinations flying away, while others will settle on their wires until the wins dry up and you have made your last flight.
Betsoft Head of Produce Development Stephen Jackman said the company was delighted to be releasing such a high quality game.
"The artists have cultivated an enjoyable, extremely friendly atmosphere in our new Slots3™ title BIRDS!,"he said.
"With a plucky soundtrack and some of the most adorable characters we've ever created, this game is a true delight to the senses and introduces an innovative reel mechanic that we are proud to share with the iGaming industry and community of players."
BIRDS! pokies game Features
There are 11 birds that you can spin up, with each having its own characteristics. The main man is the 'Wild' bird which substitutes for all other birds.
The Free Flights feature in BIRDS! offers potentially unlimited free spins, provided that cascading winning combinations of birds continue in a chain. Any combination of 3 or more birds will result in a win. Each winning flight of birds begins to fill a meter to on the left side of the user interface, and once the meter reaches the fourth and highest level, the player will receive eight free spins.
The number of free spins awarded increases with more consecutive winning combinations. Additional free spins can be awarded on top of the free spins already won. A Double Up bonus feature allows for the doubling of any winning flight of birds.
Want to play BIRDS! at a casino catering for United States? Leading pokies casino Slots Million is giving all new customers up to $100 in matched deposits and 100 free spins. You can read a review of Slots Million here.