Jumanji online slot review
Jumanji online slot review
It was a major box office success in 1995 and was equally popular during its late 2017 remake, and now the hit blockbuster movie Jumanji has made it to the reels of an online slot game thanks to the legendary software developers at Net Entertainment. The Jumanji slot won't be released until later this year, with NetEnt unveiling the first preview during the ICE Totally Gaming Conference in London this February, so we don't have much to go by yet but will update this review page when more information becomes available.
Best online casinos for NetEnt slots
Casino
Bonus
Games
Pokies
Signup
About the Jumanji slot game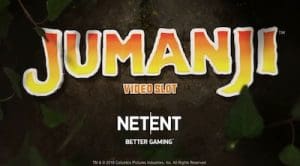 NetEnt has been very secretive about this release so far, building suspense until they can show it off at the ICE conference, but what we do know is this is an official partnership with Sony Entertainment, so we can expect a high quality, action packed game using premium graphics, sound effects and exciting bonus features. If other Sony/NetEnt collaborations are anything to go by, players are in for a treat with the Jumanji slot game – you can give other NetEnt slot titles like Planet of the Apes, Motorhead or Guns 'N Roses a spin to see what we're talking about.
NetEnt hasn't yet revealed whether the game will take inspiration from the 1995 movie version or the 2017 version, although the teaser trailer available on YouTube features footage from the Robin Williams version, with CGI animation that was absolutely ground-breaking at the time. Given NetEnt's track record for striking visuals, we have no doubt the software developer will bring this game beautifully up to scratch for today's sophisticated gaming audience.
Henrik Fagerlund, Chief Product Officer of NetEnt, said, "The original Jumanji movie, which debuted in 1995, remains a moviegoer favourite and continues to demonstrate its cross-generational appeal more than 20 years later! Also, with the recent release of the new film, the Jumanji brand is more popular than ever. We're excited for the game launch in 2018."
Jumanji slot release date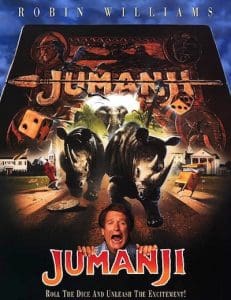 While we know the Jumanji slot game can be previewed at the NetEnt stand at this year's ICE Totally Gaming Convention, NetEnt has not yet revealed the exact launch date of the Jumanji slot to the online market. We know it'll be sometime in 2018, but whether that'll be the first or second half of the year remains a mystery.
Where to play NetEnt slots
NetEnt is one of the leading providers of real money online slot games, with games available at many of the top rated online casino sites. Whether or not you can access NetEnt games depends on which country you're playing from, with the online gambling laws in certain countries restricting these awesome games from some players. Our top-rated NetEnt casino sites are listed in the casino table above, with our number one vote going to Slots Million, which hosts literally thousands of instant-play online slot games from 30+ of the best online software providers.
[rm_recent_news tags="promo" title="Latest Online Casino Promotions" ajax="true"]