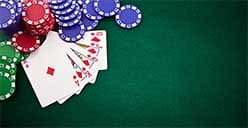 Lawmakers in Ukraine have finally categorized poker as a form of sport, a shift from its previous stand, with enthusiasts now able to play real money games legally.
With poker being included in the Ukraine's Register of Recognised Sports, it paves the way for the game to be reintroduced.
The Ministry of Youth and Sports revealed the decision in a local publication, with the decision greeted with joy from local poker players.
The game, previously classified differently from other forms of gambling like slot machines and blackjack, had its status changed by the justice minister eight years ago. This decision was made because poker contradicted a section of the Ukraine's anti-gambling laws.
After the reclassification, Poker clubs in the country took the case to the Supreme Court. In 2013, the court reviewed the case in favour of the clubs, saying its ruling refers to tournament poker, putting routine poker games still off the table.
However, the clubs have been not closely monitored since the Crimean dispute between Ukraine and Russia started in 2014 since enforcing gambling laws became less important. The clubs started holding cash games, despite it being illegal.
As such, operators offering online poker had only two options, to leave the country or face prosecution.
With the redefinition of poker as a sport, a new set of laws needs to be in place to regulate the industry. But, how soon these laws would be put in place and whether it would at all is not known.
The news of the reclassification has not received enough publicity despite Ukraine having a very active poker presence in the online community.
Matchpoker has a division in the country and has a long list of members including two of the country's most prolific players Eugene Katchalov and Yevgeniy Timoshenko.
More casino news