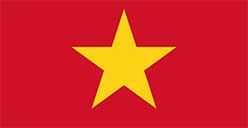 Royal International Corporation, operators of Casino Gaming Club in Ha Long City, has been slapped with a $15000 fine for violating several tax regulations of the province.
This comes after the Quang Ninh Tax Department established that the company has breached value-added tax and corporate tax laws during an inspection of returns filed in 2017 and that of value-added-tax receipts issued until February 2018.
The $15,000 fine includes $10,500 for making a wrong declaration of value added tax and $3,700 for issuing illegal invoices.
The Casino Gaming Club is the only gambling firm in Ha Long Bay City, Vietnam, exclusively issued a licence to offer gambling products to foreigners.
However, the casino is experiencing some downturns since 2013. In October 2017, the financial report of the company indicated that losses in the third quarter of the year increased 23 times to $3.04 million compared to the previous year.
According to managers, clients of the casino mostly from mainland China and Taiwan have decreased in recent times.
The revenue of the company from January to March this year was about $2.92 million and almost $69,000 in after-tax profits, which is an increase compared to a loss of $908,000 within the same period last year.
Nonetheless, Casino Gaming Club made losses of more than $7.4 million on a total capital investment of $30.5 million.
Four out of the six casinos in Vietnam opened exclusively for foreigners are recording losses.
The Vietnam government has lifted a long-term gambling ban on nationals that prevented them patronising two casinos; one on the southern resort island of Phu Quoc and the other at the Van Don Special Economic Zone in the northern province of Quang Ninh.