Venues in Cairns with pokies
Venues in Cairns with pokies
While Cairns is attributed to being the gateway to the Great Barrier Reef, it is also home to some great pokies venues for those who prefer to fish for cash instead. We've scoped out some of the best venues so you can spin the reels of the pokies, rather than a fishing rod, and potentially catch a big win.
---
The Reef Hotel Casino
There are plenty of venues available in Cairns to play the pokies at, with some leaning towards a relaxed atmosphere, while others offer a real gaming ambience, but the number one destination to get the most variety when it comes to pokies in Cairns is The Reef Hotel Casino, located at 35-41 Wharf Street, Cairns City. Featuring over 500 gaming machines, with limits ranging from one cent to $1, there are standard video slots, progressives and even classic fruit machines.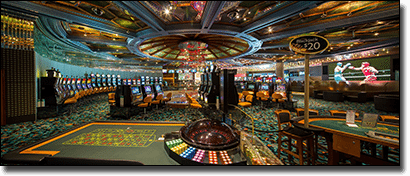 If you are staying for a while, or planning on becoming a regular at the Reef Hotel Casino, you can sign up for the rewards program. Here you will receive discounts on drinks and food, as well as bonus points for playing the pokies that can be redeemed for cash, exchanged for a parking voucher, and more. Head to the information desk at the entrance of the casino to sign up for free.
Reef Hotel Casino also offers table games, regular promotions, and a VIP room with high roller baccarat, roulette, and blackjack available.
The Reef Hotel Casino is open Sunday to Thursday from 9am to 3am and from 9am to 5am on Friday and Saturday, with a proper gaming ambience.
---
Cazayls
Cazayls is a Social Club located in Cairns at Mulgrave Rd, Westcourt. It offers over 280 poker machines for players to use from 10am until 12am from Sunday through to Tuesday, and until 2am from Wednesday through to Saturday.
Cazayls also offers a loyalty program which provides you with a card to swipe every time you play the pokies so you can take advantage of discounts on meals and cheap drinks. There are also member draws and weekly promotions you can take part of by signing up for free.
Along with an array of pokies, Cazayls also offers bingo, keno, and TAB facilities, as well as a cafe restaurant and Stadium Sportsbar, which features a four metre big screen.
While you can't play the pokies until 10am, Cazayls opens from 9am daily.
---
Brothers Leagues Club
Brothers Leagues Club Cairns offers over 170 pokies with denominations ranging from one cent, two cents, five cents 10 cents, 20 cents, and $1.
Along with the wide range of poker machines, Brothers Leagues Club also hosts keno, bingo, poker, and TAB facilities. It even hosts regular concerts and events throughout the year so if you're visiting at the right time, you can spin the reels and watch some incredible live music.
It is located at 99-105 Anderson St, Manunda, and is open from 9am to 2am every day, with an array of regular and on-going promotions for players to take part in.
---
Cairns RSL Social Club
Cairns RSL is located at 115-119 Esplanade, Cairns and is open from 7am to 12am everyday. They offer 48 poker machines for players to choose from, ranging from the classics to progressives.
The RSL also allows members to sign up for a 'Simplay MyCash' account, which allows you to load cash onto the card and get cash out, so you can control your bankroll when playing.
You can enjoy breakfast, lunch, and dinner at the Cairns RSL and even enjoy a drink or two in their Sportsbar, which hosts TAB and keno facilities.
---
Cairns Cock & Bull
Cairns Cock and Bull is primarily known for its meals but as all pubs do it caters for gamers with 45 pokies available in their tavern gaming room. What's more is many locals call it the best pub in Cairns.
Grab a meal while you are there with tables catering for small to big groups, of up to 150 people, with indoor and outdoor dining. They also offer two bars and a tropical beer garden, as well as Keno and multiple big screens to enjoy live sporting events.
Cairns Cock & Bull is open from 10am to 3am every day and is located at 6 Grove St, Cairns North.
---
Aquis Casino
If you are planning a trip to Cairns in the future keep an eye on the developments of the $8.15 billion planned casino at Yorkeys Knob, as there are a proposed 1500 pokies planning to be put in.
However, developments might not begin until 2017 due to the requirement of building during a dry period due to earthworks.
If and when the project has been completed it will see, along with the casino, an artificial lake and island, five hotels, a shopping complex, an aquarium, a movie theatre, a lagoon, a gold course, and much more, and will no doubt be our number one recommend placed to play the pokies in Cairns.
Pokies venues in Australian cities and towns
Australia is flush with some great real money pokies venues, with only WA slots players having limited options. Check out our regional pokies guides:
---
Best online pokies venues in Cairns
There are many real money pokies sites that will accept players from Cairns, although they will be based offshore in places like Curacao and Malta. These online pokies sites are free to sign up, with some even boasting no deposit bonuses to explore what they offer. The top Cairns pokies sites include:

Cairns online pokies