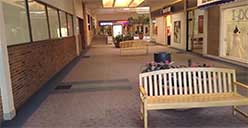 Community leaders are hoping turning the once-bustling Bristol Mall into a $150 million resort casino will breath new life into the local economy.
Bristol, in Virginia USA, were told about the proposed development at the site last Friday, where they heard from developers it would include casino games, sports betting and an area dedicated to children's activities.
Developers are also considering constructing a 600-1000 room hotel on site.
Aside from the casino and hotel, 50 stores and restaurants are to be leased in and around the facility.
According to developers, the said project would create over a thousand jobs in the area. The resort casino is expected to employ about 2000 people in its first year of operation and may increase to more than 5,200 within the next seven years.
Currently, Virginia is one of the seven states in the US that prohibits casino gambling. However, Governor Ralph Northam signed a bill to allow horse racing and off-track betting at four sites earlier this year.
Other states like Kentucky and Tennessee also do not allow casino gambling, however, Maryland, West Virginia, and North Carolina do.
Therefore, the closest casino to Virginia is in North Carolina, which is about 130 miles away.
If casino gambling is allowed in Virginia in 2019, the first phase of the renovation of the mall would take 18 months as reported by Bristol Herald Courier. It would then open in late 2020 or 2021.
The second phase, to be completed in 2024, would include hotel rooms and convention centre.
More casino news